As you already know, I love the holidays. I love baking, decorating, and spending time with family.  It is an even a more precious time since our eldest went away to school this year. Setting the Thanksgiving table has always been one of the more difficulty tablescapes for me. It is an unpretentious and reasonably uncomercial holiday, yet one that deserves it fair due, especially since we sit at this particular table the longest.
Halloween this year was all about black, white, and drama for me this year. (Click this Halloween link to see more.) For Thanksgiving I wanted rich and lustrous color. In the past I have used an orange theme, click on last year's Thanksgiving link here. This year I again started with a simple table runner in a warm harvest orange color, but went for a completely different look.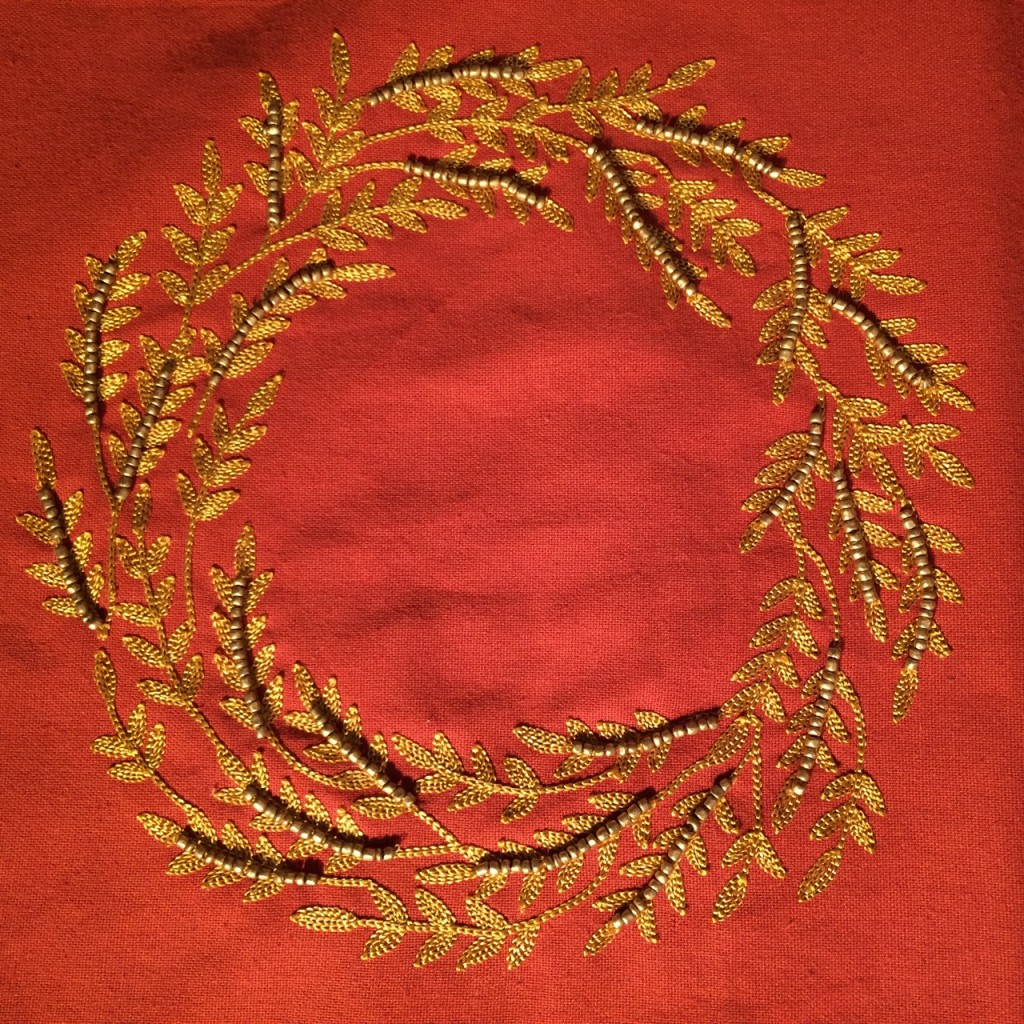 The orange runner blends in with the wood table and creates a more harmonious look. Then I place different types of pumpkins on the runner.  I love the glass ones as they are so lustrous with the gold flecks and add an unassuming glam factor. I used both white and amber for a subtle hint of color that is barely perceptible against the table and runner.  I didn't want anything too showy.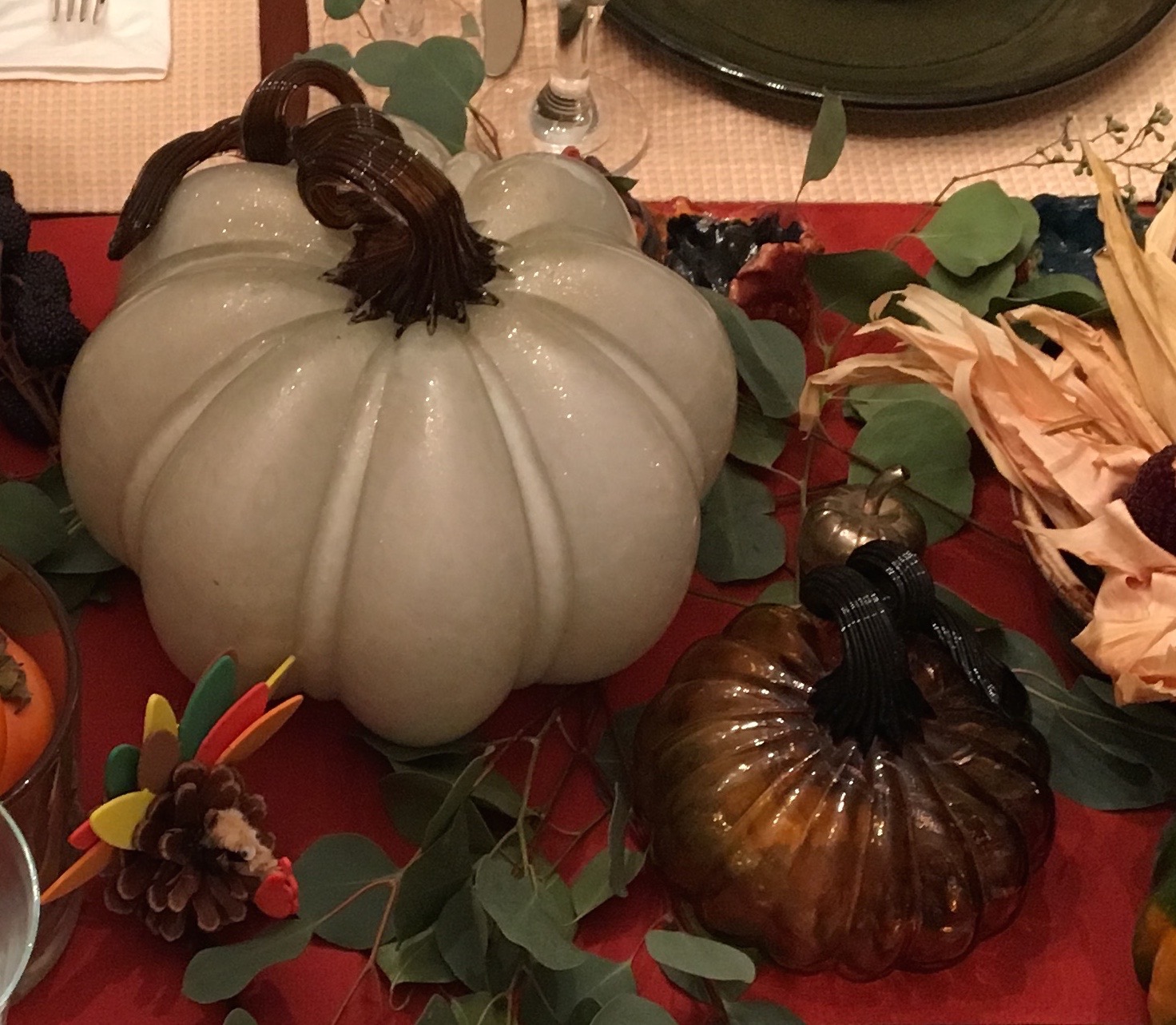 I also had a fun paper mache pumpkin my mom had given me years earlier while I was still in school and did not have time to decorate. To this I added a fun green mate of my own.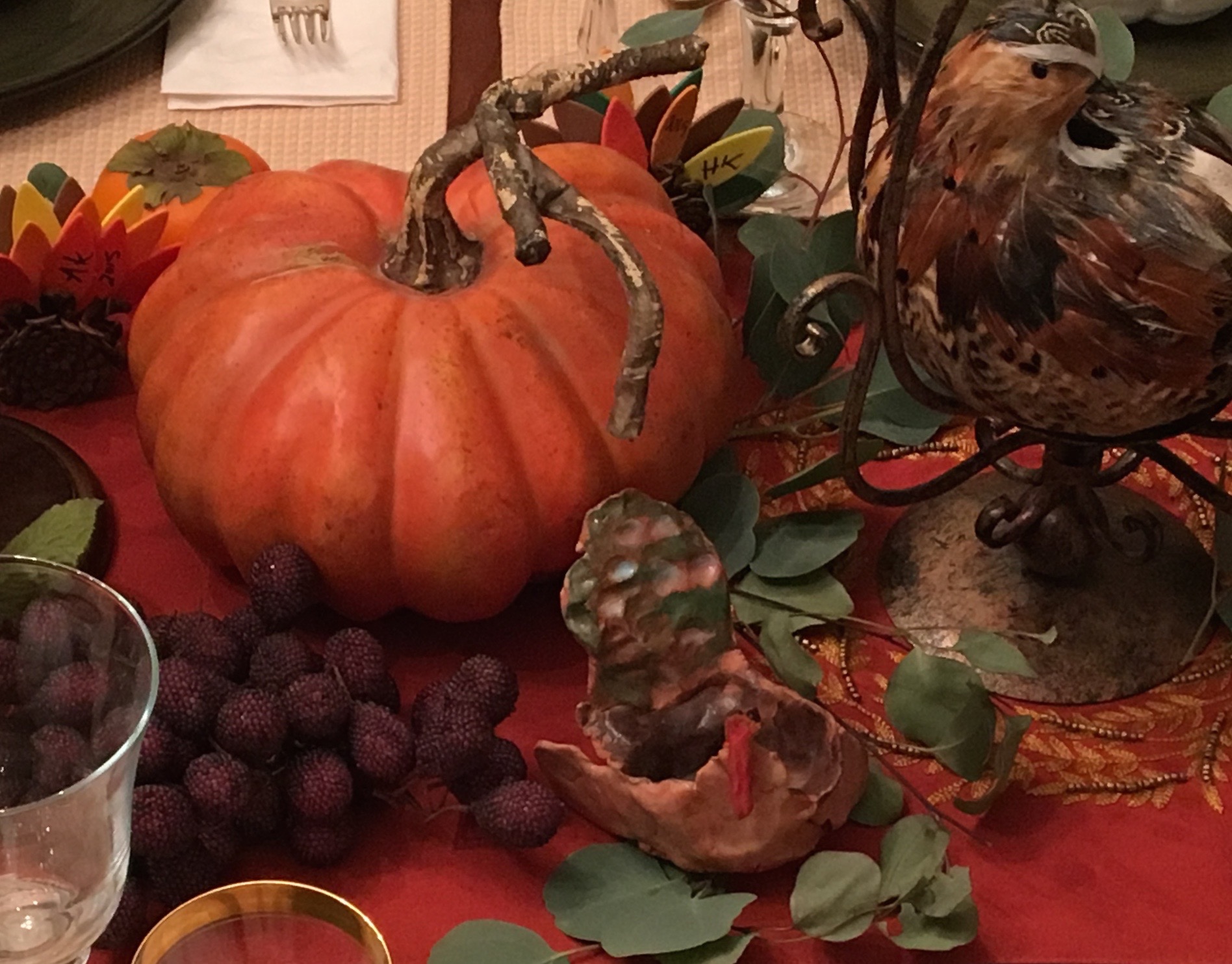 I love the little white pumpkins they had at the store and wanted them to have their due at the table. I grouped them together on a small cake pedestal for some variation in height.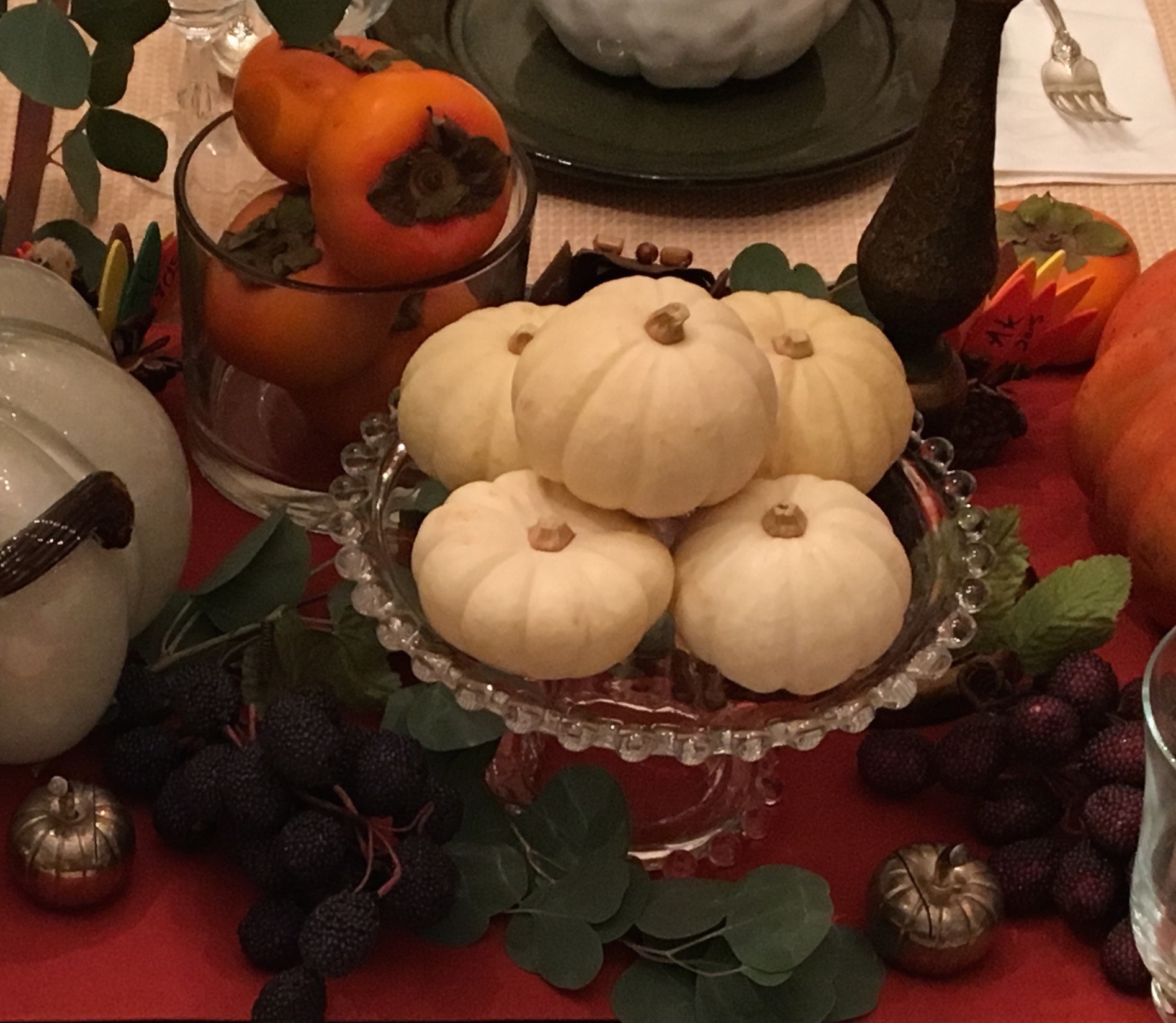 I have some wonderful silver pumpkin placecard holders I came across from one of my favorite antique dealers and interspersed these to add some restrained silver sparkle to the table. It is always nice to be able to use something that has another purpose as part of the table setting. It gives you so much more to choose from and work with.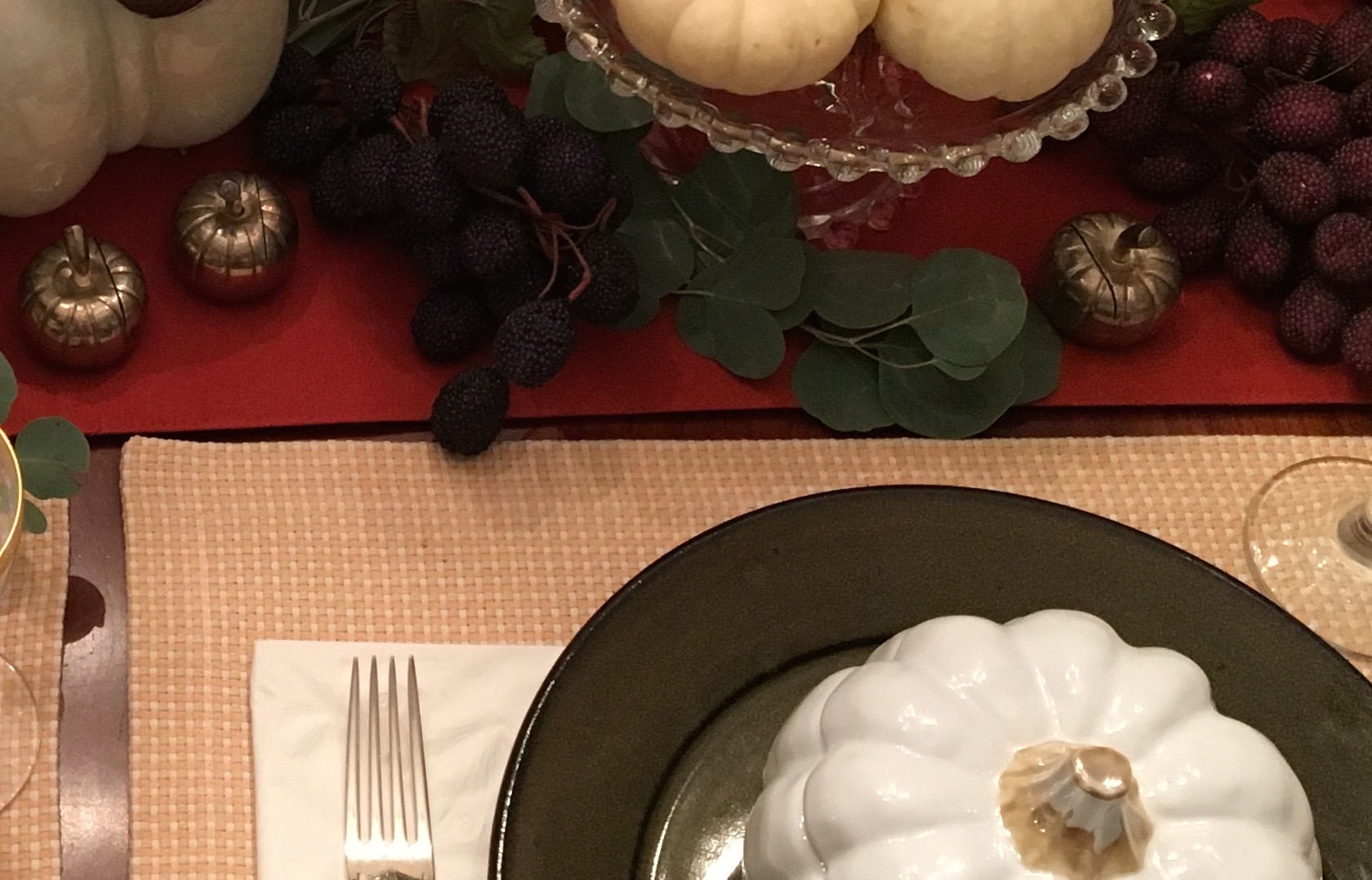 Then I added some acorn squash to round out the gourd group.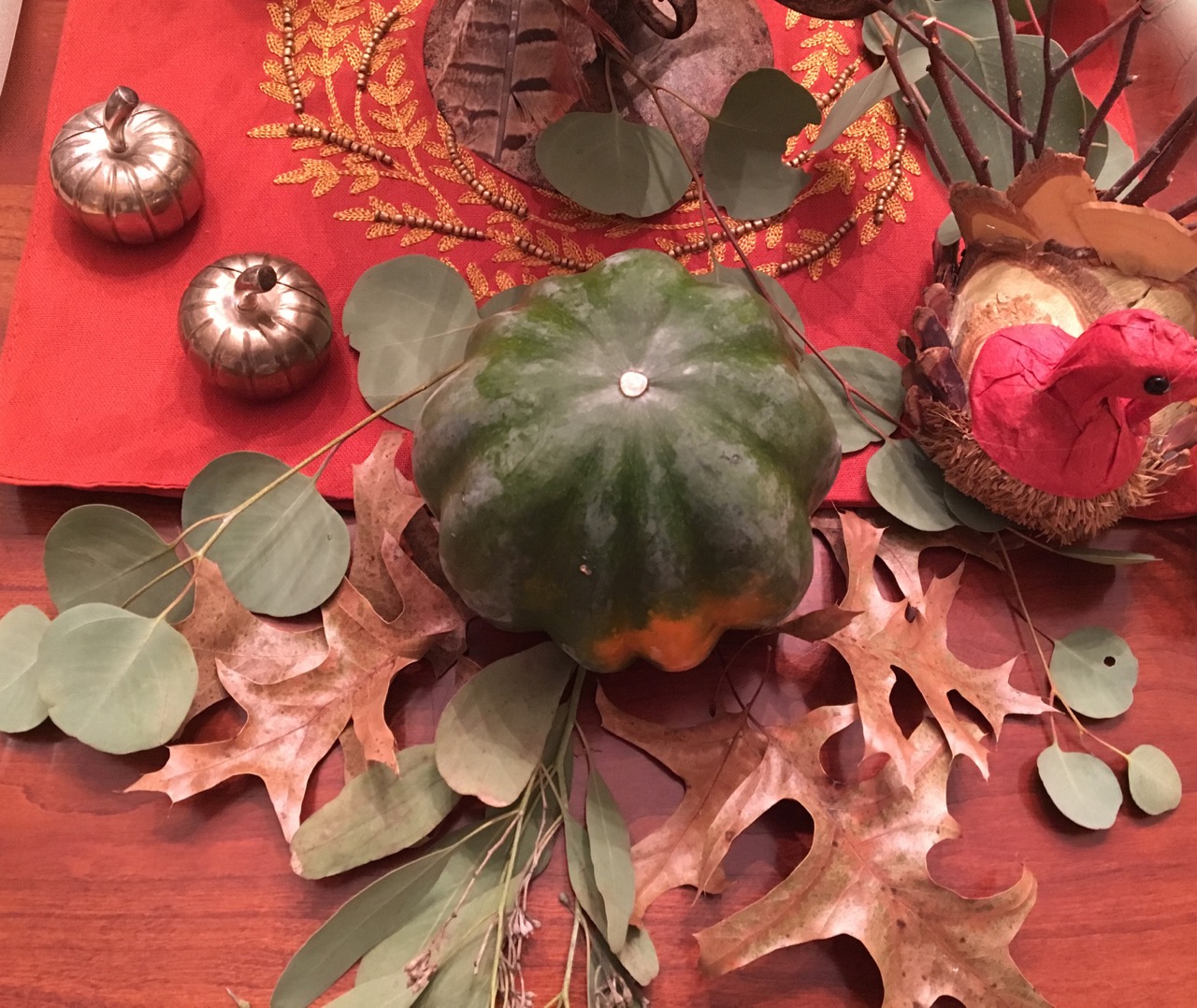 After the layering of the different colors, sizes, and textures of the pumpkins I added family treasures. This is they time of year the ceramic turkeys the girls made in kindergarten come out. They are like the jewels of the table to me. The youngest made an egg for her turkey and checks each year her turkey comes out that the egg is still there.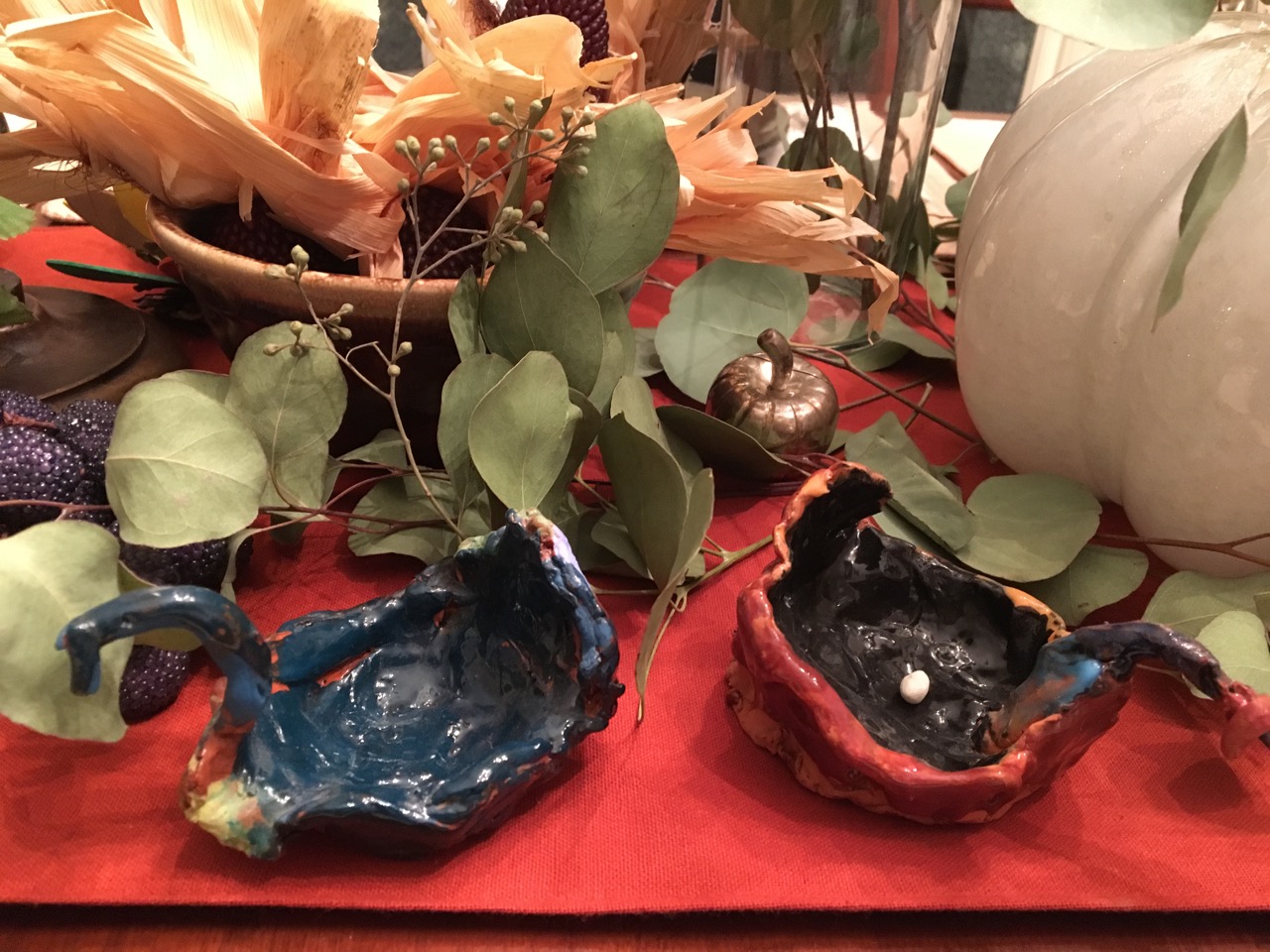 The middle daughter is very proud of her waddle. She is quick to mention how difficult it is to place one that comes out of the kiln successfully and intact.  The eldest makes sure to remind me that her is the best one.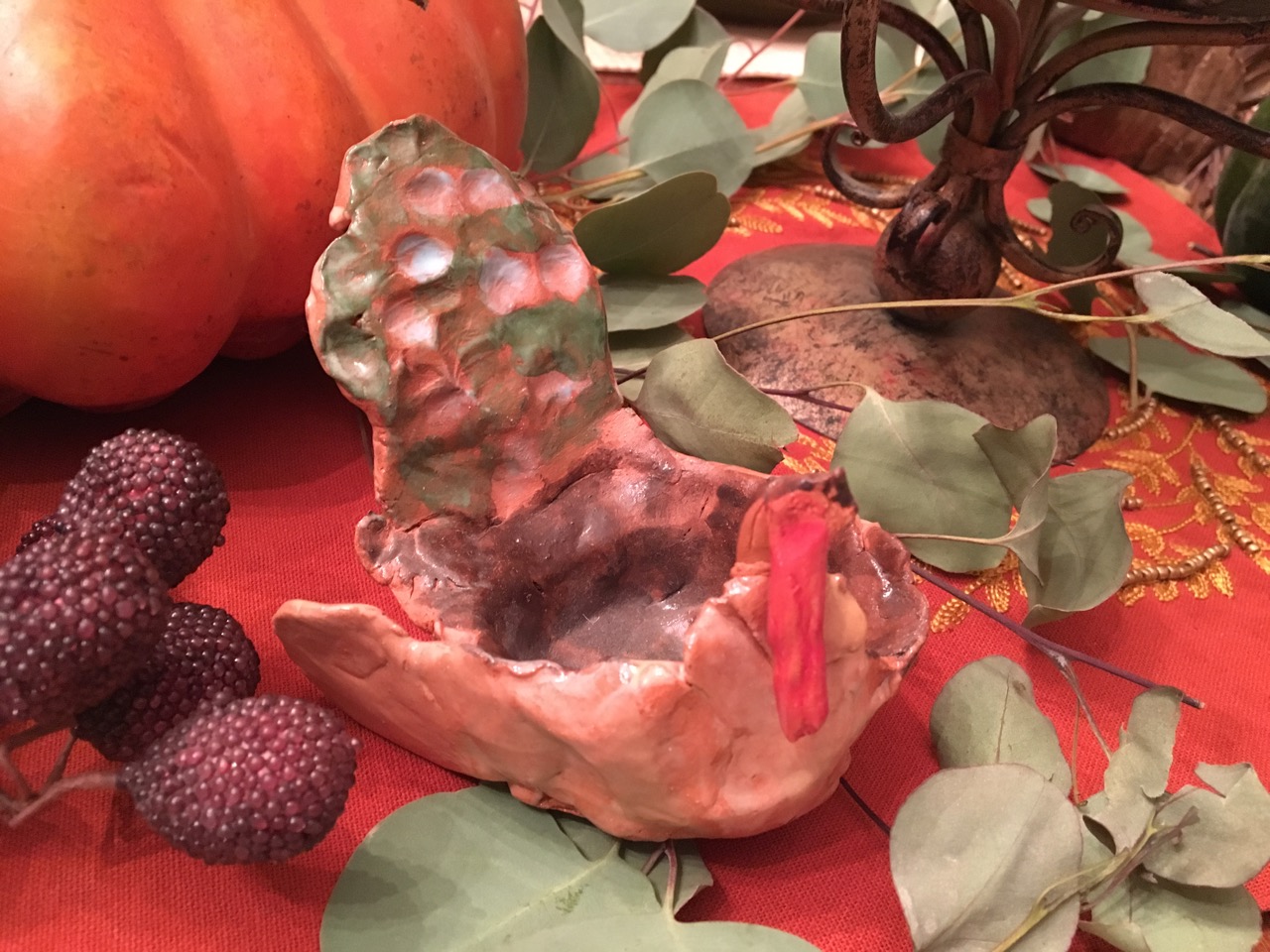 The baby also beams when she shows the paper moccasin she "sewed  when I was little" as she tells everyone. (At 11, I thinks she is still pretty little).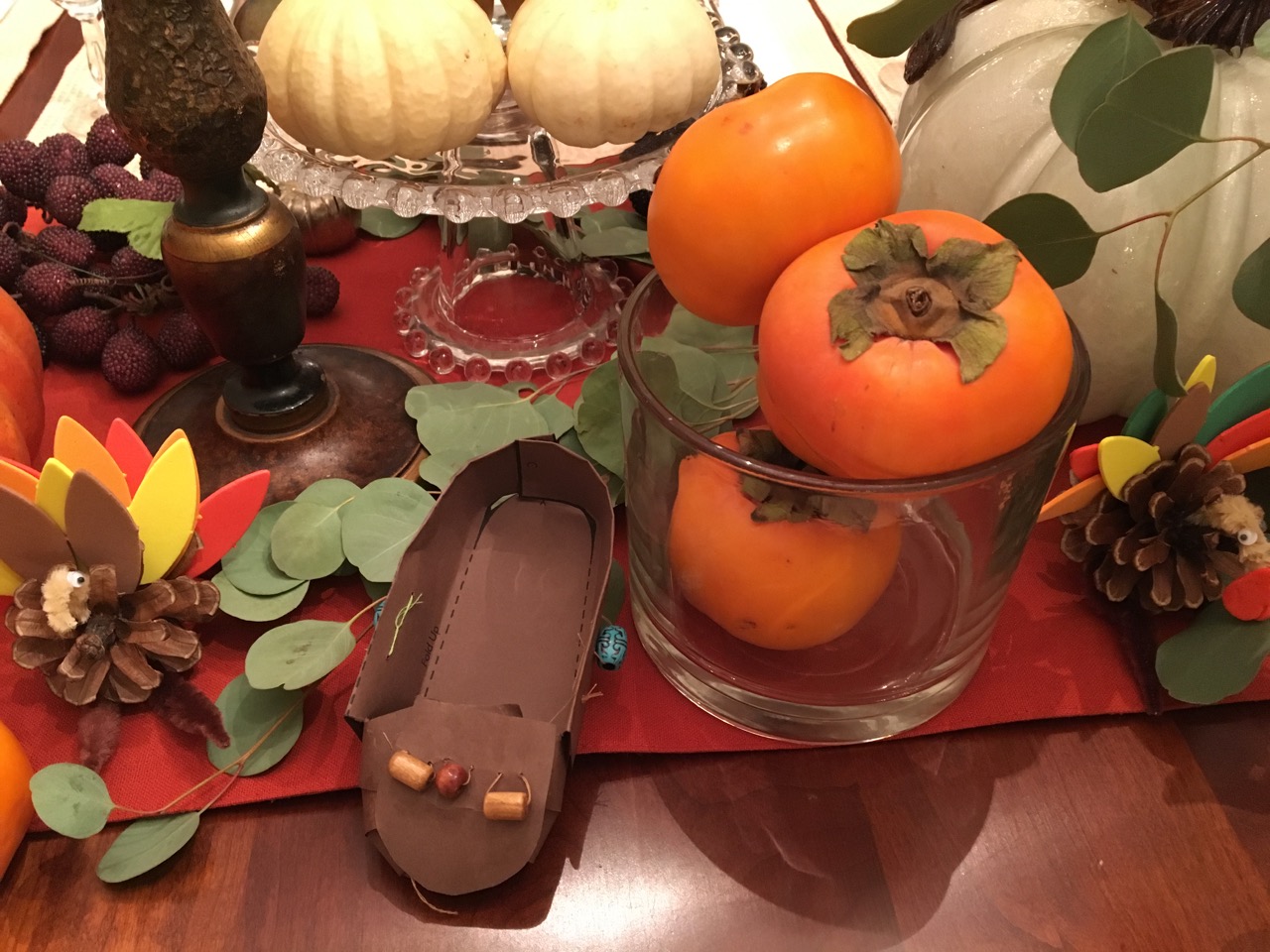 We have the cornhusk doll made in school as well. We also made pinecone turkeys as a family a few years back, so I like to include them as well. The rest of the family tells me they are tacky. To me they are precious bits of time I got to spend with my children as they were growing up.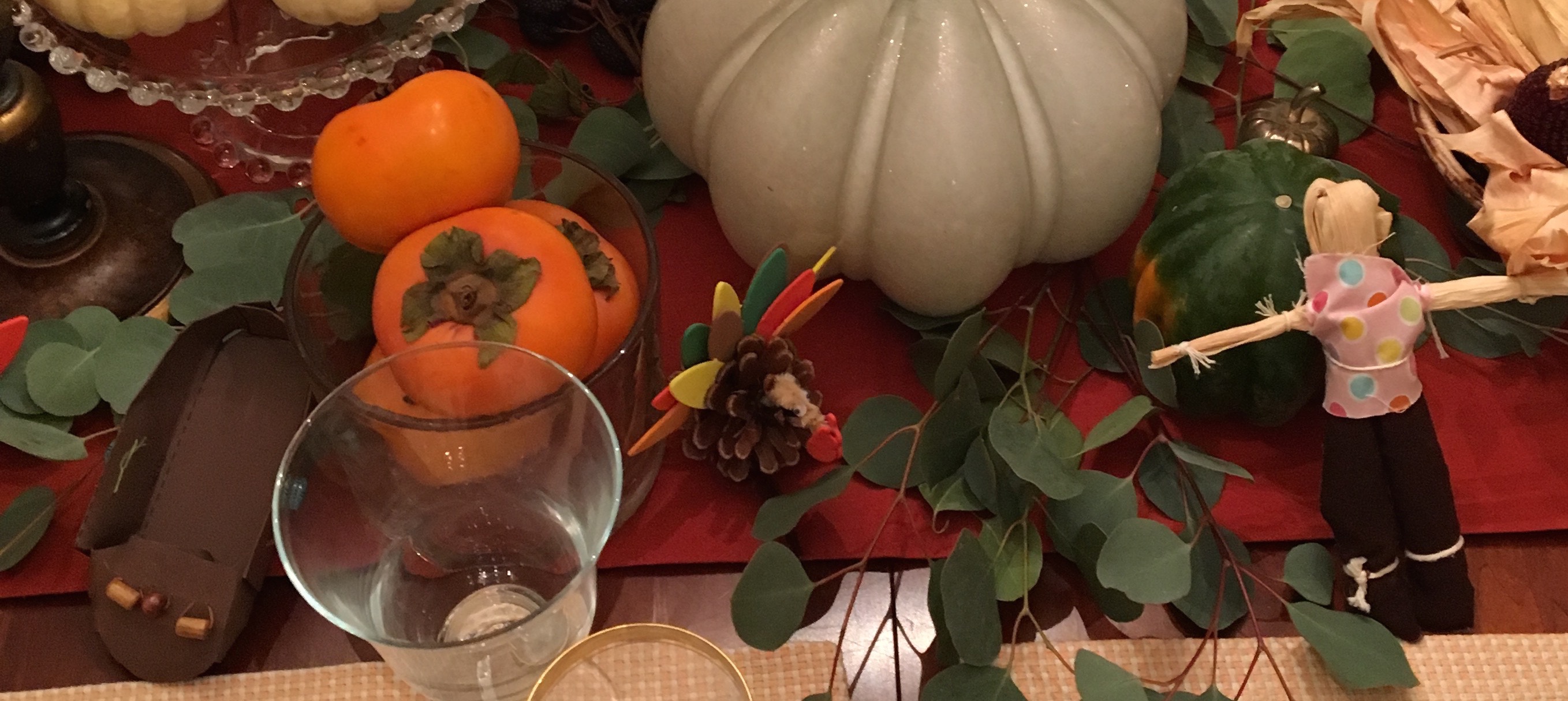 For additional height, I found some wonderful candle stands upon which I placed a gorgeous pair of birds. I set one on the table and one on the mantle. I also added some candles sticks from almost a century ago for some rustic appeal. The bit of gold leaf that remains on them keeps in harmony with some of the other bits of sparkle.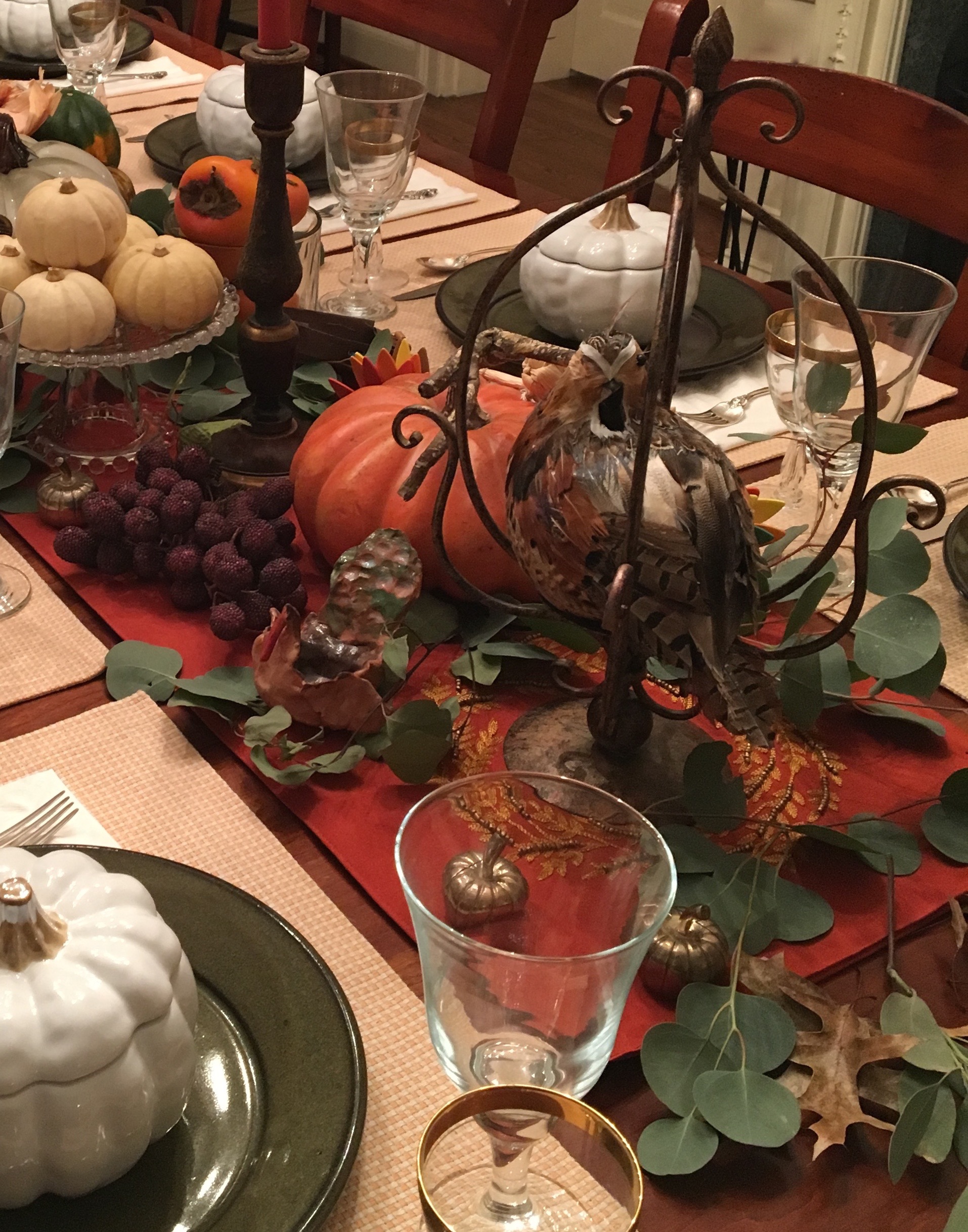 I also founds some wonderful grapes. Now I don't usually like 'artificial' produce but these grapes were exquisite. Each grape segment is made of 100s of tiny beads which give it depth and a slight sparkle that reflects light. They had several shades of purple which I scattered around the table to add to the autumn color scheme.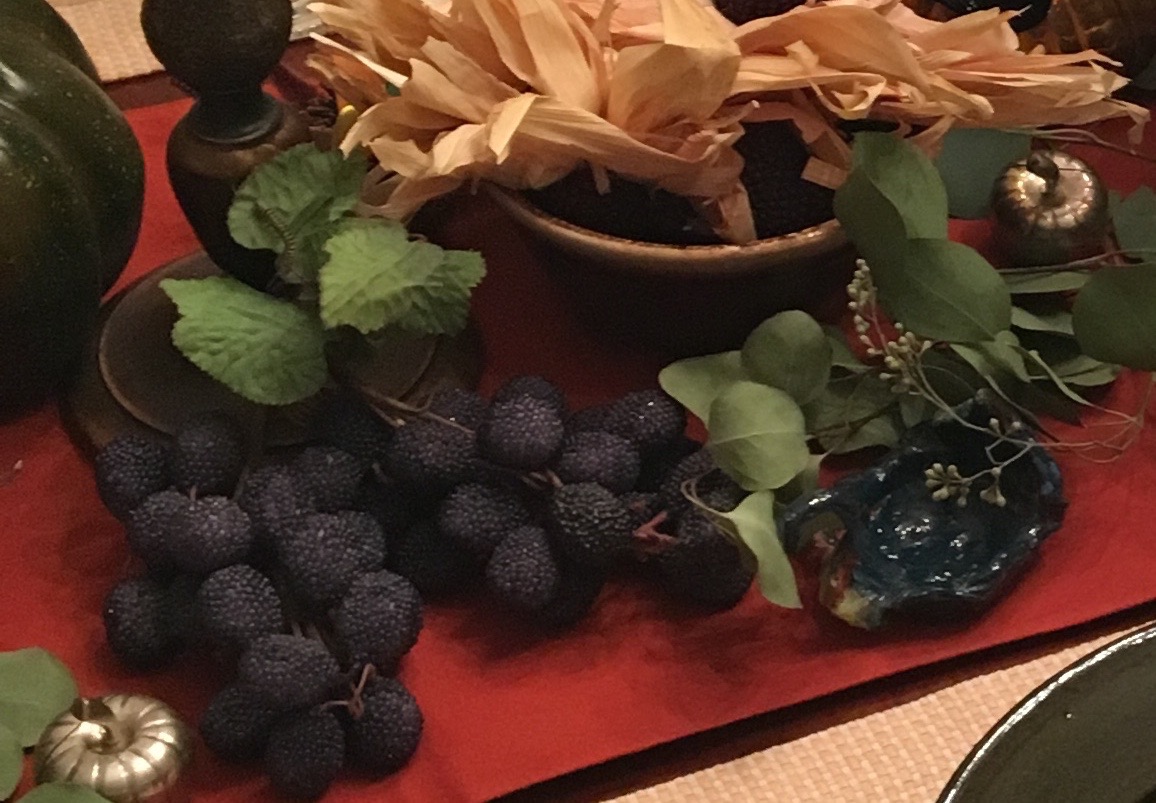 Then I intersperse with what I come across at the market that will be attractive and have staying power for the season. This year I took some the not yet ripe persimmons and stacked them in a vase for height. Again against the amber setting they are visible but not too much of a focal point.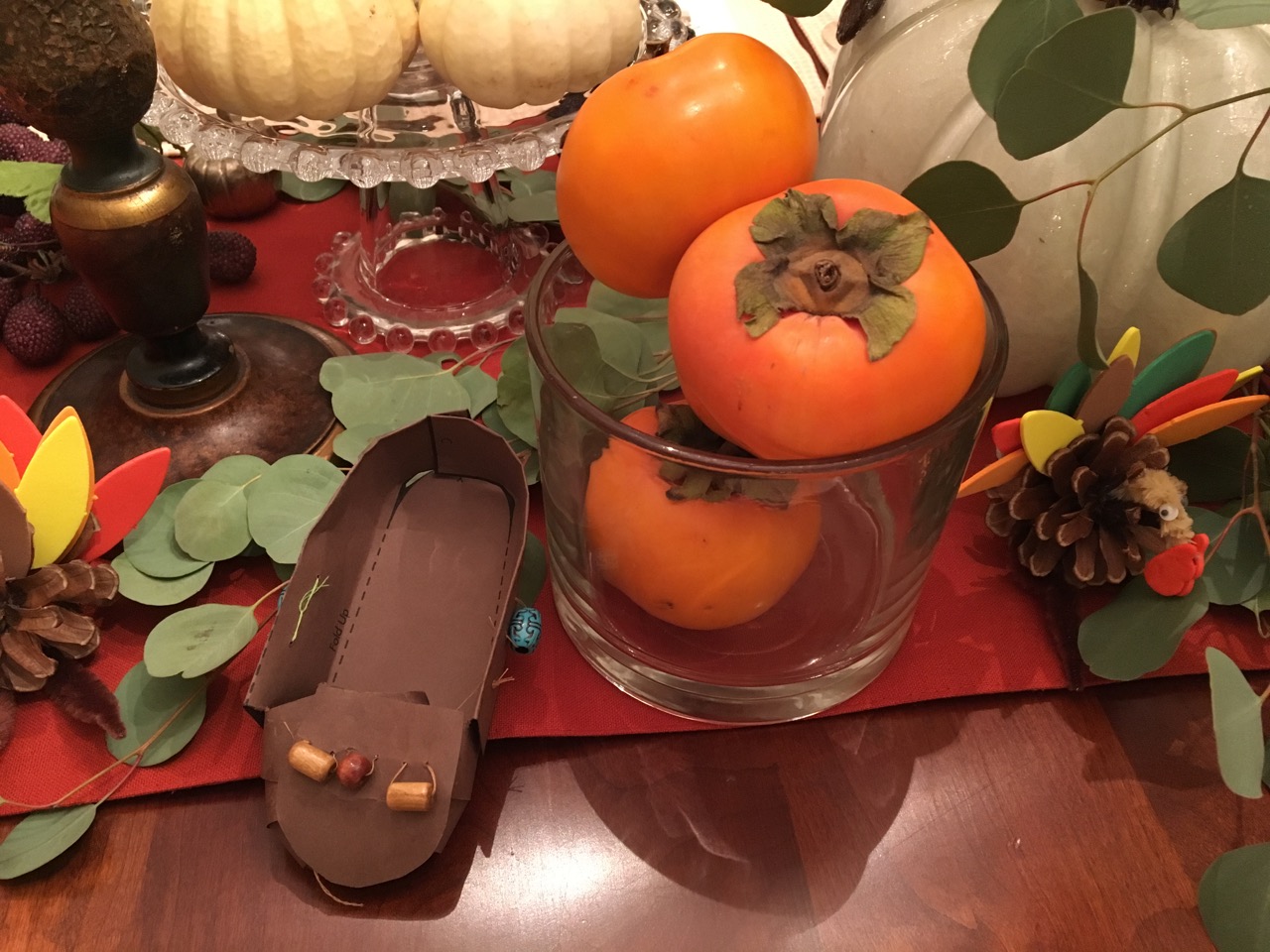 We also thought chestnuts would be fun to roast so we placed them in a dish and plan to roast them after dinner.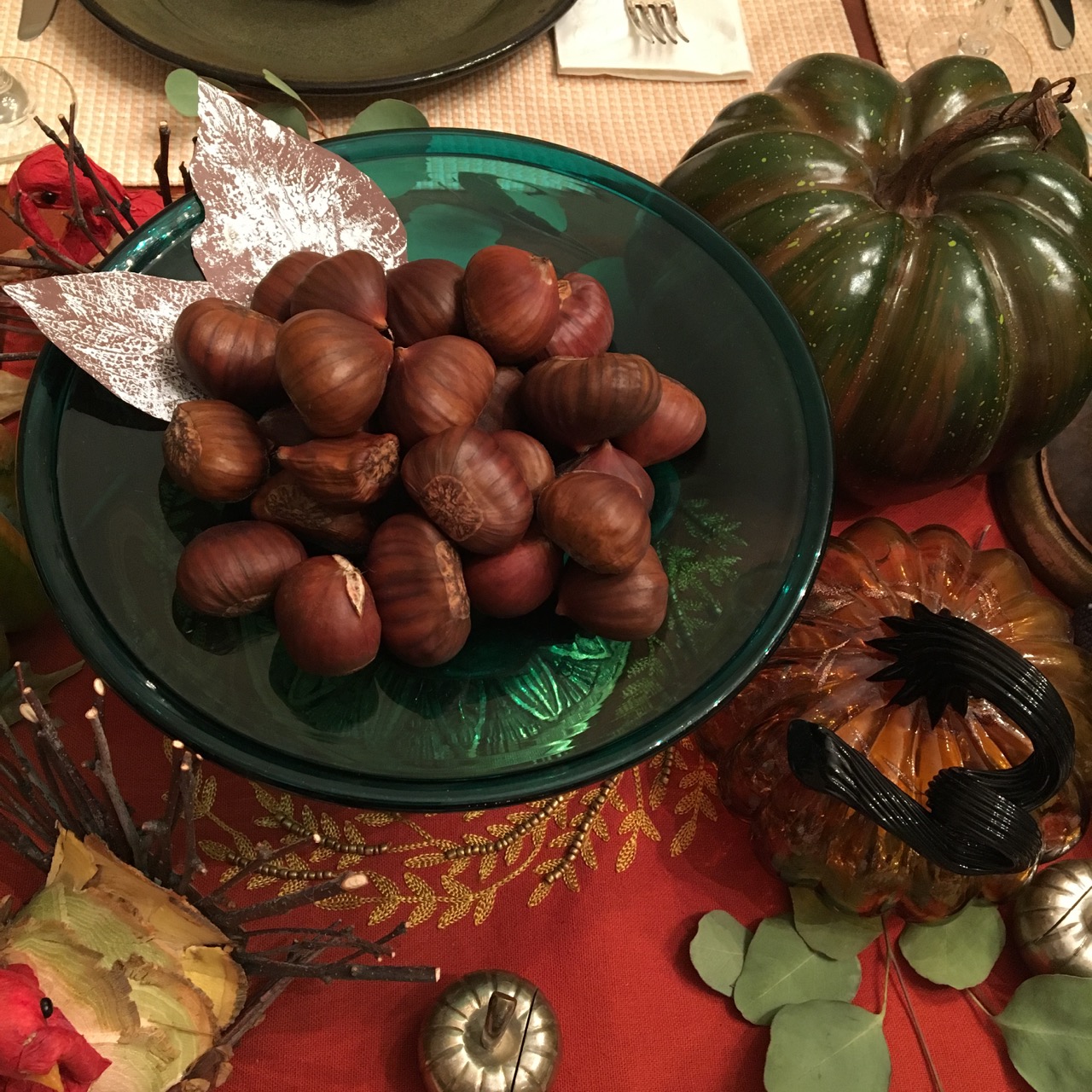 I also love greenery, so I filled a slender vase for some variation in color and layered more of the greenery to fill in the spaces on the spread.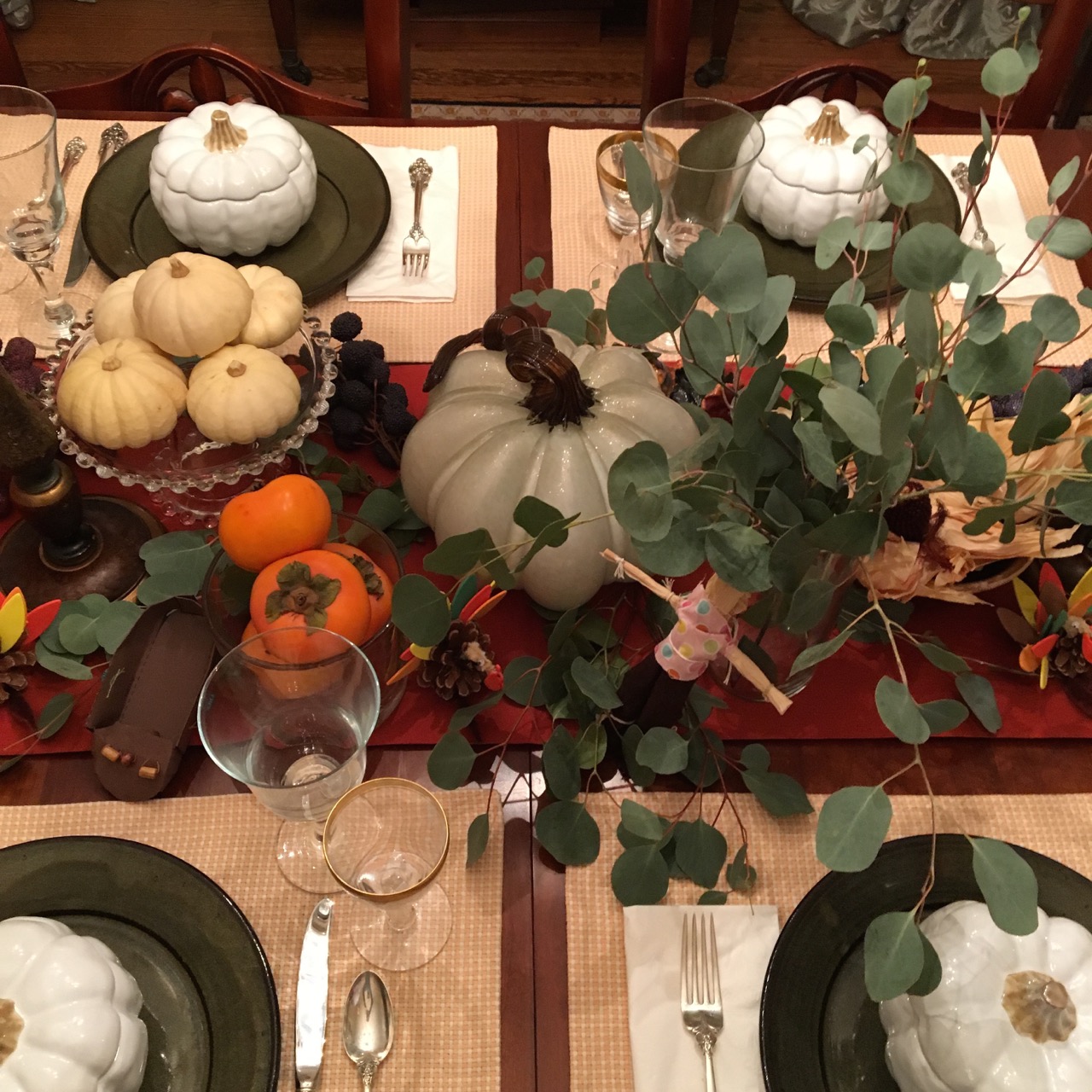 I added an old ceramic pot inherited from my mother in law with dried baby corn from my mother. Then we set the table. In case you want a refresher, this one from Brunch at Saks hits the highlights.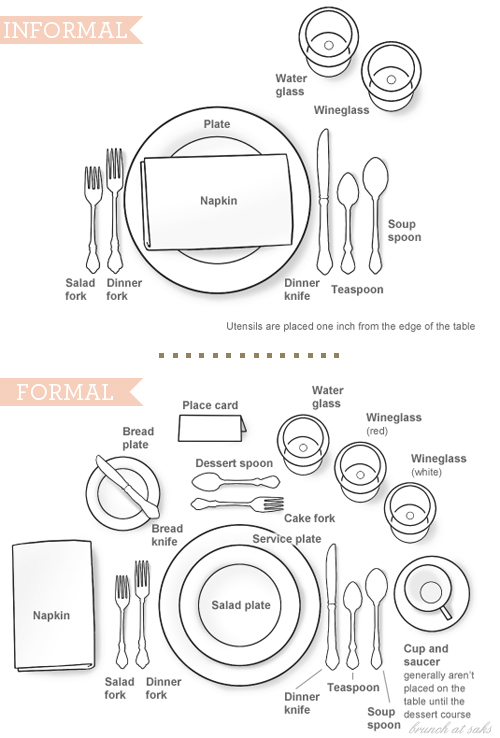 We stayed with the harvest colors. I have some light pumpkin placemats that add some visual variation to the table, without being too stark. We added some simple glasses with no harsh lines, nothing cut or angular.  These I paired with an odd gold rimmed set I came across for just a bit of jingle to go with the silver.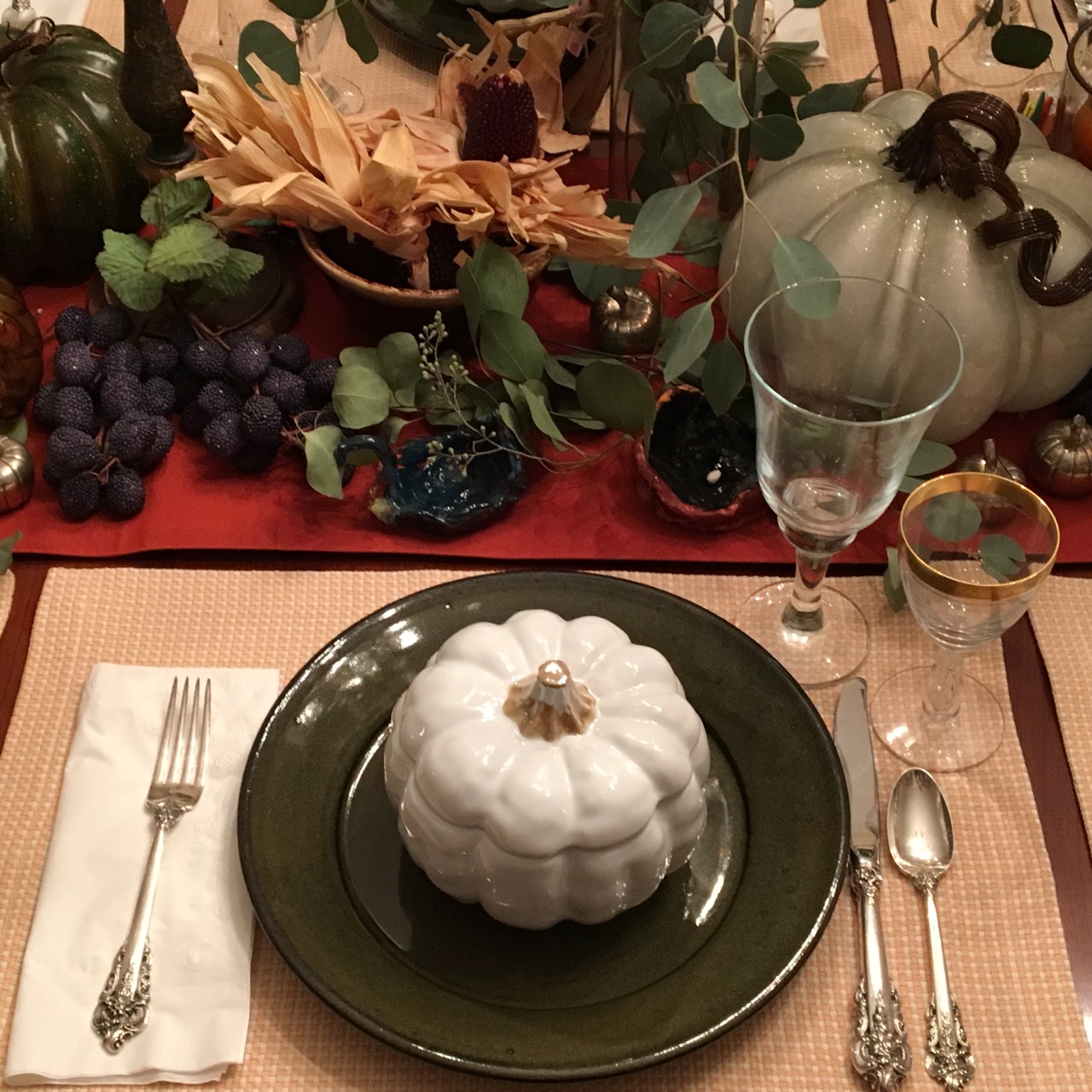 My mother in law had wonderful dark green plates from the potters at Seagrove. I remember how excited she was when she got this set. The potter had just taken them out of the kiln. To these dishes we added individual pumpkin soup pots. I used white for a more neutral look. They will also work for different seasons and color schemes in the future. I remember looking at pots like this as a child wishing I could have some. My girls laughed, but I could tell they liked them too. They also had beautiful squash pots. They looked to busy when there was a whole set, but added a special touch to the table when there was one at each end at the head of the table. Who knows, maybe these gourd pots will be part of the childhood memories my girls take with them to their own families. After all, isn't that why we do all that we do, to make memories and traditions for the next generation?
Xs
Enjoy the moment.  Soon the real work will begin!
Below are some more recent finds, if you are interested in a particular item, there is an embedded link in each picture below to make it convenient for you to click on the item and get in time for your next event.
Table runners:
Candlestick holders:
Pumpkins:
Turkeys:
Corn bowl/ cachepot:
flag football.