Growing up in a house filled with good food, Thanksgiving has always been a favorite holiday at our house.  Spending the weekend before pouring over recipes is an activity we look forward to.  Then we make the shopping lists, and shop, and shop, and shop. Wednesdays are spent making the deserts.  Then the cooking begins in earnest on Thursday.  Each year it seems there is one recipe we try to perfect.  One year it was the apple pie, then the pumpkin pie.  The dressing is always a challenge as there are those who like cornbread stuffing and others who prefer herb.  So much to enjoy, so little time.  When I can set the table ahead of time, there is one less thing to do on Thanksgiving day.  As most of us consider it an eating holiday, often not much time is spent making a festive table. Below are some thoughts on making your table memorable.
First start with a table runner.  There are may types to choose from. I like the ones in Fall colors: rusts, crimsons, and browns. Some I like are fall leaves with beadwork detail, neutrals with embroidered pumpkin details, reds with embroidered leaf details, rusts with gold accents, tapestry style fall leaves, or browns with embroidered wheat details.  The one below I like because it is embroidered and has a nice beadwork detail.  Then some candlesticks are in order. There are many wonderful ones to choose from. There are the Windsor Pillar candleholders in a rich brown that hold the chunky votives, the Hand Carved Golden ones with an antique finish, the beautiful French Country Renaissance style ones, those with a wonderful Distressed look, and those with a Shorter less obtrusive look. I got the ones below from my Mother-in-law's wonderful collection. They are old wood with gold accents.  It also makes it easier to see across the table for conversation when the table display is not too obtrusive. Pick candles of your color choice.  Again Fall colors work well here.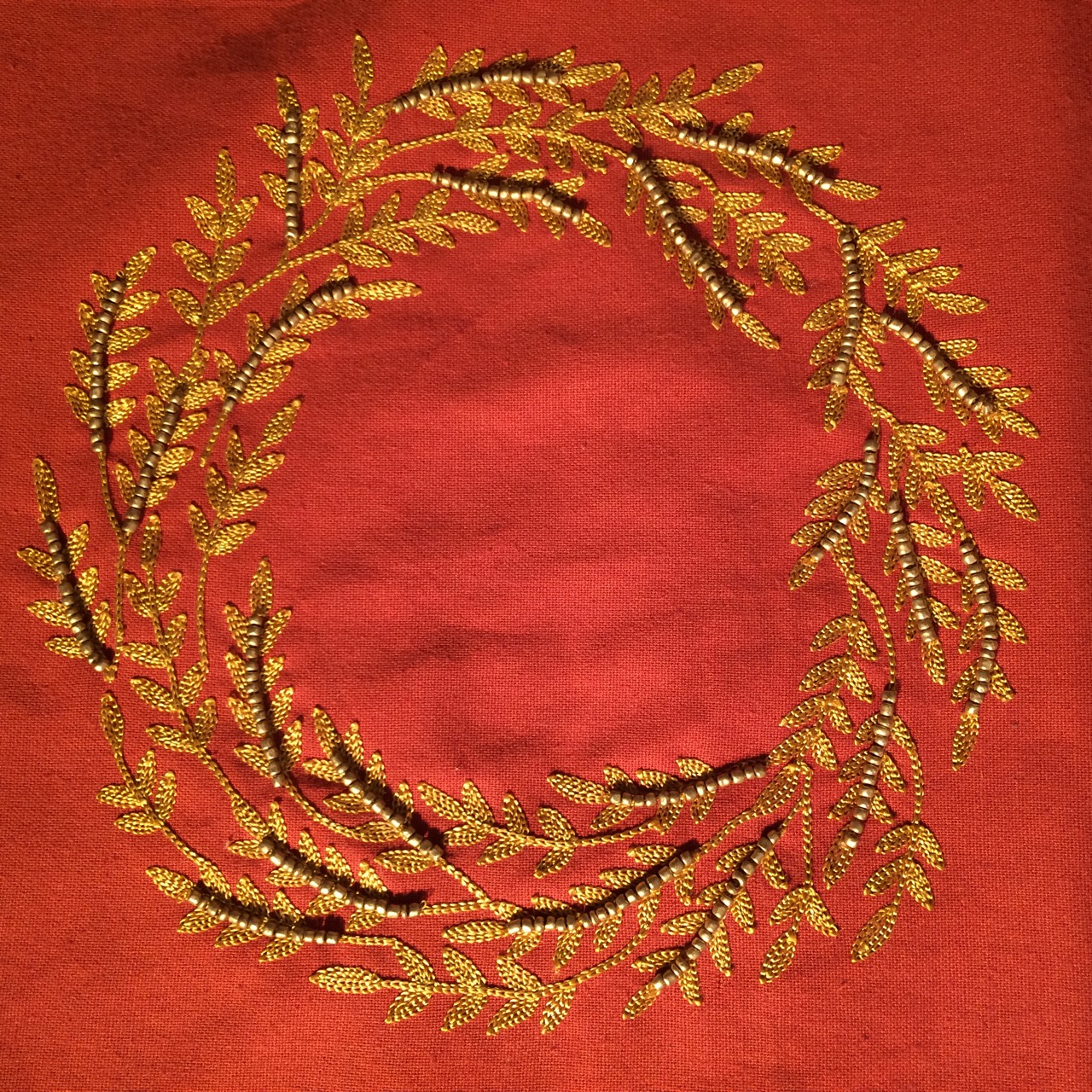 Next pick a centerpiece.  Here I choose two different color pumpkins. For a more whimsical look you may also use and decorated pumpkins such painted ones, or for a younger crowd character style pumpkins work well.
Then comes my favorite part.  The crafts the children have made in school.   Here you can see each one's ceramic turkey.
Then I added some cute little pine cone turkeys.  These come in a variety of styles: some are whimsical turkeys while others are more sophisticated style turkeys.  I purchased the turkeys below as the ones the children had made at school with pinecones and rainbow feathers had long ago disintegrated. If your children are young enough you can buy kits to make your own.  A brown ceramic bowl filled with decorative small dried corn is also a nice accent.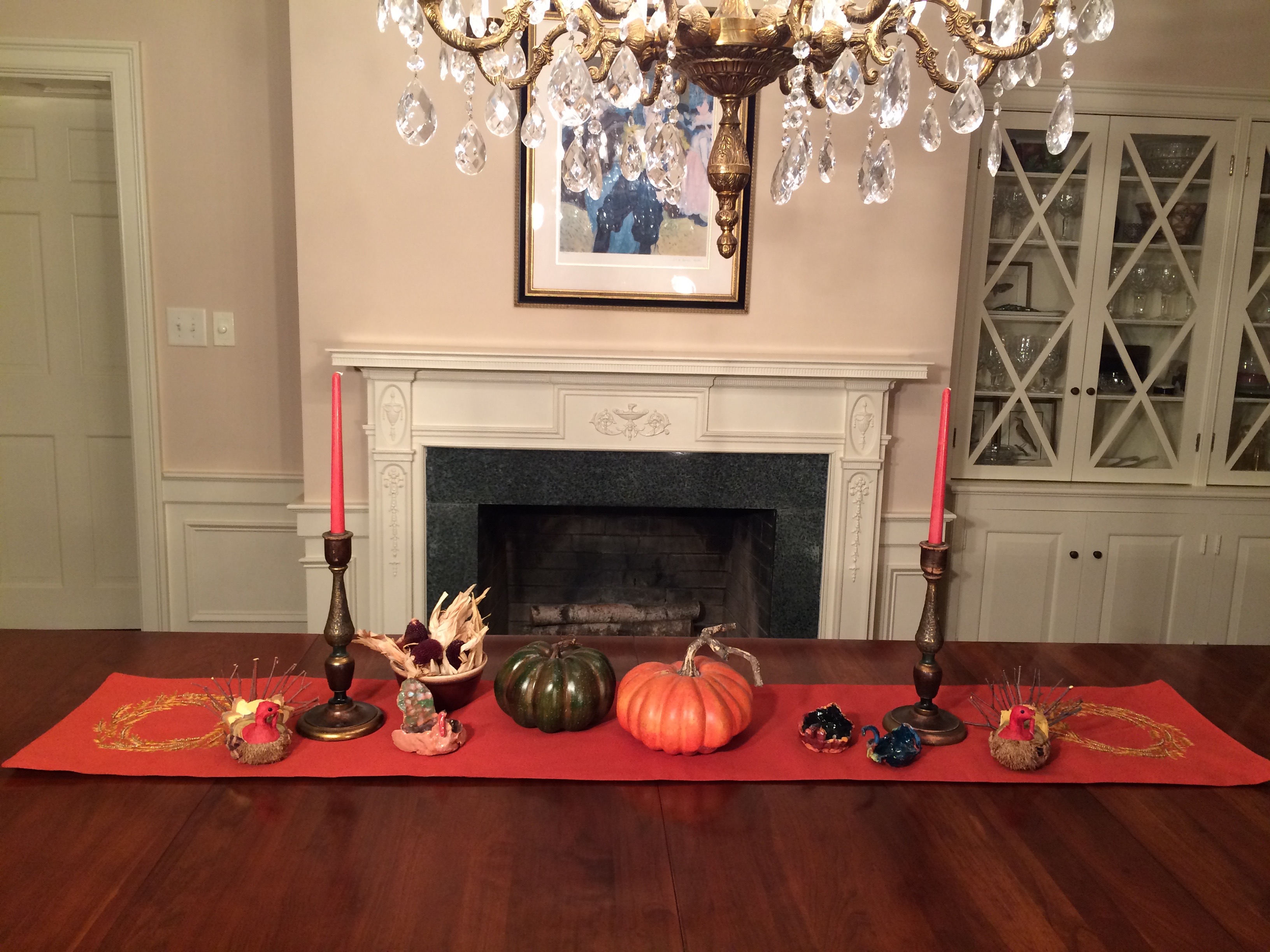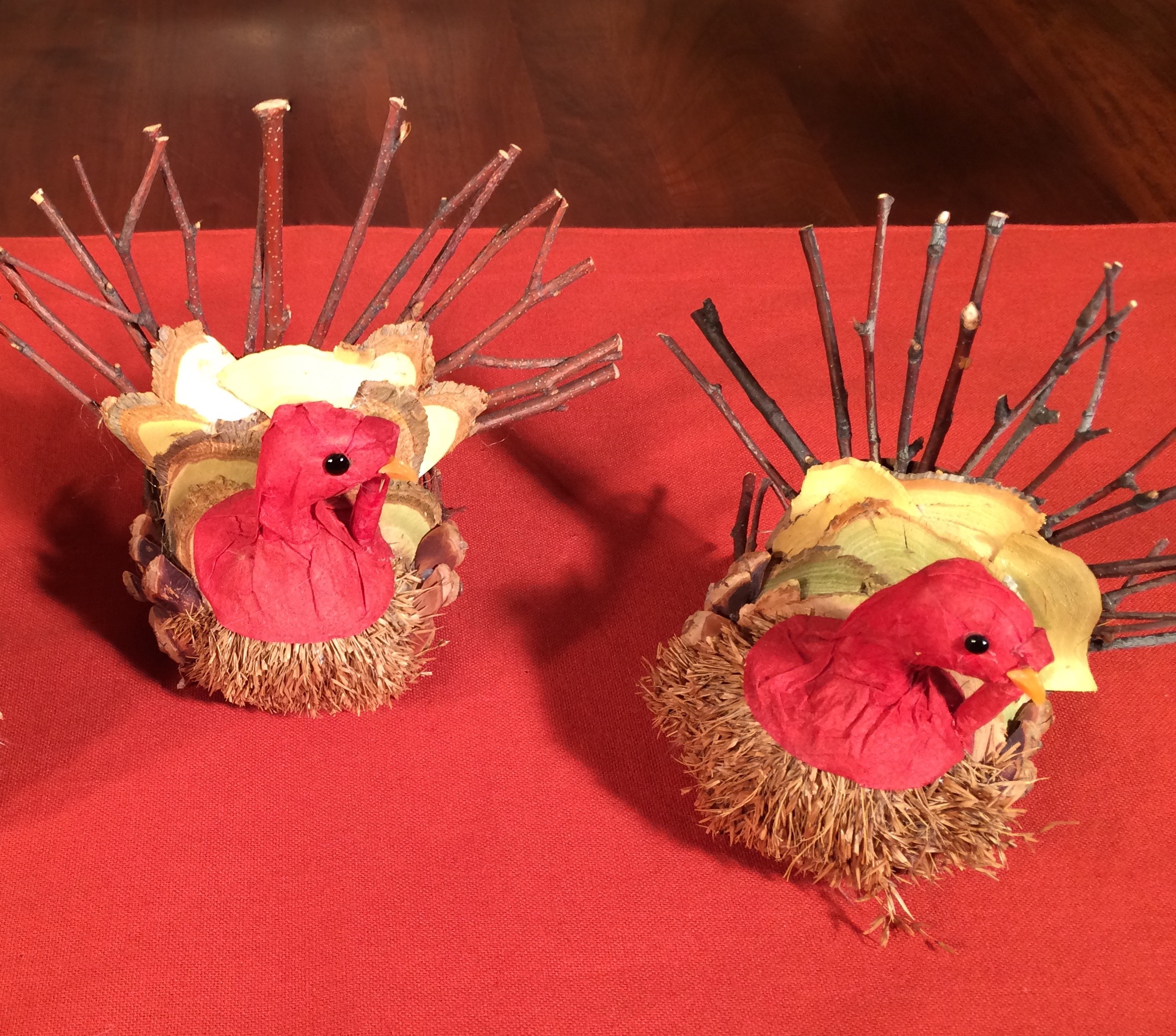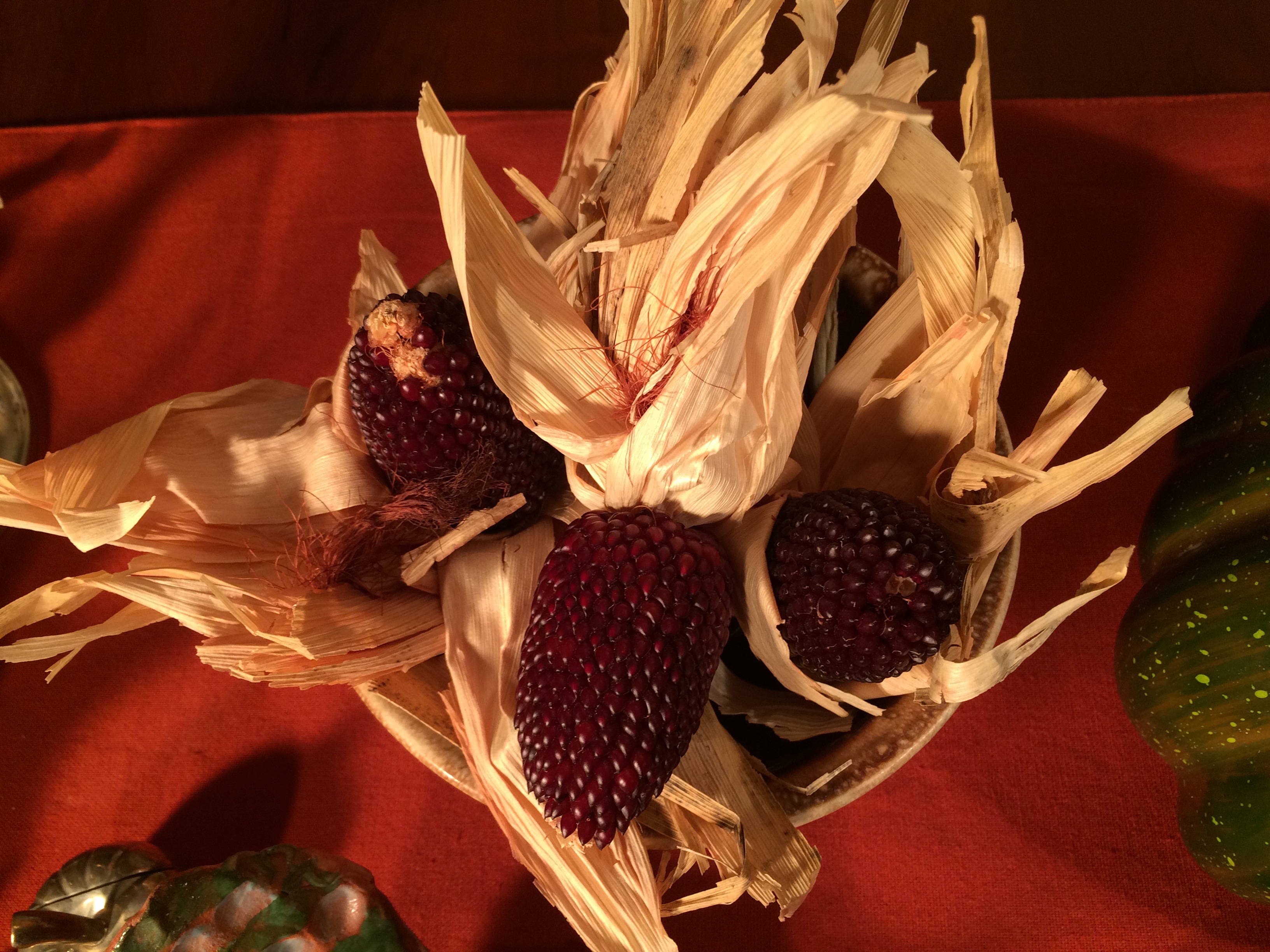 Next I added some silver pumpkin place card holders. They add a bit of sparkle without being over the top.  I also love the look the wonderful 'sewn' paper moccasin made in school one year as a holiday activity at school.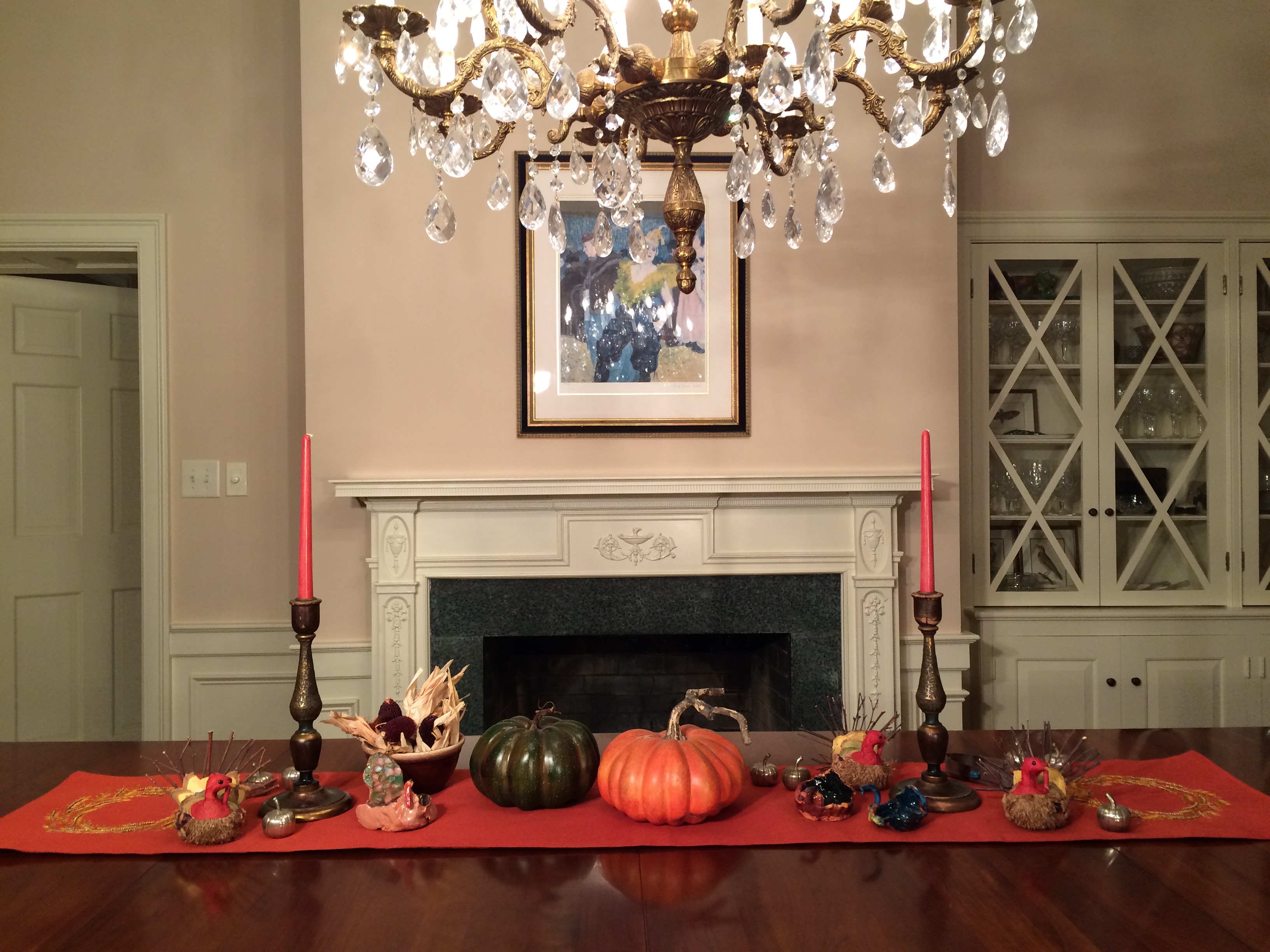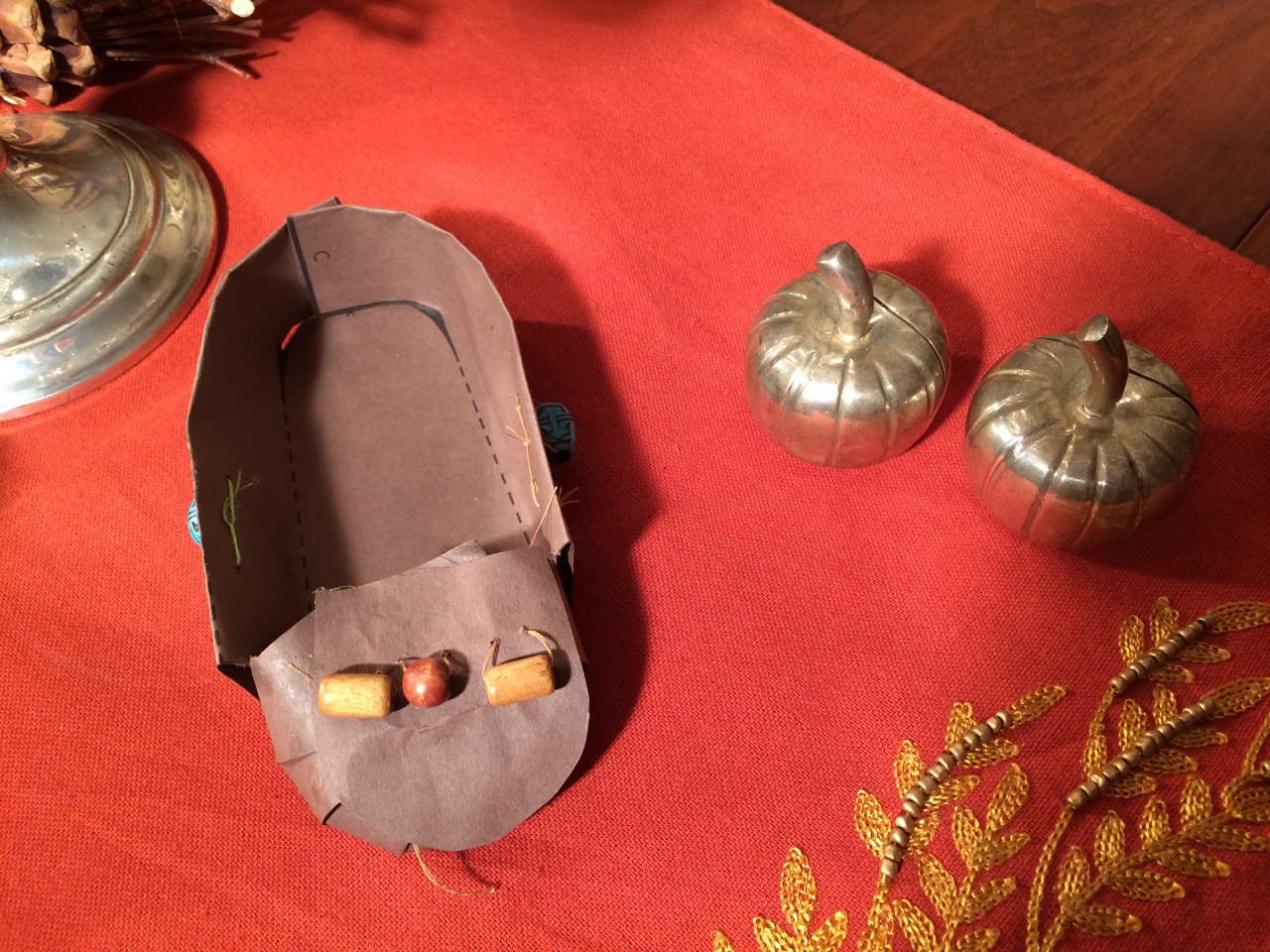 Don't forget to add some decorating to your mantel, perhaps some pumpkins as you see below.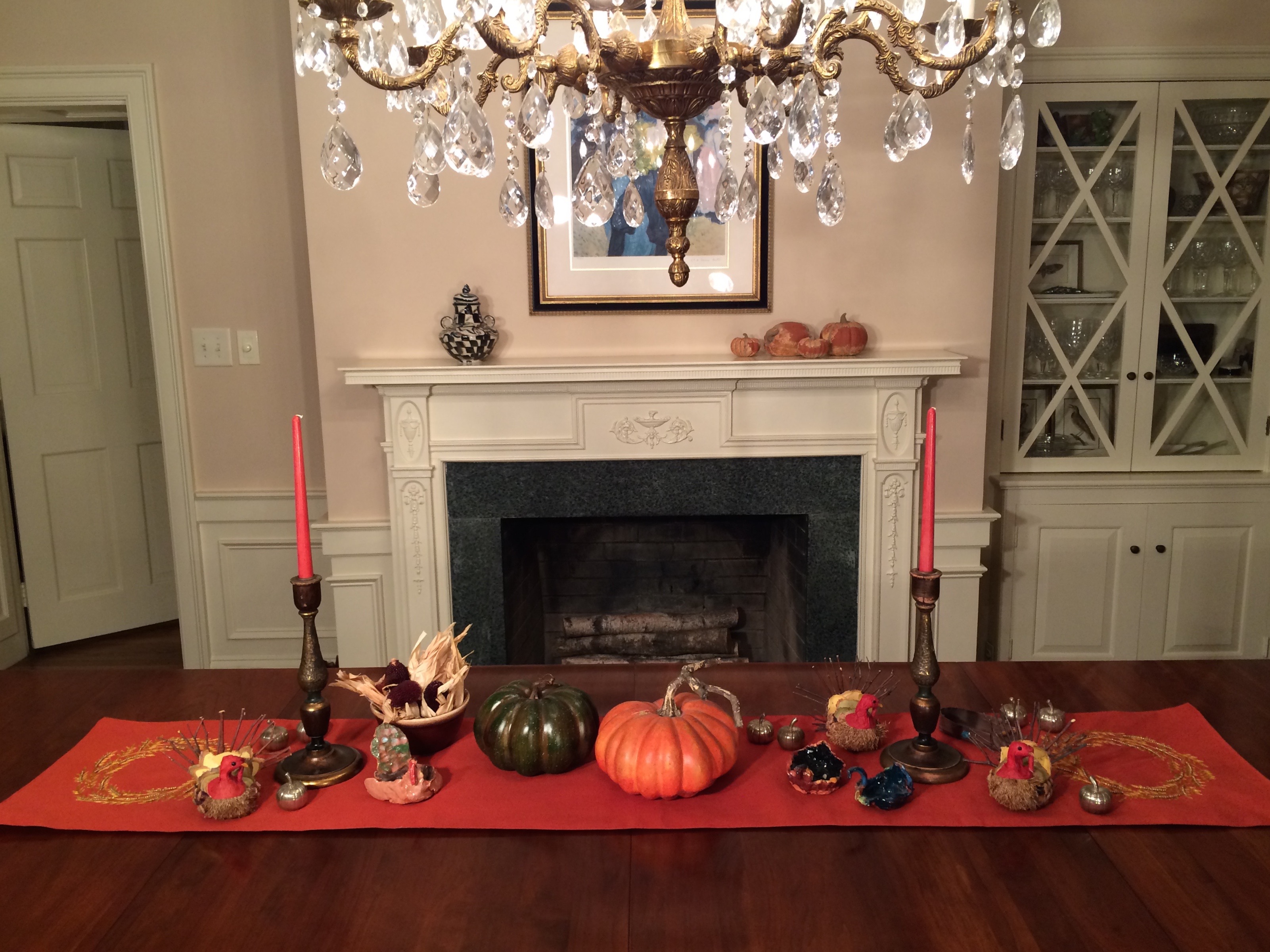 Set the dishes, crystal, and silver.  The guide from brunch at Saks is a nice reminder of how to set the glasses.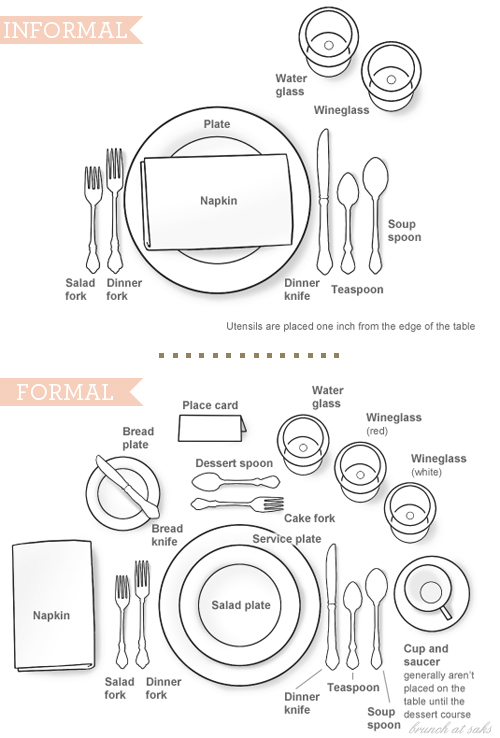 Perhaps consider something fun at the place setting. Persimmons are one of my favorite fruits so I stock up when I can get them and they add a punch of color to the table.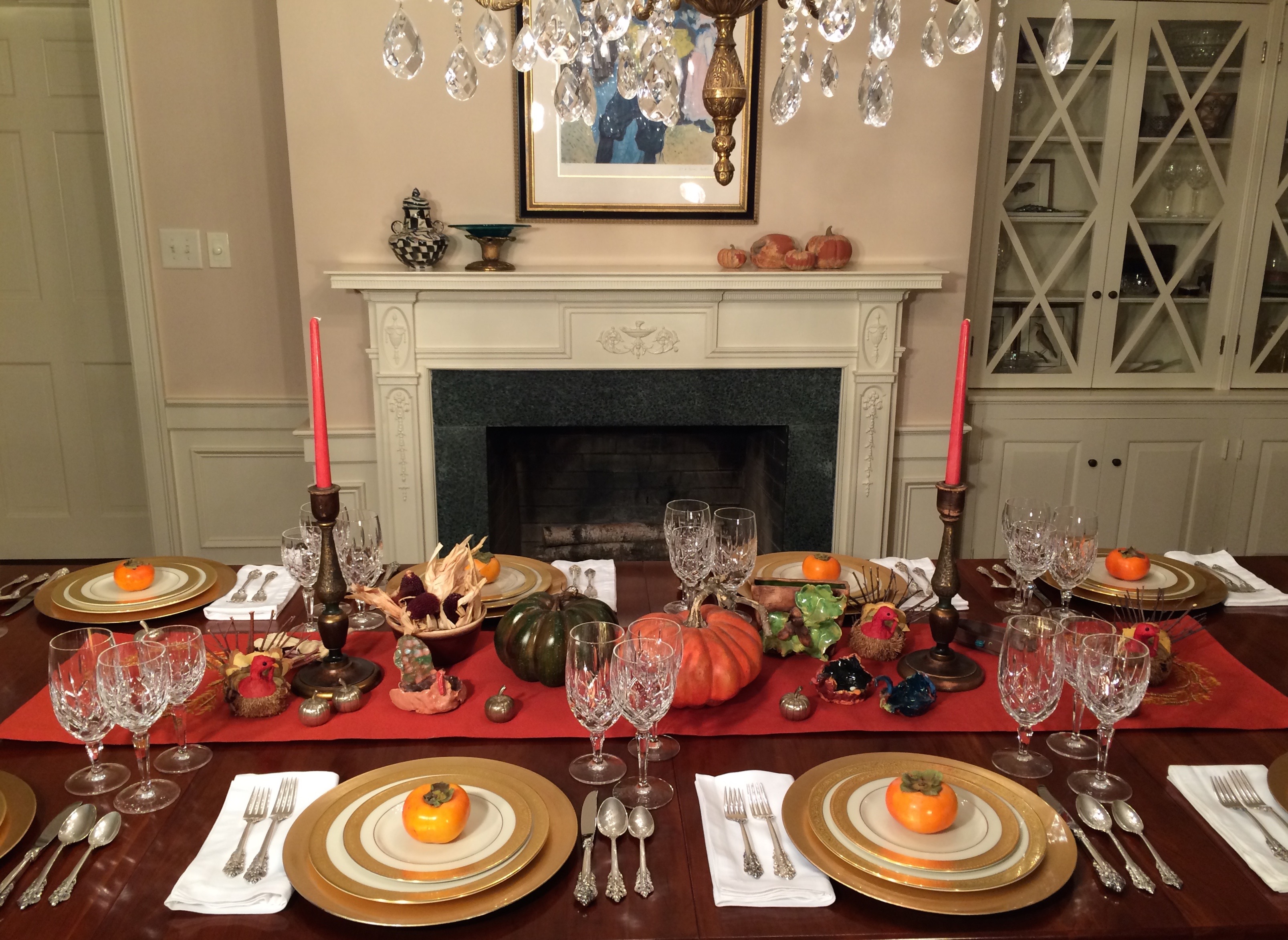 As you review your table, see if it looks balanced.  Above it seems the candles are not substantive enough to balance the rest of the table setting. Below the appearance changes with the addition of candelabras.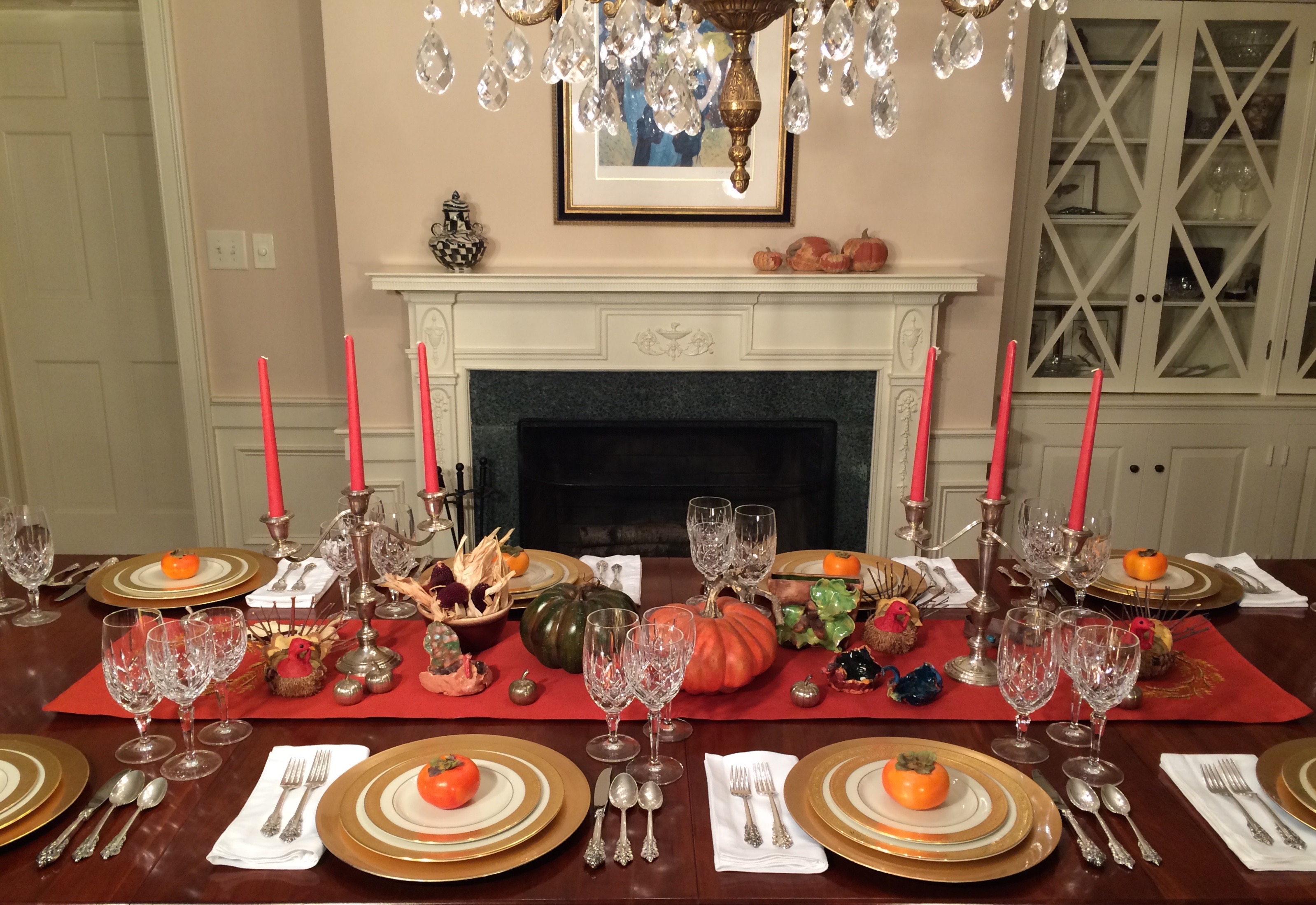 Some extra attention to the mantle with a nice cachepot fills out the backdrop.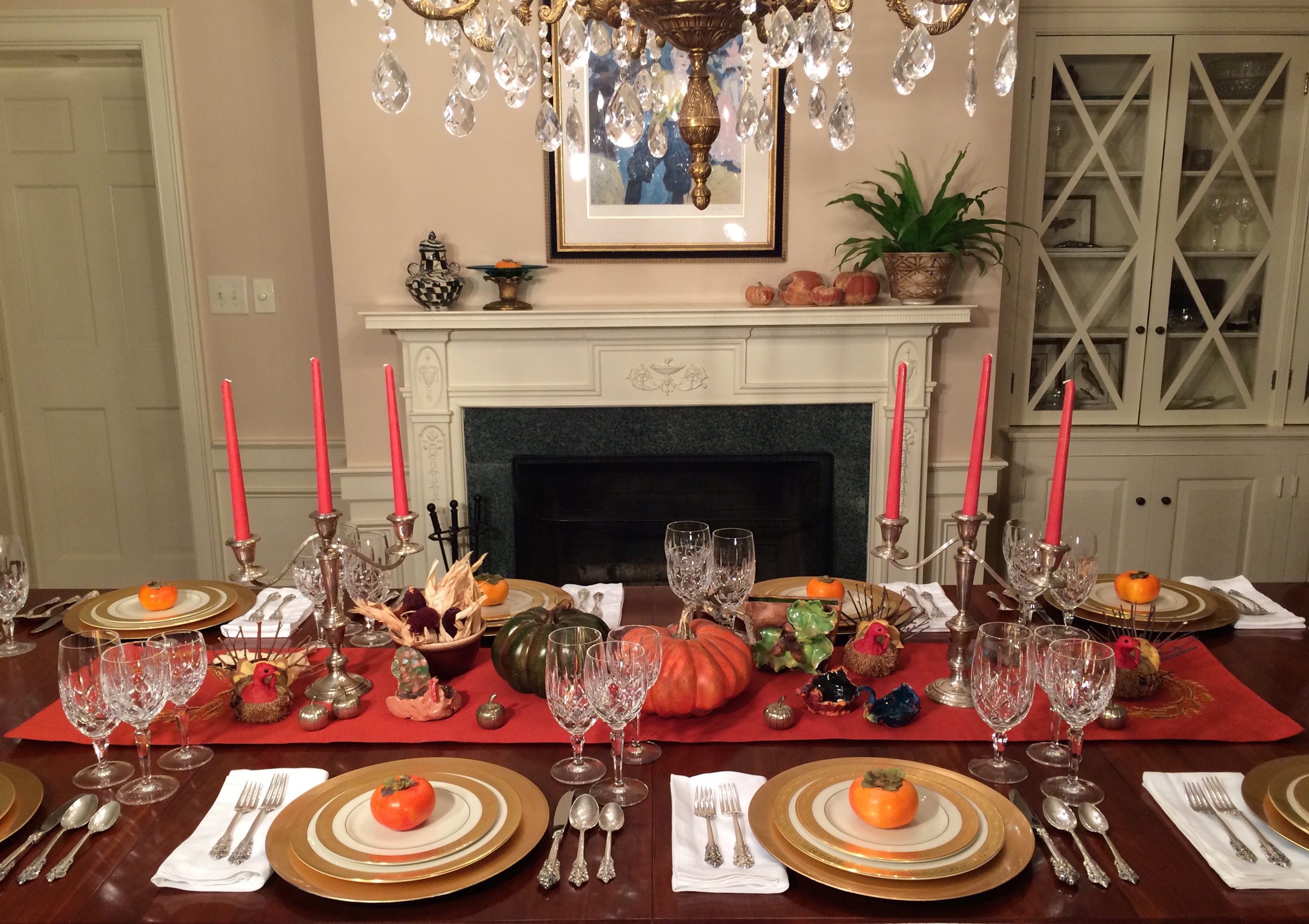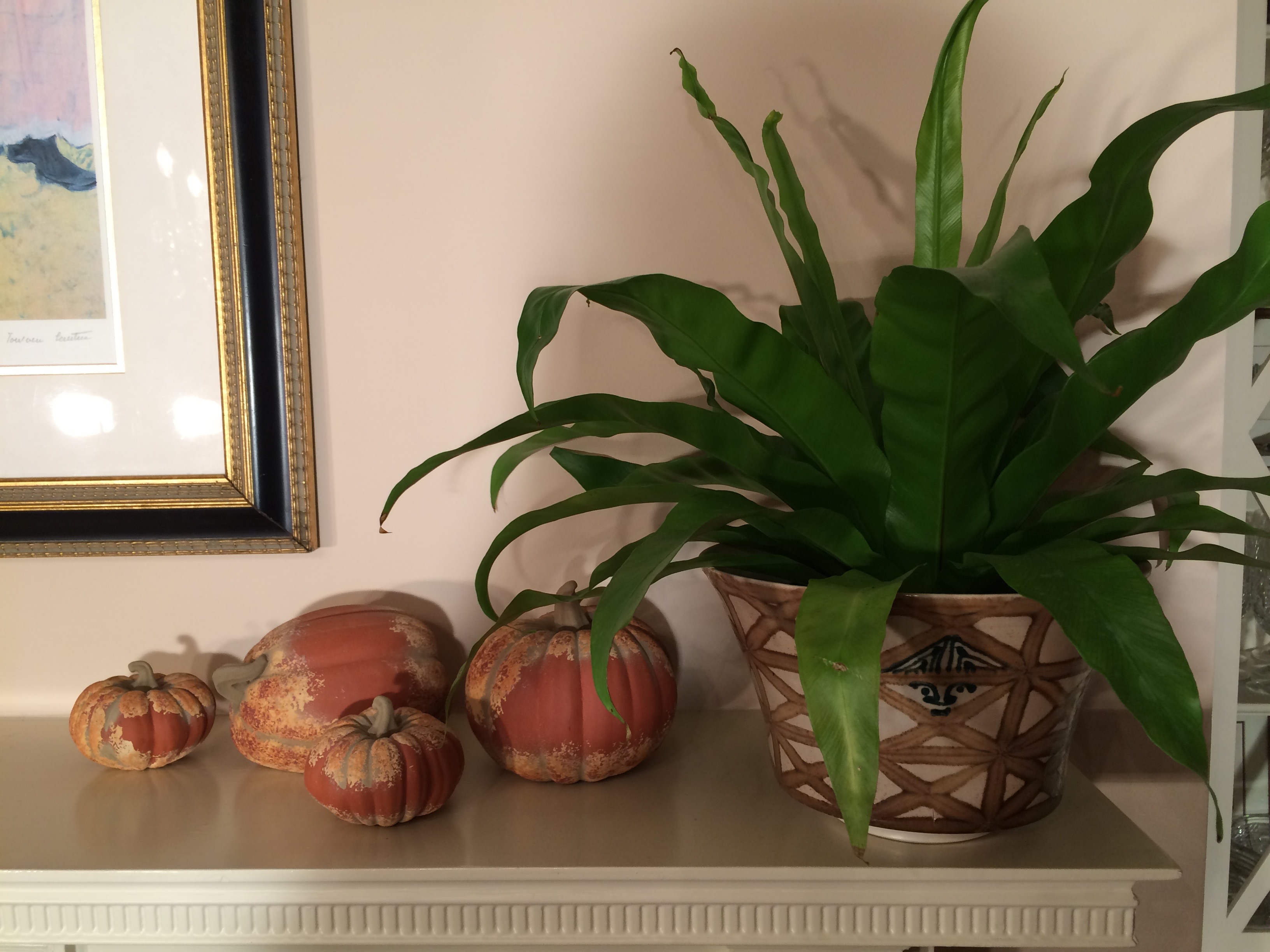 Experiment with candle colors.  Here the orange and the black give two different looks.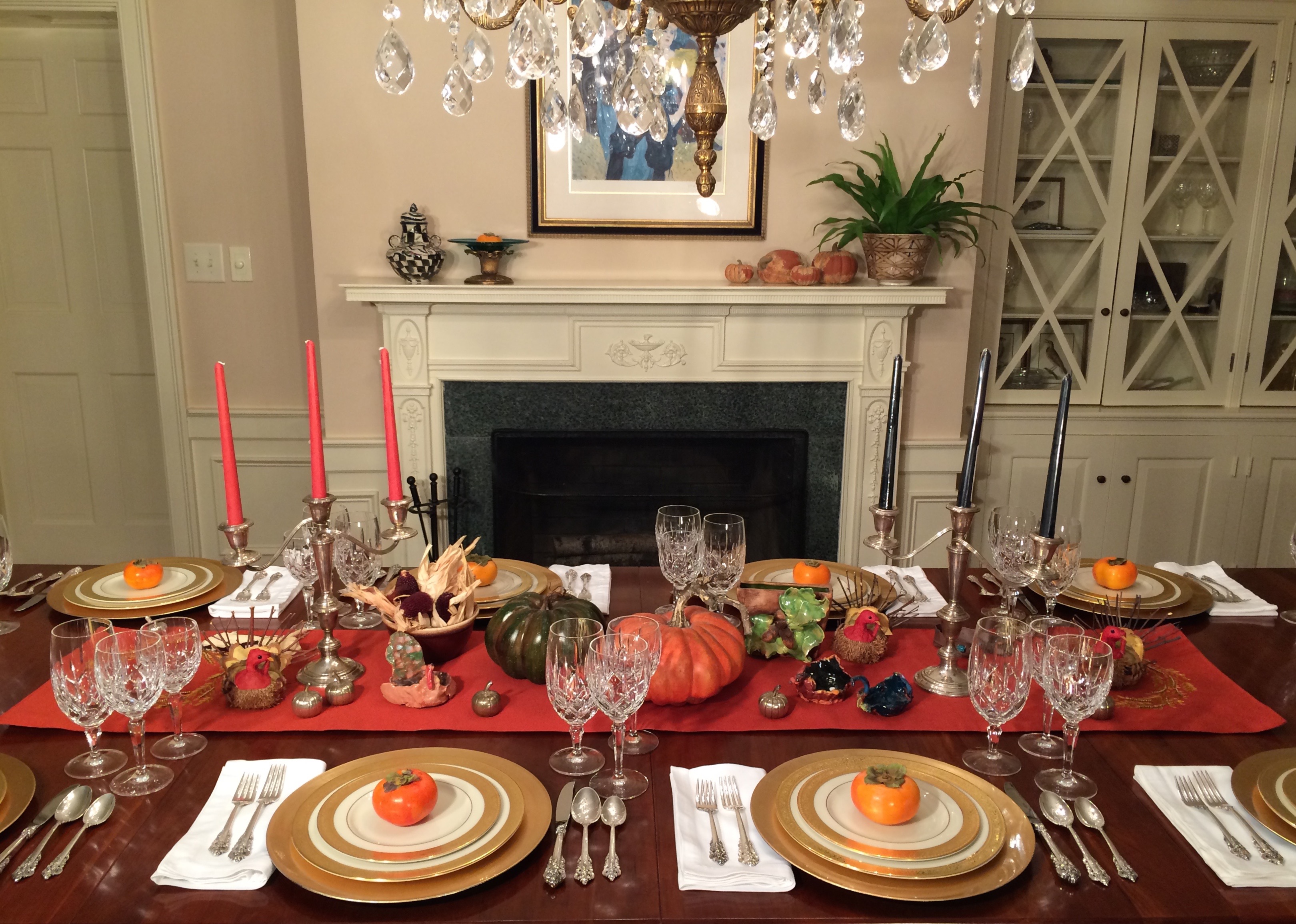 Enjoy the moment.  Soon the real work will begin!
Table runners:
Candlestick holders:
Pumpkins:
Turkeys:
Corn bowl/ cachepot:
Feature image:  Candelabra by Gorham in Sterling.  This is more of an investment piece. It is not only gorgeous but also extremely versatile.  It took me a long time to find one this versatile as most are fixed.  It is composed of 4 different pieces so it can be converted from a pair of triple candelabras to a pair of single candle stick holders.  The center of the base comes in two different sections so one or both can be used and which is on top and which is on bottom can also be switched for different looks as well.  This makes for 9 different gorgeous configurations. As it is sterling, it is solid silver so you need not worry about hitting a base metal.  It can always be polished to a sparkle.  As you have also seen in several prior posts it goes well with any look from spooky to elegant and from casual to formal.