The allure of light glowing in the great outdoors is intoxicating.  I happened upon the vignette above while at a trade show. It brought back memories of overseas travels during the years and wonderful nights enjoying nature by candlelight. It made me wonder why we don't enjoy more of it here in the States. There are many ways to achieve the look.
If you already have outdoor seating, try adding some illuminated lanterns. They can be hung or placed on tabletops or clustered in groups on the floor.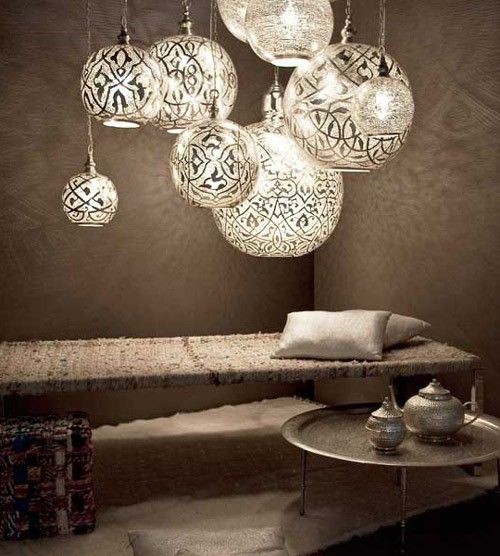 The flickering of the candle coupled with the intricate patterns in the metal cast wonderful reflections on the surrounding surfaces.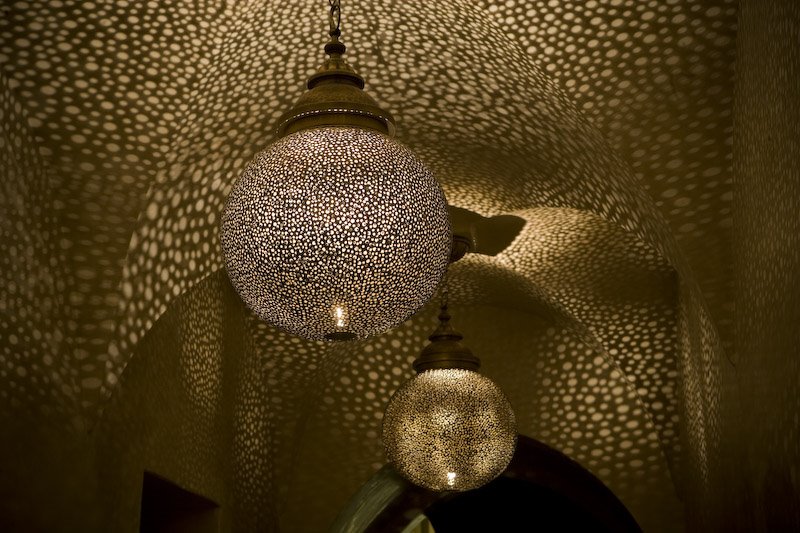 They look spectacular hung from a tree. Click here to see link to Outdoor Dining Inspiration post done earlier.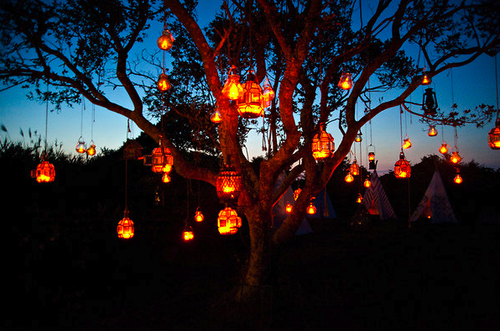 Outdoor seating can often be hard made of wood, metal or concrete. While functional, the space can often lack warmth. The space below, for example, is fabulous with its brick walls, inset 'windows', stone flooring, and wood seating. Just imagine it with wonderful candle lit lanterns overhead and scattered in groups in the corners of the space with more robust placement of pillows. Wouldn't that be even more spectacular?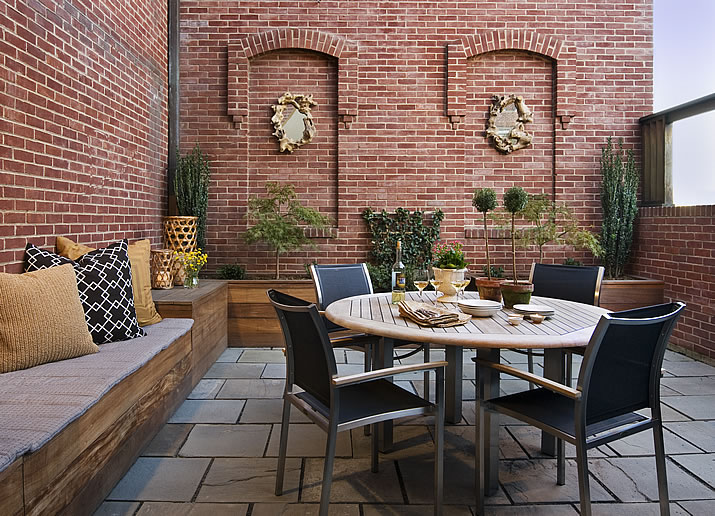 You can soften up the space by adding pillows. I like to layer different pillows together. First start with a color you like. I think blue and green are great choices for summer, they always seems to make the space feel just a bit cooler. Then pick some contrasting patterns within the same color scheme. Fill in the space with some solid similar colored pillows to keep the look polished and not too random.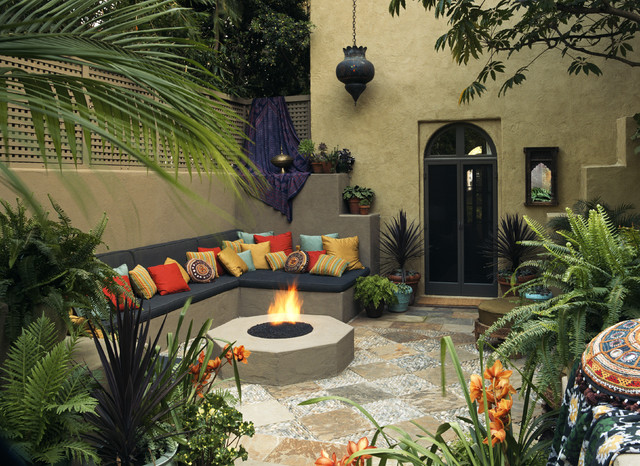 Alternatively the warmth of the red and yellow would be spectacular to cozy up a cool basement. Here the repeating pattern of stripes unify the room.
If you don't already have outdoor seating, you can use a palate layered with cushions in a pinch.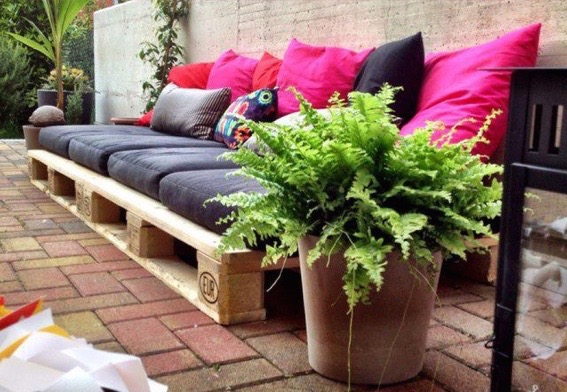 For the more traditional, a simple bench is a great investment. It is a great place to rest after you plant, sit and enjoy your flowers, or have a drink after a long day's work.
The ideas above work beautifully outdoors but they can also be used to great effect in a basement or teen room although I would substitute battery operated lighting instead of candles. For sources, click her to see earlier post Alfresco Dining.
Make it your own…
Below are some of the items from above, if you are interested in a particular item, there is an embedded link in each picture below to make it convenient for you to click on the item and get in time for your next evening outdoors.
Lights…
Cushions…
Seating, the second one has storage for the pillows when not in use. …
Images from message note, besthomedecorblog, pintrest, dragonhousebook, imbrandon, houzz, and curbly.