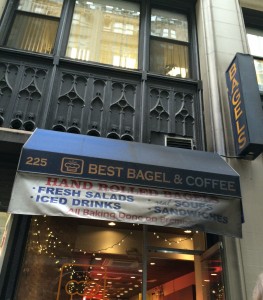 Today's top find was a fabulous bagel shop we went to for breakfast over the Winter Break. The self proclaimed title Best Bagel was a bit off setting, but the line out the door spoke volumes. Fortunately, the line moves quickly as well.
The menu was large with the standard assortment of bagels: plain, cinnamon raisin, egg, everything, garlic, multi-grain, onion, poppy, pumpernickel, salt, sesame, whole wheat, and whole wheat everything. They also have a wide assortment of spreads including butter, jelly, bacon and cheddar, and an assortment of cream cheeses including blueberry, chipotle, cinnamon/ walnut/ raisin, garlic, jalapeno, olive, scallion, strawberry, sun dried tomato, vegetable, lox spread, scallion, and tofu cream cheese. Their menu also includes omelets, salads, sandwiches, wraps, and premium coffee. With my family there is rarely any concern about what to order. As there are 5 of us, usually we order 4-5 different items and try each others. Today everyone wanted a bagel.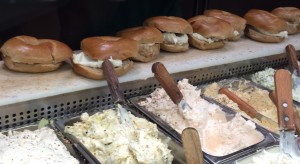 I am a fan of smoked salmon and ordered it with plain cream cheese, chives, capers, and lemon on a poppy seed bagel. It was outstanding. the bagel was chewy yet tender with just the right amount of poppy seed for flavor and texture. The toppings of salmon and cheese were much more generous than I use at home, yet the proportions were perfect. I ate mine before I thought to photograph it so this a picture of someone else's (who by the way got way less salmon than I did!)
My eldest got a roast beef bagel with lettus, onions, and swiss. My middle child got an egg bagel with eggs. The youngest got a plain bagel with strawberry cream cheese.  She self proclaimed hers the best of them all. Truely, they were all outstanding. The combinations of great bagels, great toppings, and good proportions is hard to beat.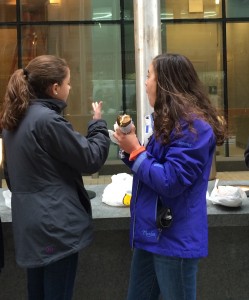 If you are looking for a great bagel in NYC try Best Bagel and Coffee on 225 W 35th Street, New York.