One year my eldest decided she needed a tree of her own for her room. She got a sparkly green tree from Santa that year. She decorated it with ornaments from our tree and proudly displayed it in her room. The next year her sister wanted a tree of her own too. She decorated it and placed it in her own room as well. As you may expect, the same thing happened the next year with the third child. As I was out one day I came across some mini holiday lights designed to illuminate vases. Upon my return, the girls spent the next hour carefully putting the lights on their trees. We found some ornaments here and there until we amassed a reasonable sized collection.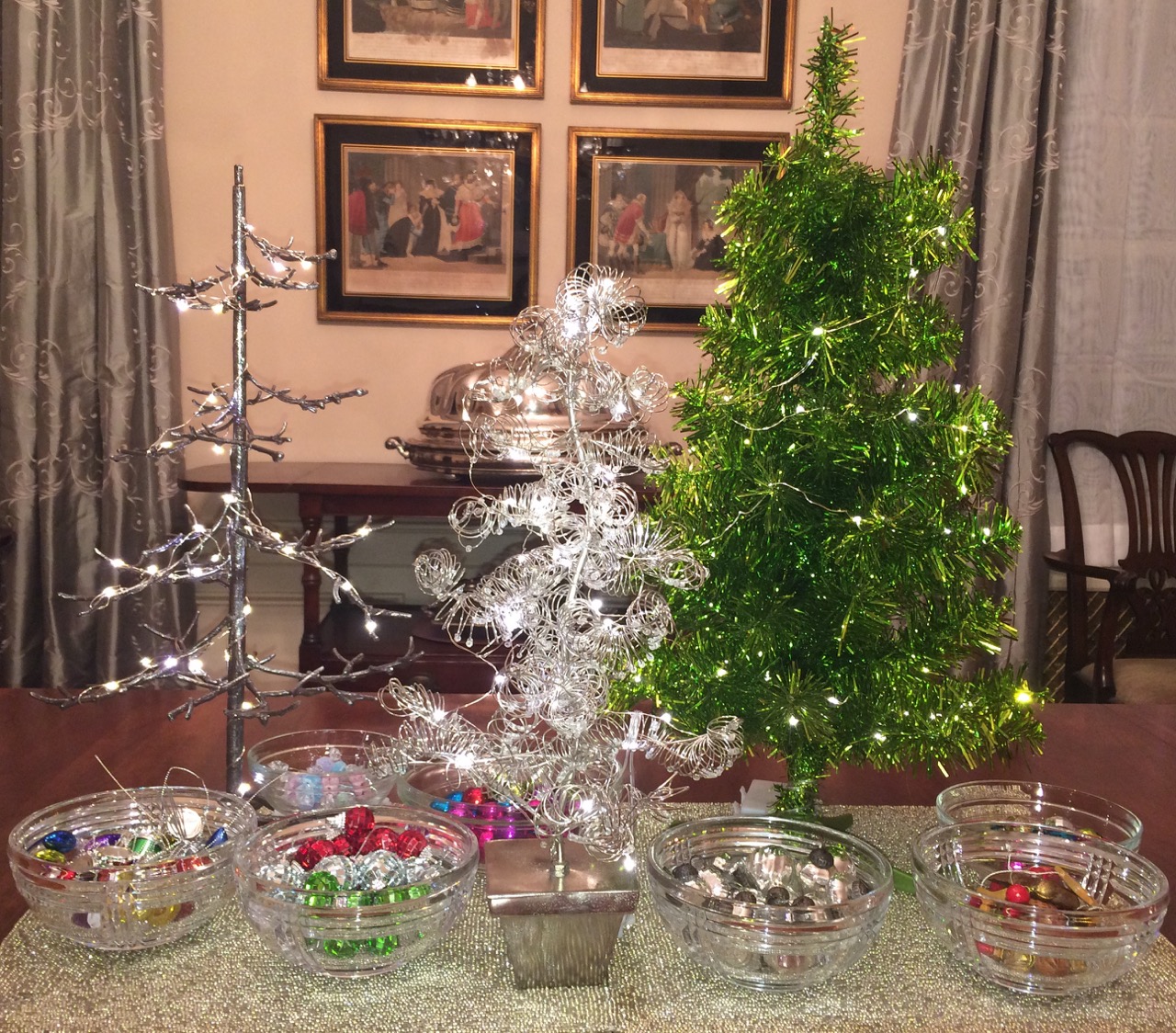 We decided to have a mini tree decorating party. I grouped the ornaments by type in some decorative crystal bowls, put on some holiday music, and served hot chocolate. The girls thought it was pretty hokey at first. An hour later they had decorated and redecorated their trees multiple times.  They had a blast! The next year we had a slumber party and I had set the trees up on the dining room table. We had not had our mini tree party but I decided to leave the trees out (read I did not have time to move or decorate). I noticed that as the guest walked by most could not resist hanging an ornament or two on the trees. By the end of the night they were all decorated.
This year we had a disco tree. It is decorated with balls covered in tiny green and silver mirror squares along with some percussion drums.

We also had a candy tree. The ornaments were made from a garland of candy cut apart and hung as individual ornaments.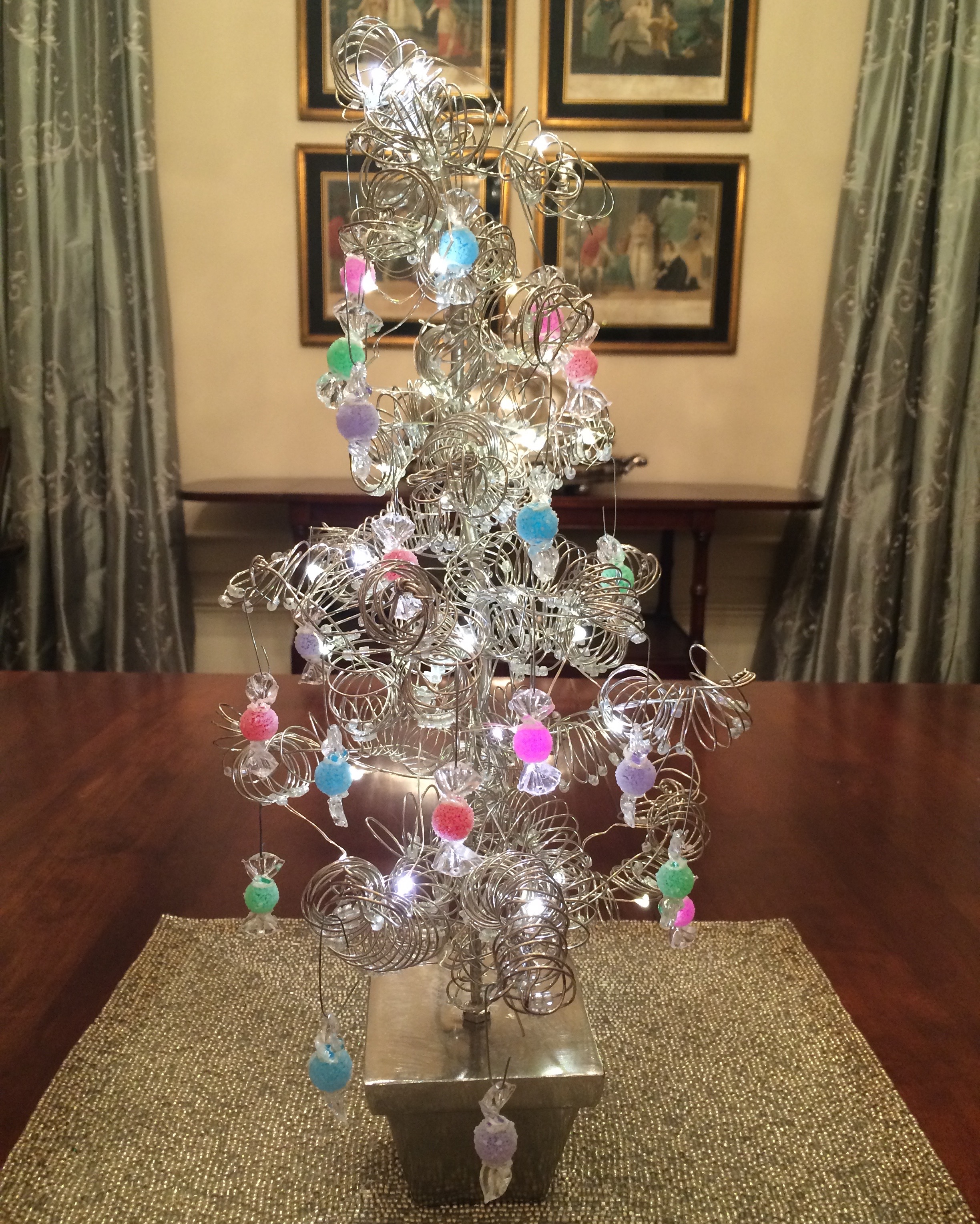 The third tree was the Africa tree. It features ornaments brought back from an African safari, a garland of complementary balls and stars, as well as mercury glass ornaments.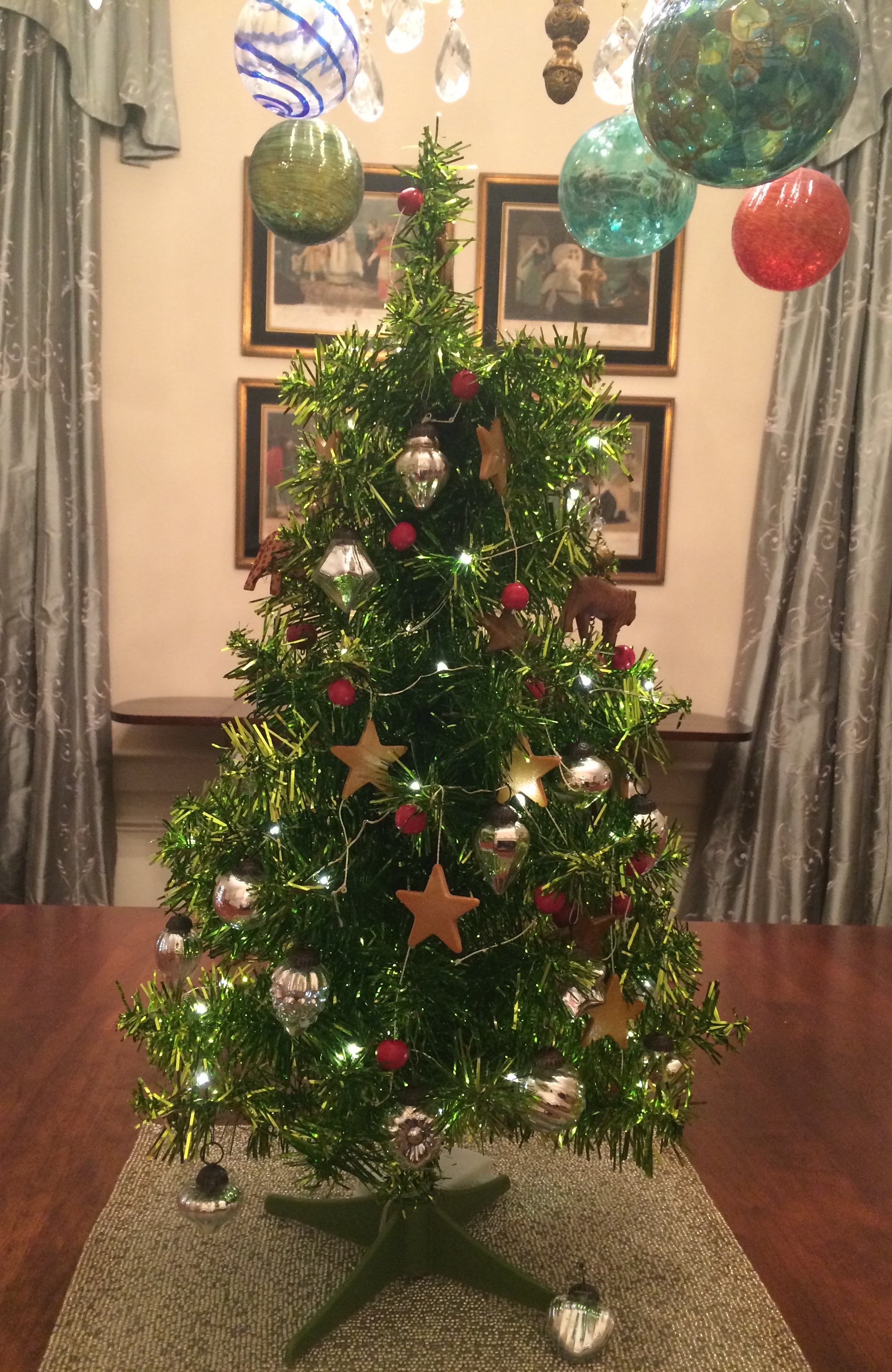 The mini tree party tradition had begun. Now many of their friends have mini trees as well. As they are easy to transport, the friends bring them over and have some fun over hot chocolate. As they come across decorative items we collect them and have different looking trees each year.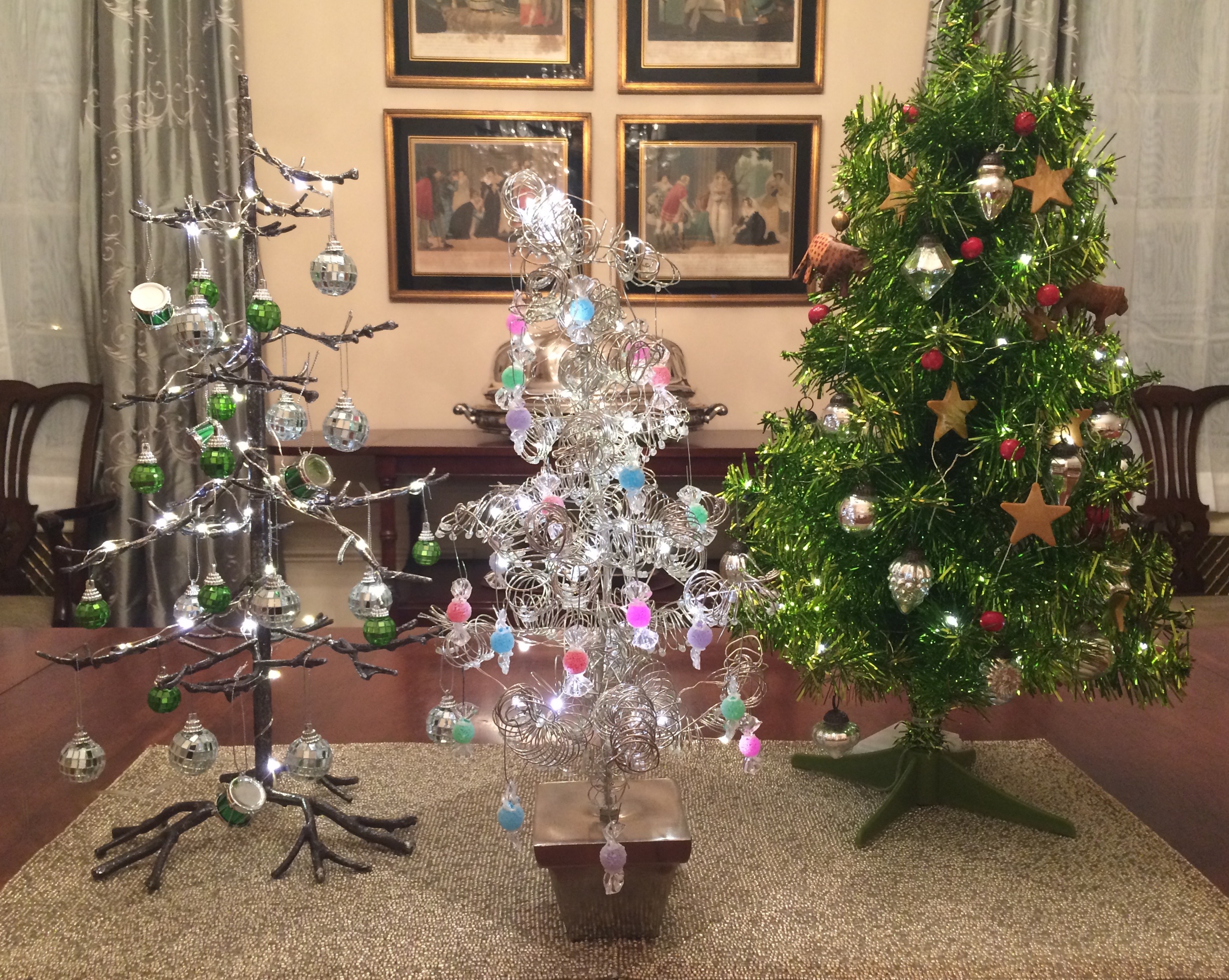 Once they are decorated, the girls place them throughout the house. You can then turn off the lights and enjoy some mini holiday sparkle!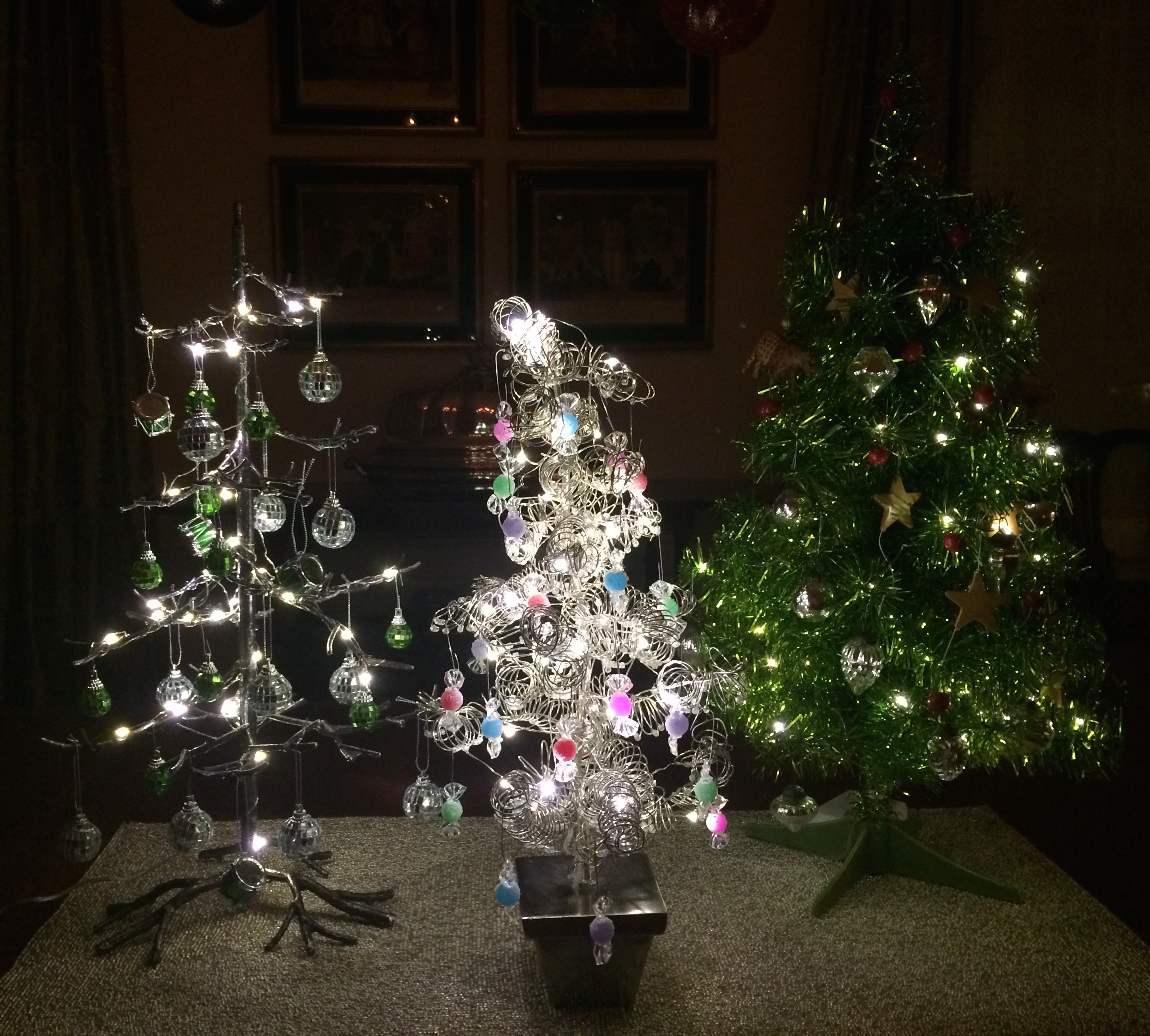 If you would like to start your own mini tree tradition check out some of the items below. If you are interested in a particular item, there is an embedded link in each picture to make it convenient for you to click on the item and get in time for the holidays.
Trees…
Lights…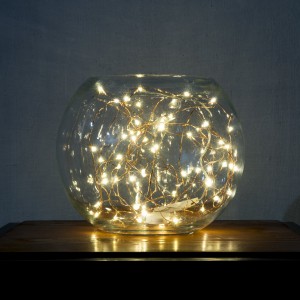 Ornaments…