The girls always love making peppermint bark for family and friends during the holidays (read as: they love to eat it). After several years of experimentation this is the recipe we generated.
Ingredients:
3 1/2 cups semi sweet chocolate chips or bittersweet chocolate (this melt more evenly than chopped chocolate)
    12 oz white chocolate chips
      3 crushed candy canes
Take 3 1/2 cups of semi sweet chocolate and place in a double boiler. Milk chocolate tends to be softer in consistency and does not work as well.
Melt over medium low heat. Stir until melted and smooth.
Pour on a flat edgeless baking sheet lined with a silicone baking sheet. I have used waxed paper and foil in past, but once you  use the silicone mat for this project you will never go back. With silicone you do not have to worry about a piece of foil or paper being stuck to the back of your bark.
Cool 90 minutes until slightly firm. Then take a fork and drag across the surface to score. This will help the white chocolate adhere to the dark chocolate. Make the grooves deep, but not full thickness.
Let cool several hours until completely firm. If you do not have that much time, you can speed up the process in the refrigerator. Repeat the process with the white chocolate. You can use white baking discs if desired. They melt more smoothly but have a slightly different taste.
Drop spoonfuls of white chocolate scattered around on the dark chocolate tray. This way you do not have to spread the white chocolate as far. Work quickly and spread with an offset spatula (see picture below). If you are too slow, the dark chocolate will start to melt and spread and discolor the white. The white chocolate also sets up fairly quickly and will not be spreadable if you do not work quickly enough.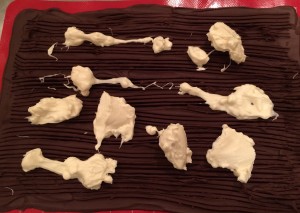 Spinkle with crushed candy canes. Let cool until the chocolate is hard.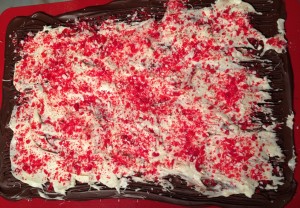 Slide the mat onto a cutting board and peel back. I should come off easily as seen below.
You may then use a Chef's knife and trim off the edges. Once that is done you may cut into squares or break into jagged pieces.
They can be enjoyed in a desert bar, with coffee, or given as a gift. As a gift, the look nice packed in cellophane bags with a festive ribbon.  They make great gifts for teachers, coworkers, or the mailman.
You could even use them as party favors.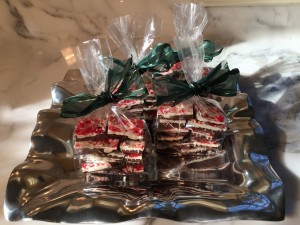 Alternatives:
Instead of crushed candy canes you may top with toffee bits, mini M&Ms, Pretzel bits, or cinnamon red hots.
If you don't have time to make now, but would like to enjoy, a suitable alternative would be…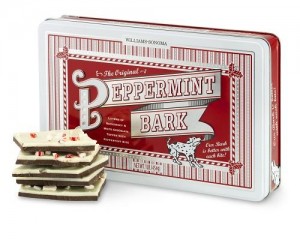 The kitchen basics:
If you are interested in a particular item, there is an embedded link in each picture to make it convenient for you to click on the item and get in time for the holiday baking season.
Feature look: