Winter is almost over. I already have Spring fever. Along with spring cleaning comes the age old question of where to put everything. When possible, I love to use mud rooms. A well organized mudroom gives everything a home so there is at least some hope that much of the 'life stuff' that comes in through the door every day has a good place to land. Not every house is fortunate enough to have one. I have some tips on how to set up your area if money and space do not allow a dedicated mudroom unto itself. A simple hall will suffice. First take stock of your needs.
For most of us shoes are a big item to store. Built ins are fabulous but if that is not possible, a simple way to address this is with a bookshelf with adjustable shelves. See sources at the end of the post sources. I Iike the one from Ikea for its clean simple lines and especially the fact it is made of wood. It is available in stained and painted finishes. I like the white because usually the mudroom is usually a fairly small area so the white just brightens up the space. If you have extra space, you can put some baskets on the top or bottom shelf for miscellaneous items such as hats, gloves, etc.
School bags are another item to consider.
If space allows a sofa table is a nice space to double as a cubbie for school bags and the like. The one sourced below has 2 size spaces. The larger one below could be used for book bags, sports equipment, soccer balls, etc. The smaller space above could be used for library books to return, errand items, etc.
I also love having a bulletin board/ message center. This is a great place to have grocery lists, notes to family members, invitations, calendars, to do list, package mailing receipts, etc i.e. things you have to keep up with at least temporarily but don't want cluttering your desk. The one I found sourced below was bright and whimsical and works with various decors from traditional to whimsical. Then you need one sturdy double hook for each family member to hold purses, and winter coats or seasonal jackets.
A dish to land items such as wallets you need as you walk out the door is useful as well. It is always nice to have at least a small mirror to check yourself on the way out the door. Small adhesive mirrors work well. If you do not have enough wall space you can simply adhere a small one to the side of the bookcase.
Finally, don't forget the phones. While a built in would be fabulous… Adding a charging station for phones should suffice, and you should be set.
Then finish off the space with fun rug.
So even if you can't have a dedicated room such as the one below…
.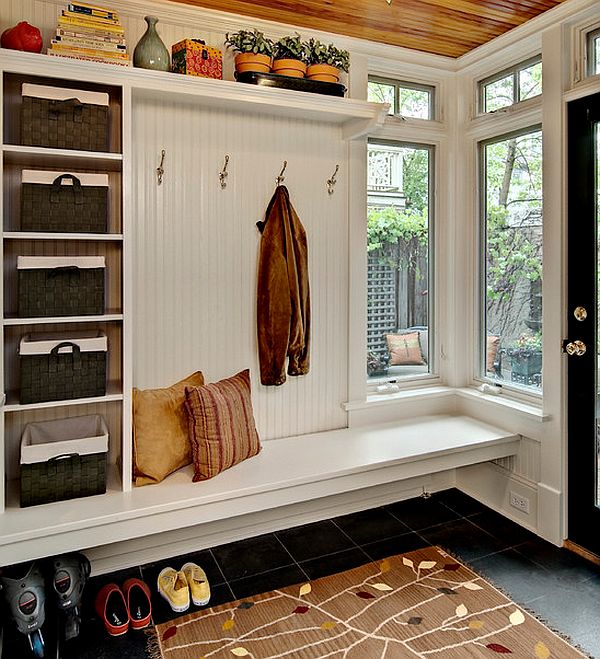 You can still have a wonderful and practical space. Putting it all together…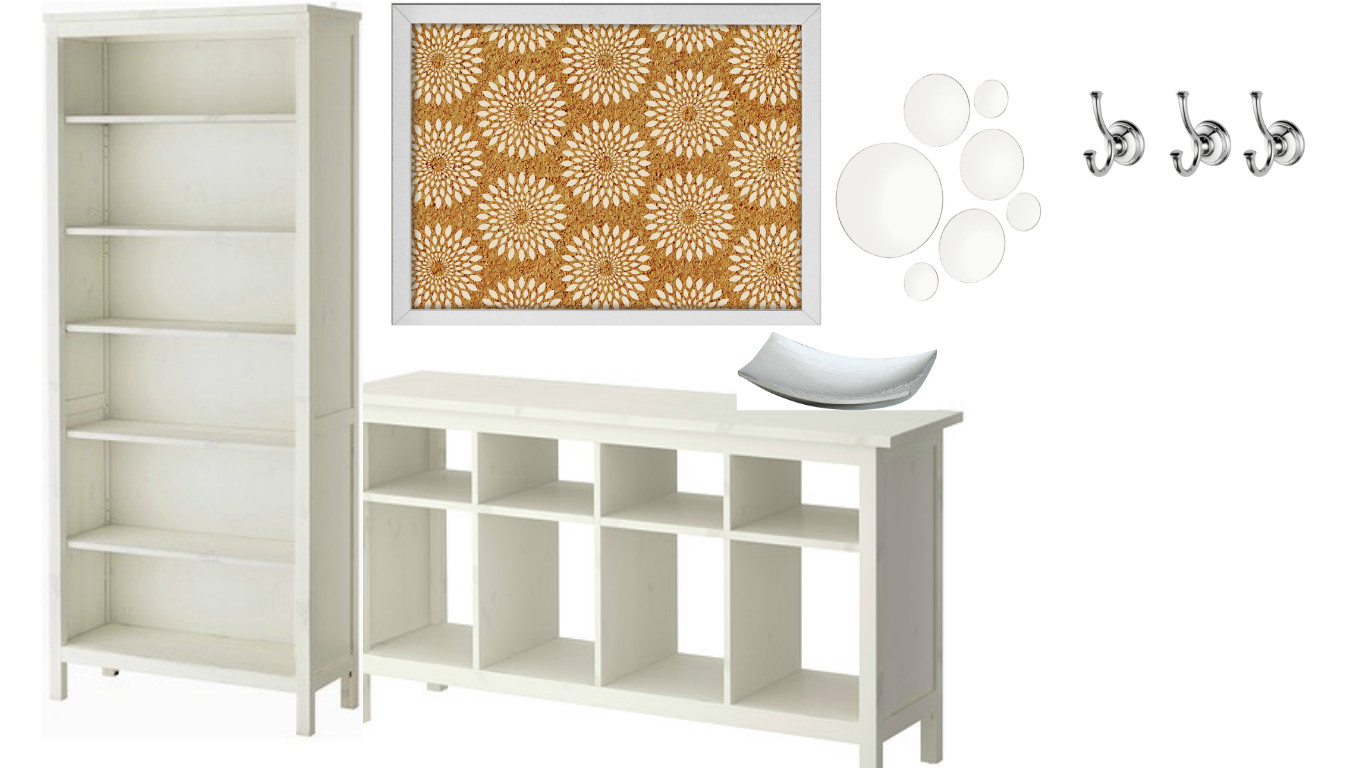 Below are sourced finds to get your project started, if you are interested in a particular item, there is an embedded link in each picture below to make it convenient for you to click on the item and get in time for your next 'spring clean'.
Rugs are a great way to accessories the mud room. Plus if your furnishings are neutral as above in white, wood, or black, a rug can transform the look of your room.  Finally, the rug is something you can change seasonally or as the children grow. the You want to pick colors that don't show obvious signs of use, i.e. neutrals, darks, or patterns.
And don't forget the accessories…
Image sources: Feature from: Peregrine Design Build. Shoe from searching for style. Backpack from Richard Barnes for The New York Times. Bulletin board from real simple. Charging drawers from house and pintrest. Mudroom from Crystal Kitchen Center.