The cronut is all the rage with New York foodies. So naturally on our recent trip to New York we thought we'd try one.
It turns out you have to arrive early, sometimes as early as 5:30 am, to wait in line at the shop which opens at 8 to get one of the 200-250 they make daily. We did not make that choice. Thus picture above is from grab your fork.
There is a doorman bouncer at the front to make sure things stay in order. It turns out Emma Roberts, the celebrity, tried to cut the line and was escorted out one day. Photo of the line around the block from cityella.com (again as we were not there at 5:30 am).
Fortunately the bakery as lots of other tasty items to choose from. Just click on your favorite image to see an enlarged more detailed picture. Below the Kouign Amman is reported to be the inspiration for the cronut. It is a caramelized croissant that is sugary on the outside and moist and tender inside.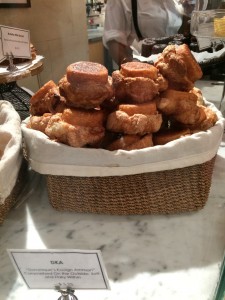 They also have a large case of beautiful individual pastries.
As well as full size cakes.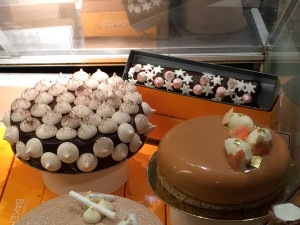 We selected the Kouign Amman, the Grapefruit Thyme Panna Cotta, the Whipped Caramel Apple Pie, the Pinecone, and the frozen S'more.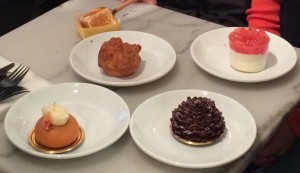 The Kouign Amman is caramelized on the outside and soft and flaky within.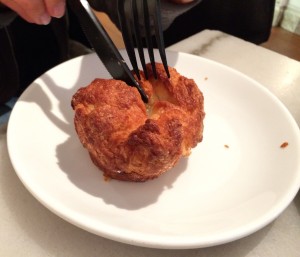 The Grapefruit Thyme Panna Cotta, the Panna Cotta was good, but the grapefruit topping was amazing.
The Whipped Caramel Apple Pie had a creamy texture which you do not typically expect with apple pie.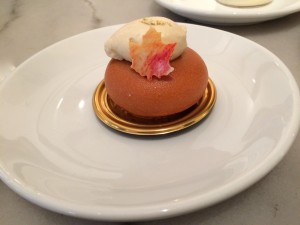 The Pinecone is gingerbread and hazelnut coated in chocolate, a seasonal item, and quite spectacular in presentation.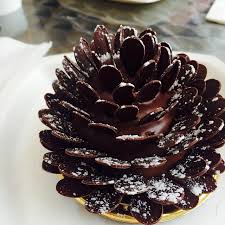 The Frozen S'more is a honey marshmallow wrapped around a Tahitian vanilla ice cream with chocolate wafer crisps, served on a a smoked willow branch and torched to order.
For those of you still curious about the cronut…
Uncooked cronuts from gettyimages.com.
Cross section of a cronut, image from observer.com.
Don't forget the line from jtrish.com
If you are not in New York and would like to sample the goods, try their cookbooks. If you are interested in a particular item, there is an embedded link in each picture below to make it convenient for you to click on the item and get…