With cooler fall weather comes the desire for soul warming soup.  Gourds and squash are at their peak this time of year and thus are the obvious choice. This simple recipe is as easy as it is delicious.  Even my children, who are not big soup fans, love it.
Ingredients:
2 tablespoons butter
1 onion
2 pounds of cut and peeled butternut squash (available prepared in this size at Costco)
3.5 cups organic chicken stock (available in 4 cup size at your local Costco)
1/4 teaspoon thyme
1 pinch nutmeg
1/3 cup heavy cream
Melt the butter in a 4 quart saucepan. Add onions and saute until soft. Add squash and saute 2-3 minutes.  Add chicken stock and next two seasonings.  Cook until tender about 20-25 minutes.  Carefully puree mixture in several batches in food processor. Return pureed mixture to pot.  Add the cream. Simmer for 5-10 minutes until warm.  Season to taste with salt and pepper.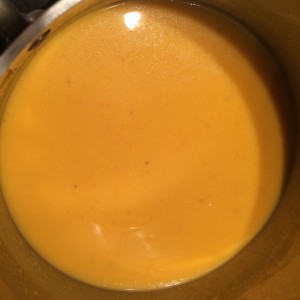 Part of the fun of soup is to have a toppings bar.  Here it is enjoyed with croutons by my youngest.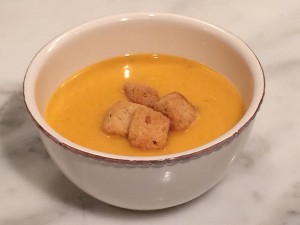 My middle child also likes the addition of pumpkin seeds.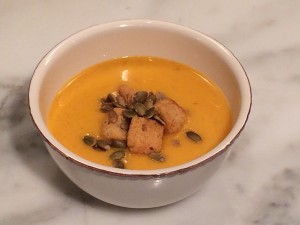 The oldest also likes fried onions.  My sister turned me on to Sadaf Fried Crispy Onions. While I like French's french fried onions, the Sadaf is a slightly more sophisticated taste.  In a pinch either will work.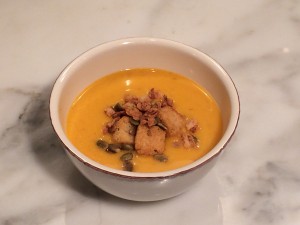 Soup Bar Topping Ideas:
Croutons
Pumpkin seeds
Fried onions
Sour cream
Sautéed onions
Tortilla chip strips