We are always looking for delicious and healthy 'go to' snacks for after school or whenever hunger beckons. One of our all time favorites is this savory yogurt dish.  Growing up, my Mom would make it whenever we had guests and occasionally for daily consumption.  It has only 3 ingredients so it is very simple to make.
Ingredients:
5 small cucumbers
1/4 red onion
4 cups 32 oz Fage Total 4% Greek Yogurt
salt to taste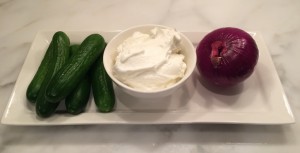 Chop, mince, grate, or use a hand blender with a chopping attachment for the onion and cucumbers. I prefer the hand blender as there are no watery eyes to contend with.  Grating the vegetables results in a slightly more watery mixture.  Hand grated vegtables work as a snack but results in a more liquid texture and are slightly more difficult to use when you want a stiff dip consistency.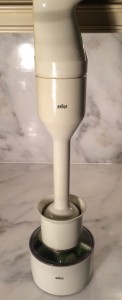 Once you have all the ingredients prepped, combine.  Add salt to taste.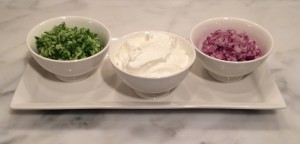 We eat this straight out of the bowl at home.  Per cup it packs a walloping 350 mg of calcium per serving, compared with 300 mg in a glass of milk.  When eaten as a snack we use the 2% yogurt.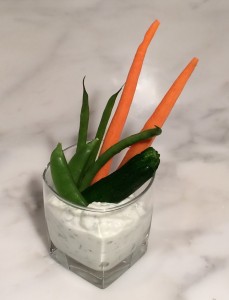 When we use as a dip for entertaining, we are a bit more extravagant and use the 4% milk yogurt.  Interestingly, even with the full fat yogurt, you can still consume a whole cup and have the same amount of calories as just 2 tablespoons full of a commercially prepared dip.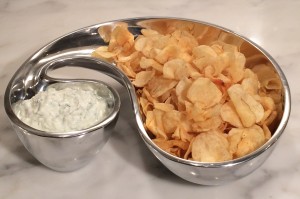 Snack Variations: 
Add finely chopped fresh mint when in season.
Add raisins for a sweet and texture-ful change.
Add dried dill for a different flavor base.
Omit the onions if eating at lunch.
You may peel the cucumbers if desired although the color and texture will be less pronounced.
Add ground black or white pepper to taste.
Dip Variations:
Add finely chopped fresh mint when in season and garnish the top with a fresh sprig of mint.
Add dried dill for a different flavor base and garnish with a fresh sprig of dill.
Garnish top with dried rose petals.
Get the Look:
Note: If it will not be consumed all in one setting you will need to add some salt as a preservative as you are adding fresh vegetables.