With the Fall arrive wonderful cabbages, colorful carrots, cranberries, and broccoli.  They come together beautifully to form this wonderful multifaceted and textured salad.  Although the flavors are complex, the preparation itself is quite simple.
Ingredients:
1/2 head purple cabbage
1/2 head green cabbage
1/4 cauliflower
1 small bunch carrots
1 broccoli crown
1 1/4 cups dried cranberries
1/2 cup sunflower seeds
ginger sesame dressing to taste, I like Simply Dressed Ginger Sesame Dressing by Marzetti for when you do not have time to make your own
First place a steel slicing blade in the food processor.
Shred the cabbage.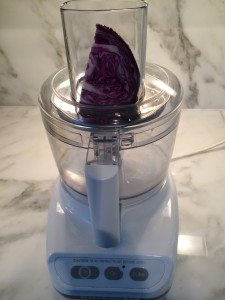 You should end up with shreds as pictured below.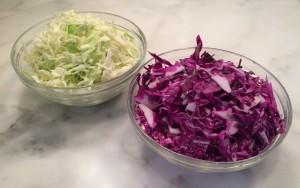 Cut the broccoli into individual florets.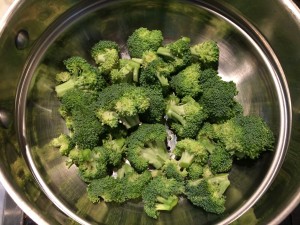 I like to use a steamer to steam them for 60 seconds to turn them a bright green color.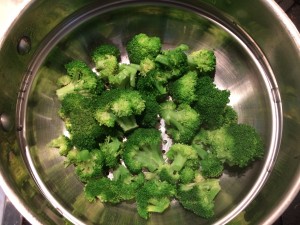 Then change the blade to a coarse shredding blade. Shred the carrots.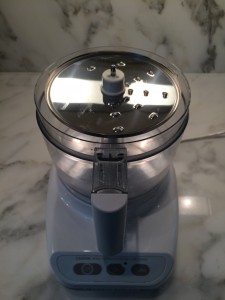 Carrots should be almost equal to the size of the cabbage shreds as below. Next cut the cauliflower into individual florets.
Mix ingredients well.  I like to use a glass bowl to see that all ingredients are well mixed.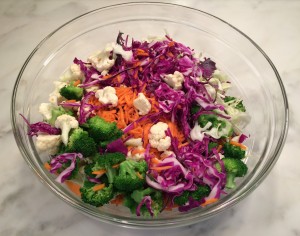 At time of serving add dried cranberries, sunflower seeds, and dressing.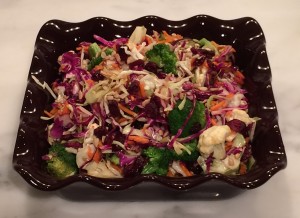 In this wonderful salad you get 4 different color vegetables as well as dried fruit and seeds.
Pairing suggestion:  This salad goes beautifully with fish.  We have used it as a side for salmon grilled, baked, and seared as well as skillet crisped halibut.
Get the look: Serving dish Emile Henry.