This time of year seems to beckon black tie events and glamerous evenings out. It is a great time to wear those full length gowns that need a special occasion. Below are some of my runway favorites.
By Versace Couture w12 from Daily Mail UK, photo Peter Stinter …
From Christian Dior Couture John Galliano Avante Garde Fashion Couture…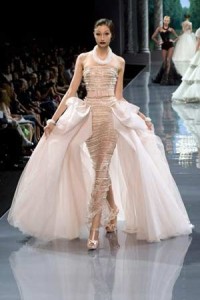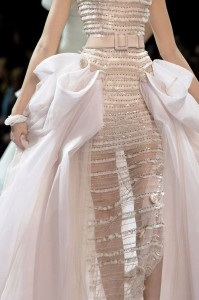 From Stephane Rolland ethereal chiffon with textured bustier and topped off with unexpected shoulder detail, truly inspired from all for fashion design.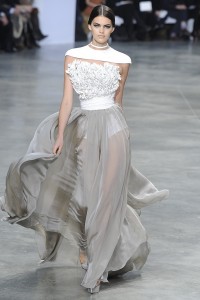 From Stephane Rolland dramatic front split detail, timeless…

Below are some more recent finds, you are interested in a particular item, there is an embedded link in each picture below to make it convenient for you to click on the item and get in time for your next event.
From Black Halo La Reina Off-the-Shoulder Gown, a modern reinterpretation of a classic of the shoulder gown.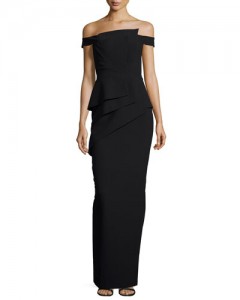 Below a Rachel Zoe Sleeveless Halter Beaded-Neck Column Gown accented in crystal beading with a Halter neckline and crisscross draped bow back.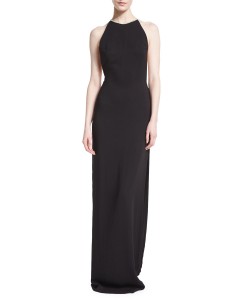 From Halston Heritage Sleeveless High-Neck Sarong Gown with embellished with golden square ladder detail.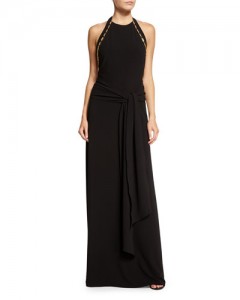 With a plunging neckline, a Carmen Marc Valvo Sleeveless V-Neck Embellished Column Gown accented with two-tone metallic trim.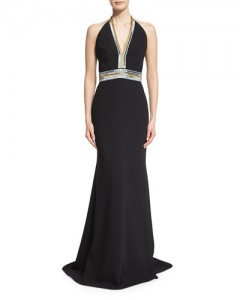 Always a classic St. John Collection Shimmery Milano Knit Long-Sleeve Gown in Caviar with bateau neckline and sheer mesh yoke and sleeves.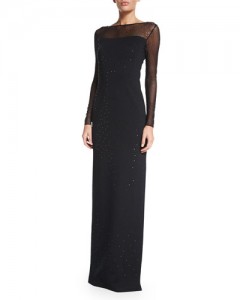 From Shoshanna a Long-Sleeve Beaded-Cuff Ruched Gown with a provocative thigh high slit.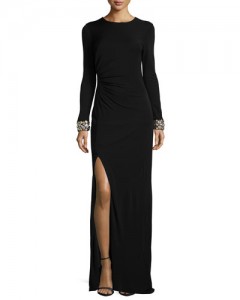 Aspiring for a shift from basic black, try Black Halo Spaghetti Strap Geo-Print High-Low Gown in shimmery geometric-print.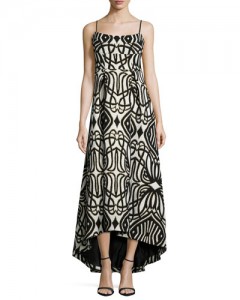 A lovely Carmen Marc Valvo Sleeveless Illusion-Bodice with a Jewel neckline with strapless illusion.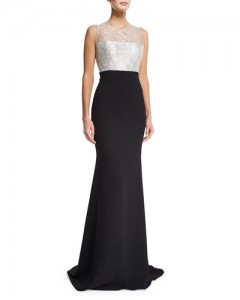 From Herve Leger a Sleeveless Beaded-Bodice Gown in black with a flattering square neckline. 
Recalling an ear gone by Sue Wong's Strapless Lace Illusion Skirt Gown with sequins.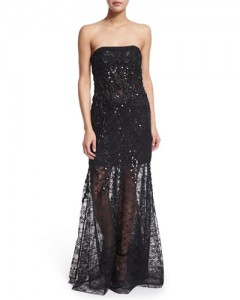 Dreamy in white Jill Stuart Sleeveless Twisted-Neck Keyhole Gown. This one is sure to turn heads in the typical sea of black.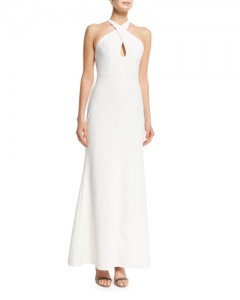 For even more head turning impact a red Jill Stuart Strapless Gown with Godets, a Notched strapless neckline, and sculptural seams. Figure accentuating for the flatter chested.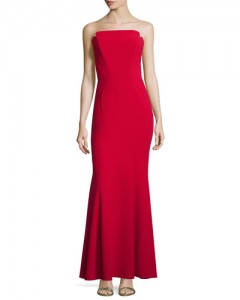 For the fuller chested the Jovani Sleeveless Low-Back Gown with a high bateau neckline, open back in V shape, and sheer side panels, lending a deep-cut illusion.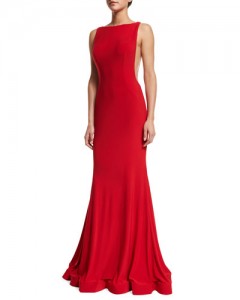 In a splash of plum Rubin Singer Dahlia Strapless A-Line Gown. A Straight-cut, pleated strapless neckline with a fitted bodice and a flowy A-line skirt.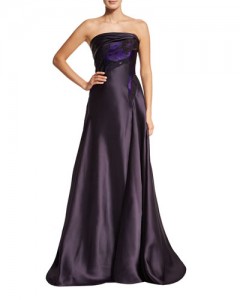 Crave even more impact, here is a knock out in Poppy from Stella McCartney, the Saskia Sleeveless Belted Gown with Jewel neckline, gold belt, and cut-in shoulders.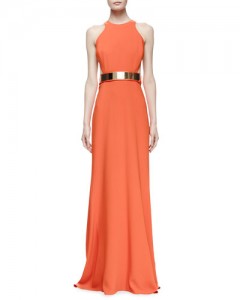 With understated elegance up top and full out glamor below from Theia the Mock-Neck Sleeveless Mermaid Gown with a cutout back and jeweled applique at center waist.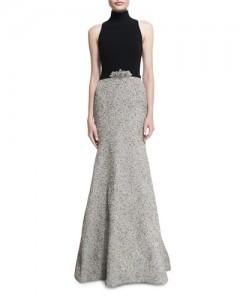 And if you desire full on metal, the Rene Ruiz off-the-Shoulder Metallic Gown with a metallic tulle gown and a hem that pools at floor.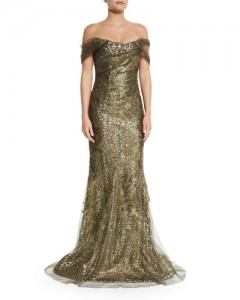 Feature image: Christian Dior Haute Courture "Venus" Gown 1949 Indulgy.