I love Halloween.   There is something magical about children dressing up, walking through the neighborhood with leaves crunching underfoot, and huddling together at the end of the evening to enjoy the spoils of the night.  Our neighborhood goes all out.  One house empties the furniture from the main floor and transforms itself into a veritable haunted house.  In years past, their billiards table has been transformed into a mad scientist's work space.  Seeming statues start to follow visitors unbeknownst  to the victim.  Another neighbor buys the prize winning pumpkin from the fair each year and spends all day carving it with a chainsaw.  One year it was so big, he carved it into a house and all the neighborhood children were able to walk inside.  At yet another house a musical quartet performs for passers by.  Some years there is a haunted tree. One year a party yielded and entire walkway lined with Jack-o-lanterns. Fire pits abound as does wonderful conversation.
Creating an elegant yet spooky tabletop for Halloween is a must at our house in keeping with the spirit of the season.  I like to layer different elements, styles, and motifs to make the presentation varied and appealing as well as authentic.  Many of the items below have been collected over the years.  Where possible I have provided links for the same or similar items should you wish to emulate the look.
First start with a table runner of your choosing.  I prefer black as it makes for a more dramatic backdrop.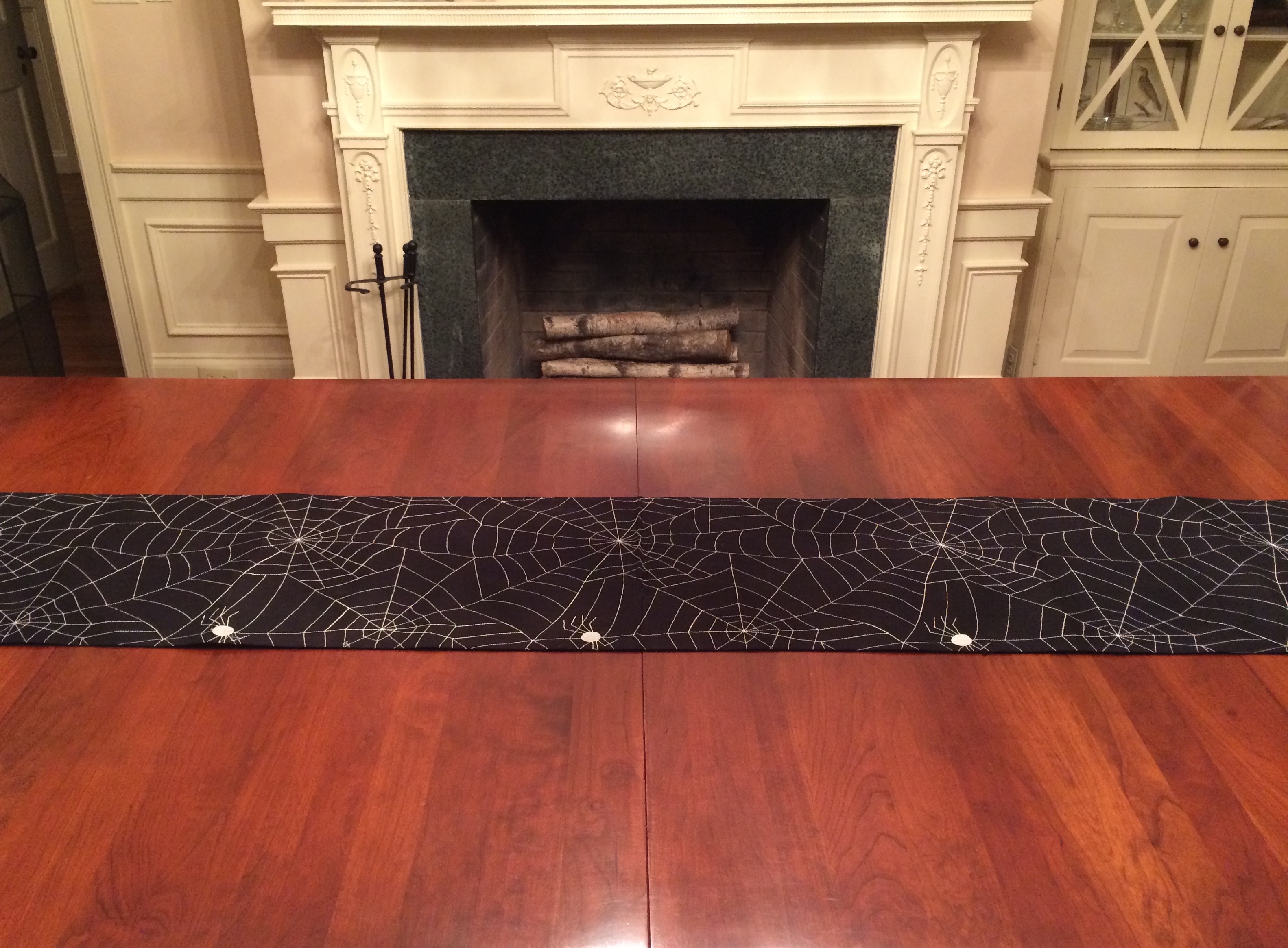 Place a pair of candelabras at each end of the runner. I think slightly tarnished silver makes a spectacular statement for Halloween.  If you want to know how to temporarily tarnish your silver click on the highlighted link. It adds a bit of sparkle without being over the top.  You can use candles of your choosing, but again I like black as it makes a statement, particularly this time of year.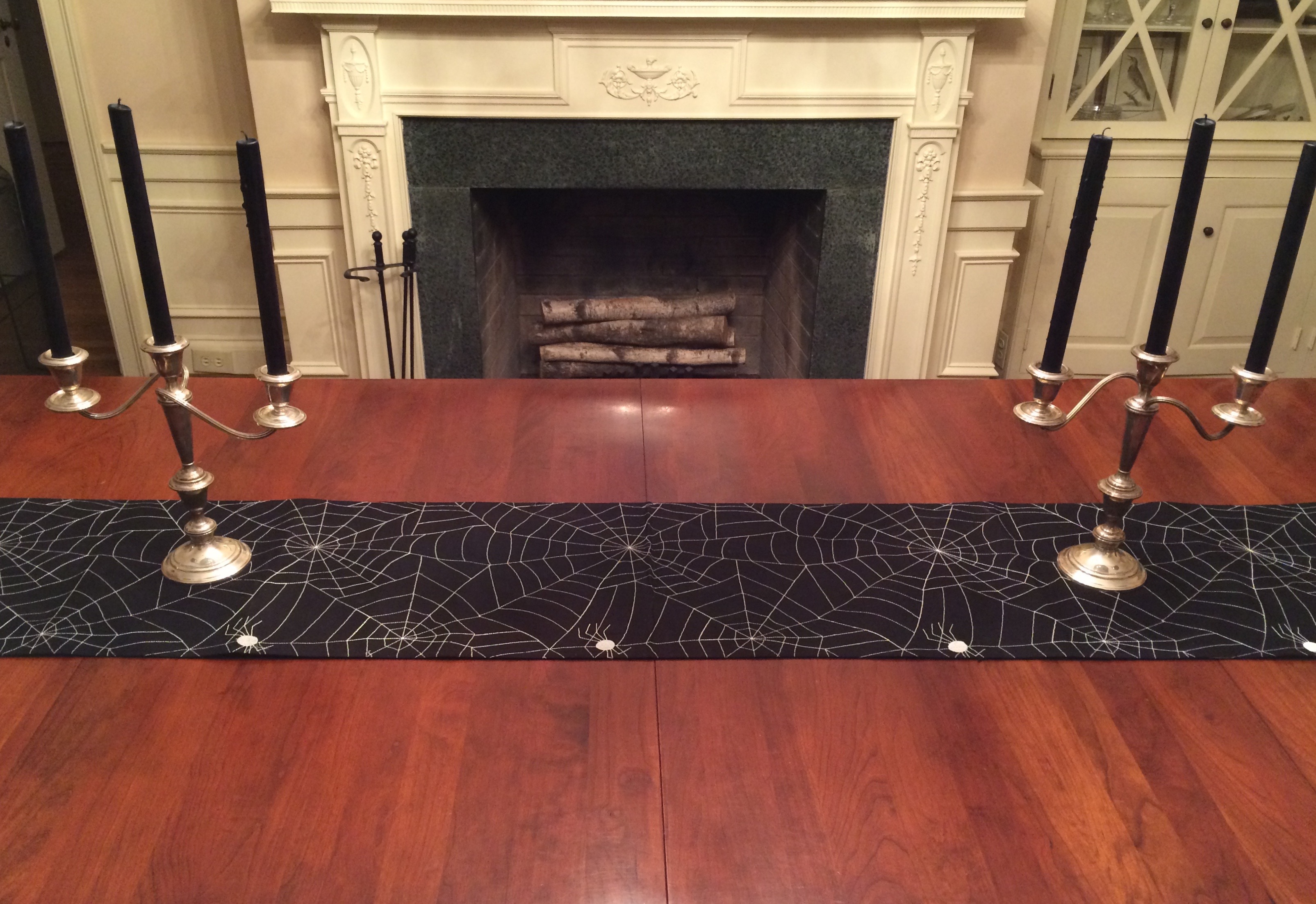 Next, pick something tall and dramatic for a focal point. A skeleton is always a good choice.
Here I have used a medical anatomic model for authenticity. It seems creepier to me and somehow more appropriate, if there is such a thing.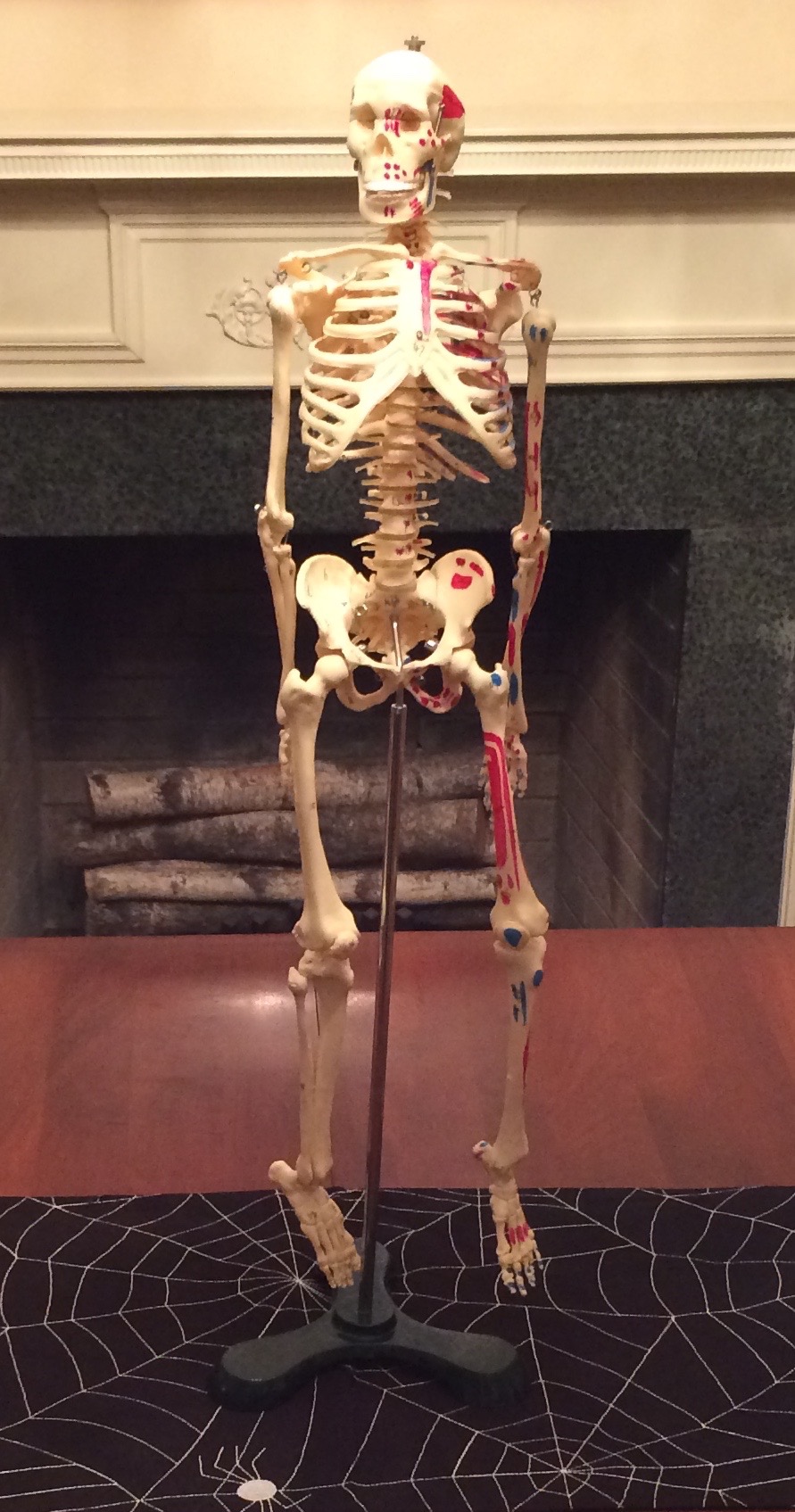 Place two shorter accent pieces on either side of the candelabras.  Something dramatic or special works well here. The grouping of skulls makes a statement. The ghost is one my sister made in ceramics class when we were were children.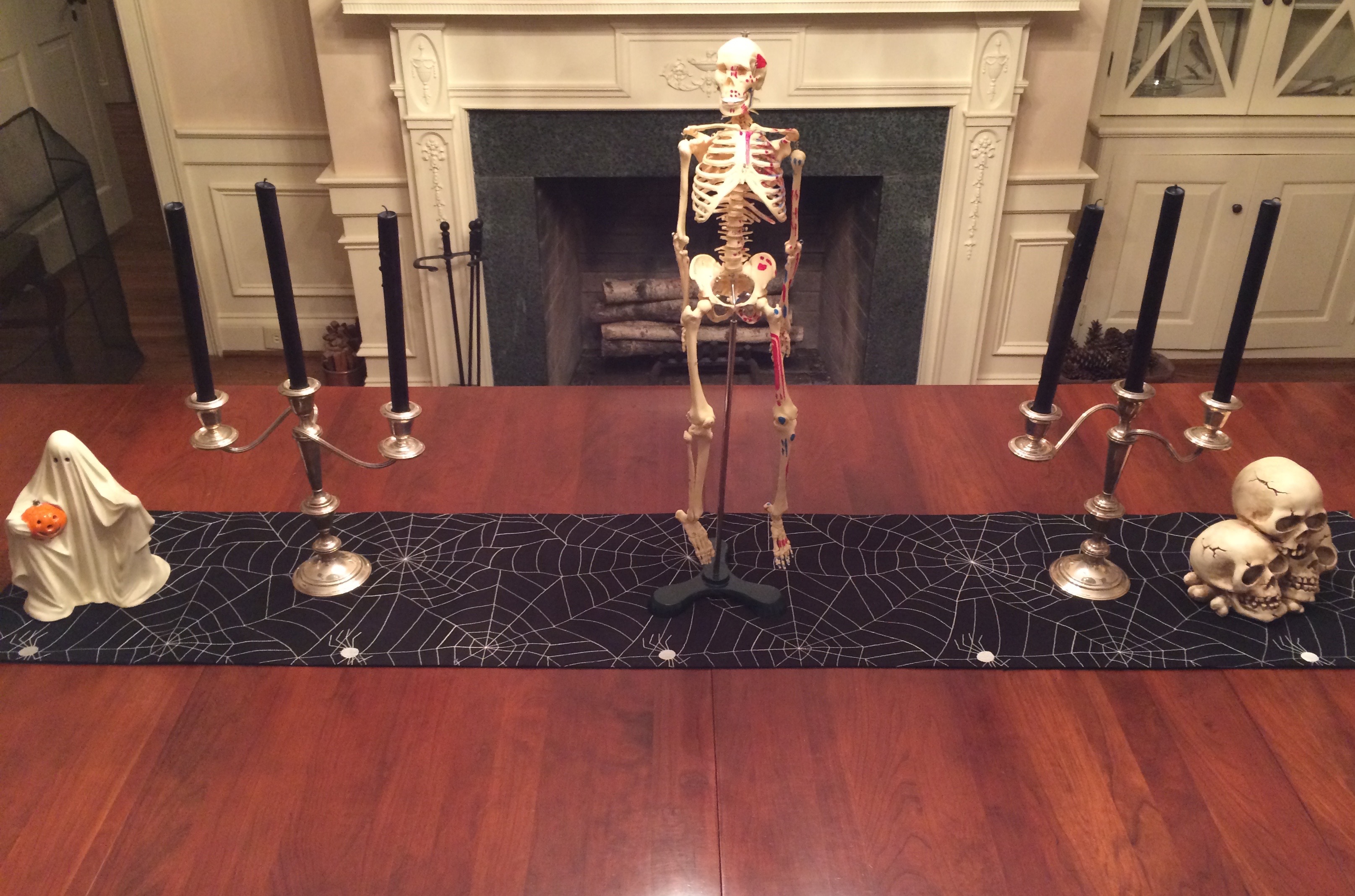 I then start filling in with interesting finds. In the background you can seen an authentic dark amber European apothecarist's jar found at a European antiques dealer as well as a taller mummy for visual interest.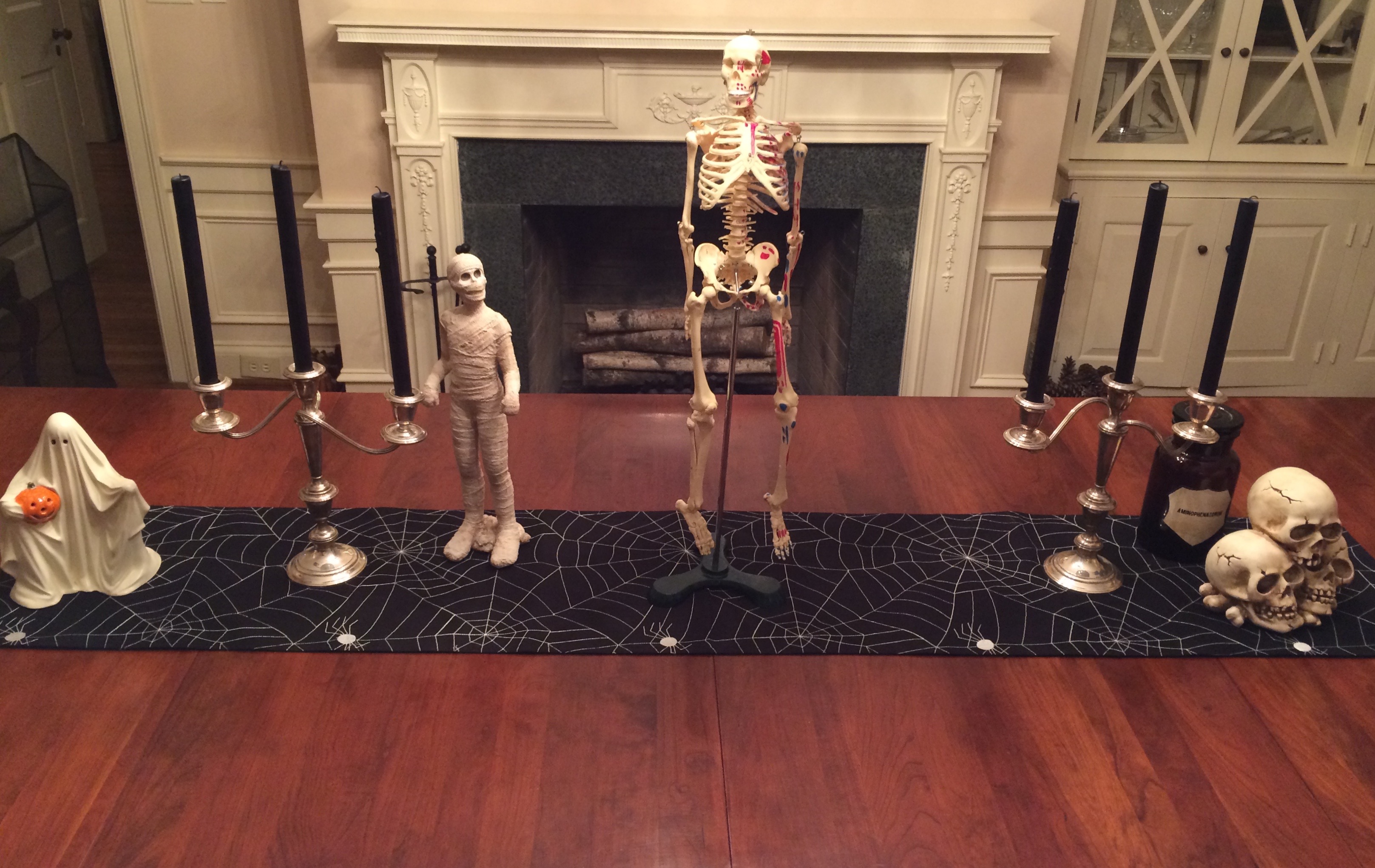 Next I added some bony hands filled with jeweled rings which can be taken home as party favors, candy filled 'chemistry vials', and a witch candy dish which can be filled with items of your choosing.  If you are like me and any never sure what you would do with all the cute holiday candy dishes you see, a grouped table top is perfect for such dishes.  While we certainly do not need decorative bowls of candy all around the house, they are a great place to store jeweled party rings, spider rings, holiday bouncy balls, glow in the dark bugs, and occasional candy.  They also add an interesting dimension to the decor and make it more approachable and less contrived.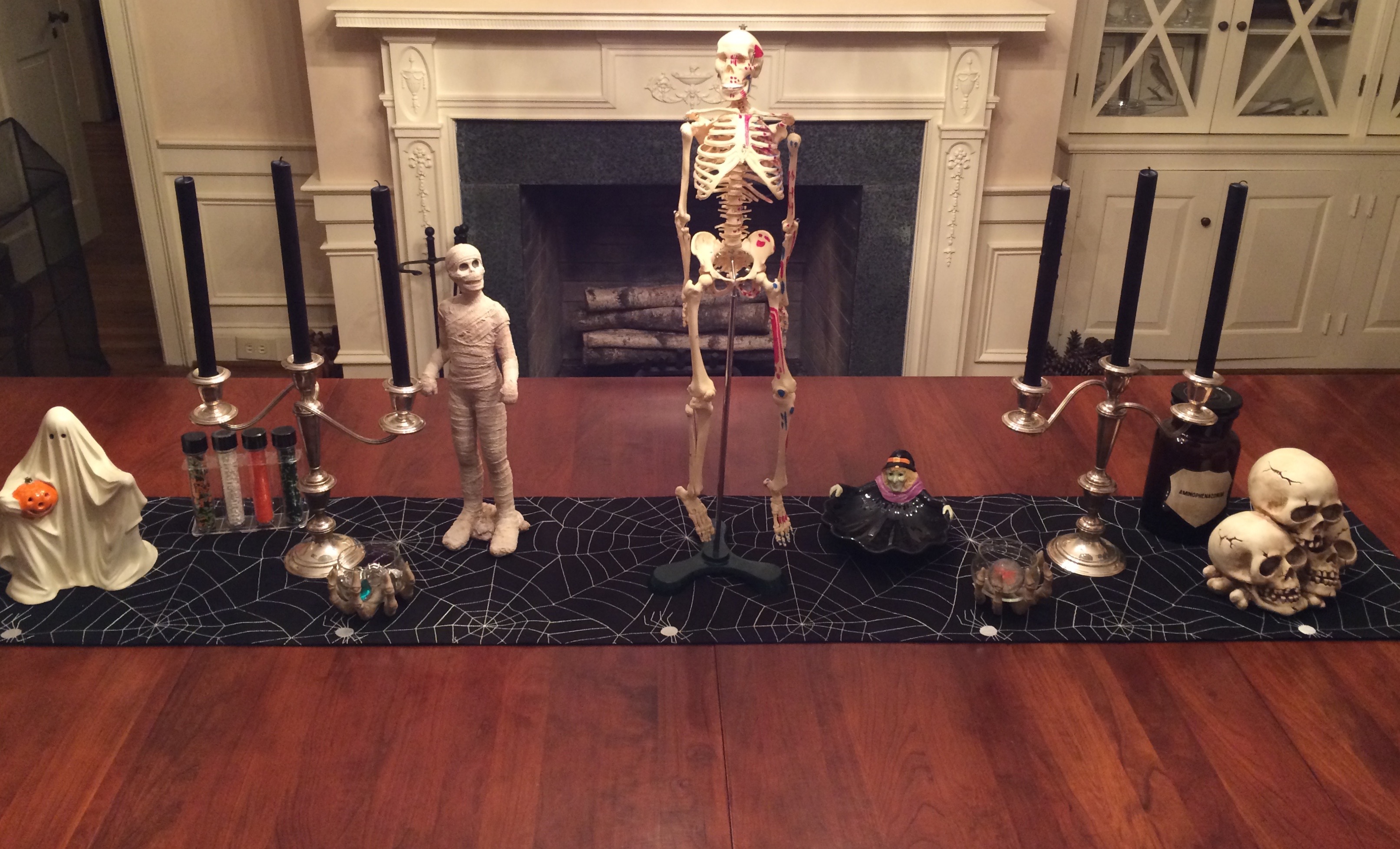 After filling in with eyeballs, tombstone, and more skeletons, drape the setting with black cloth netting. This serves to tie the tablescape into a cohesive unit.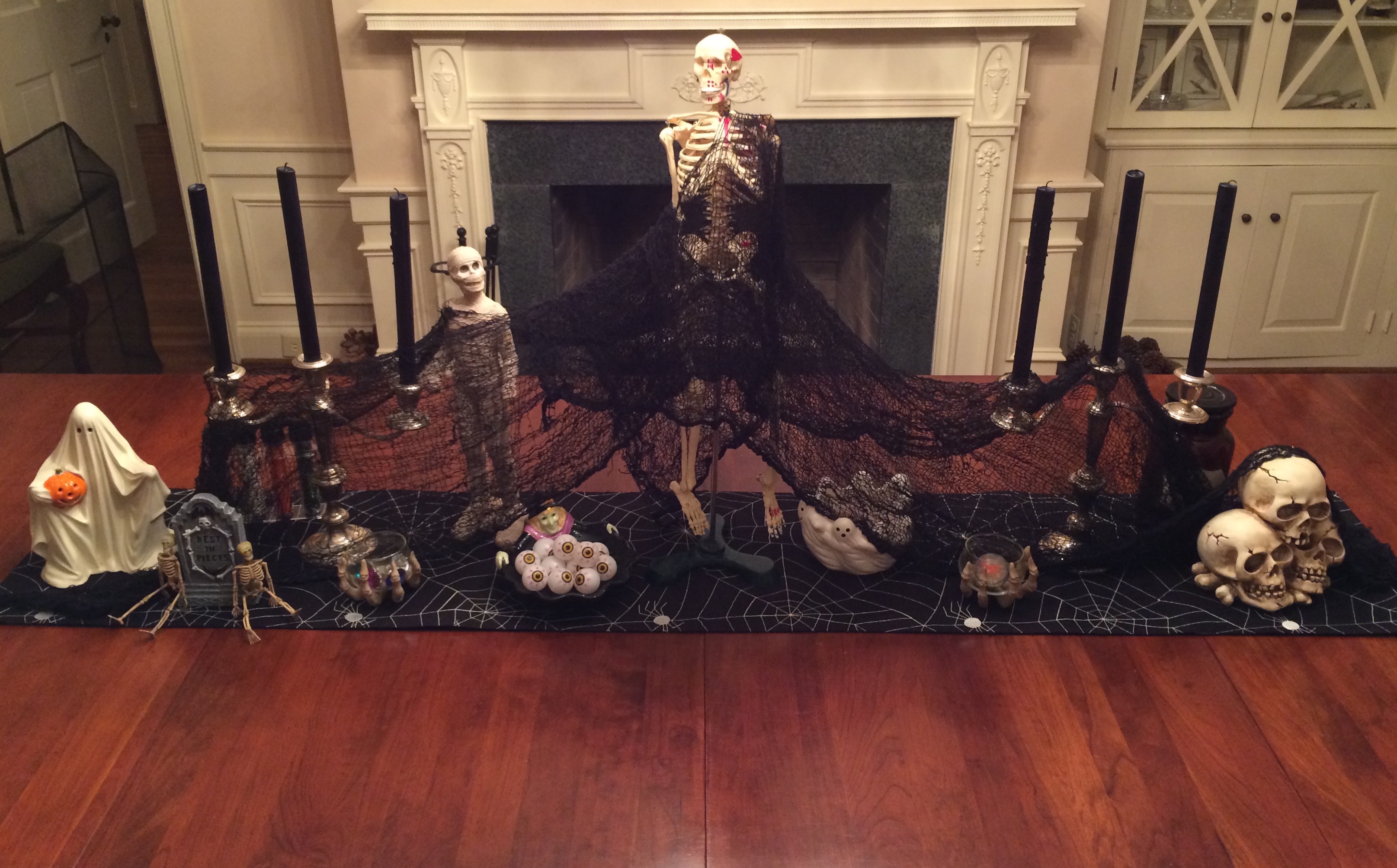 Layer with glow in the dark worms, centipedes, tarantulas, and skulls.  You can really see the setting coming together.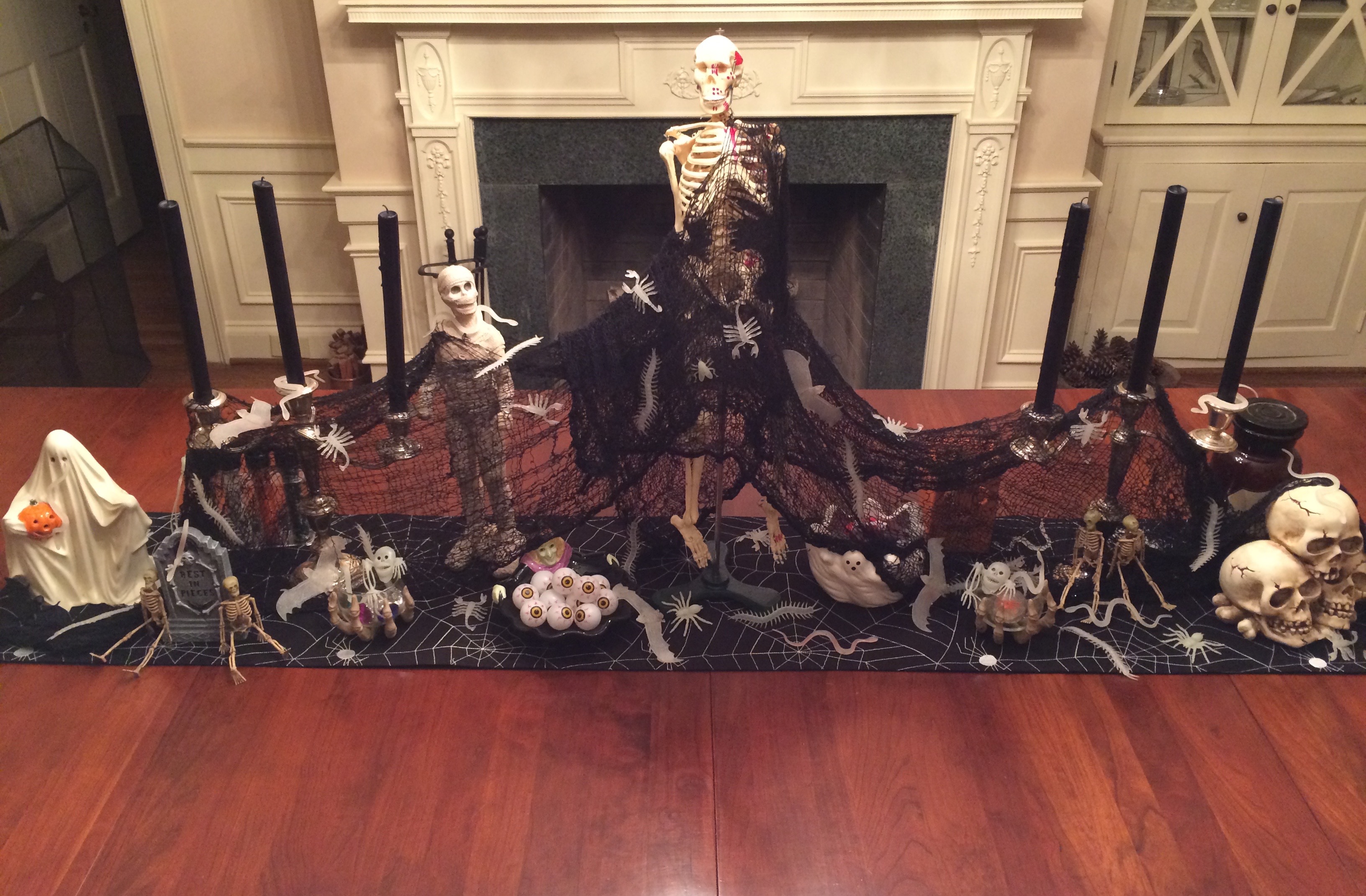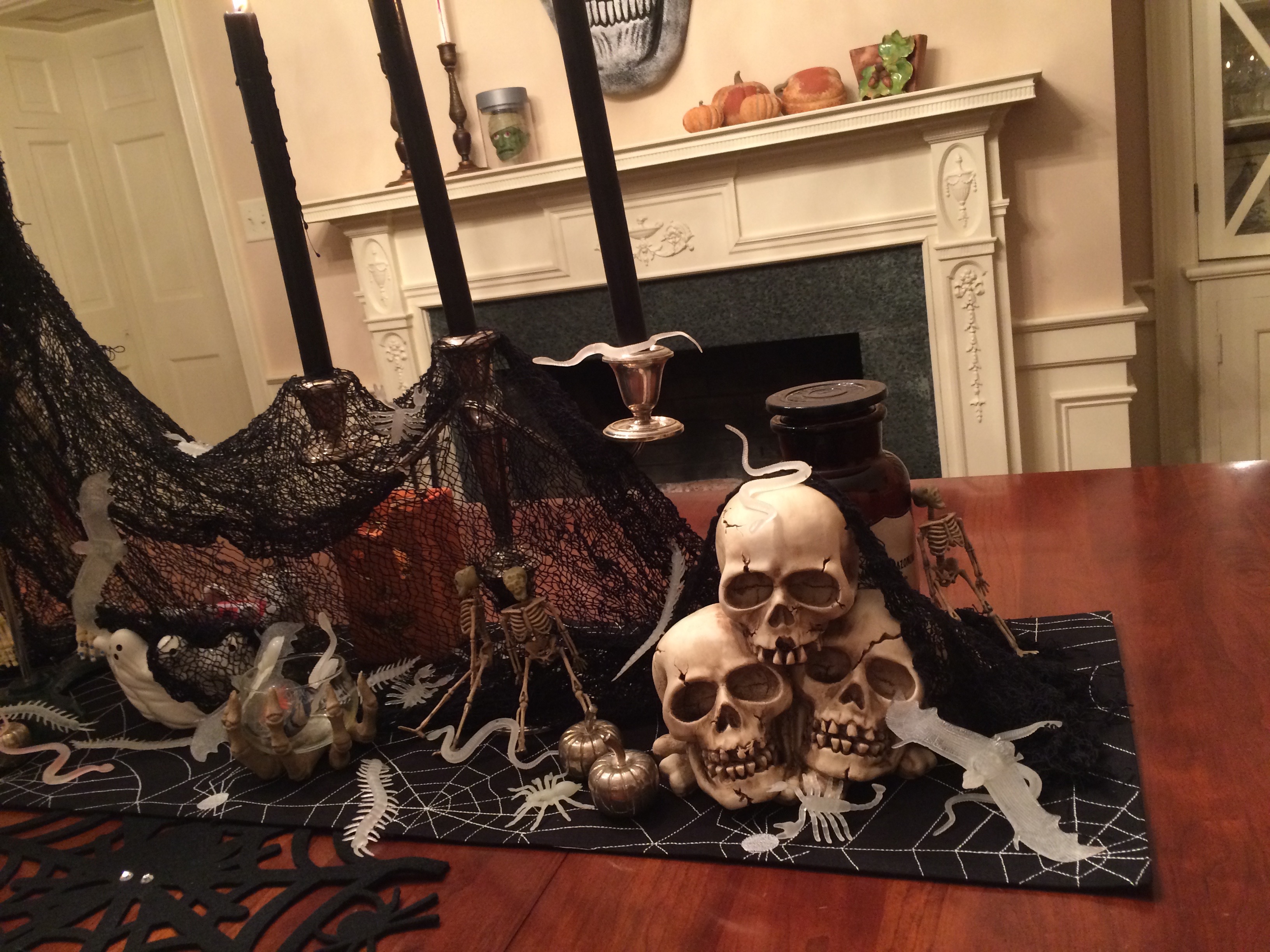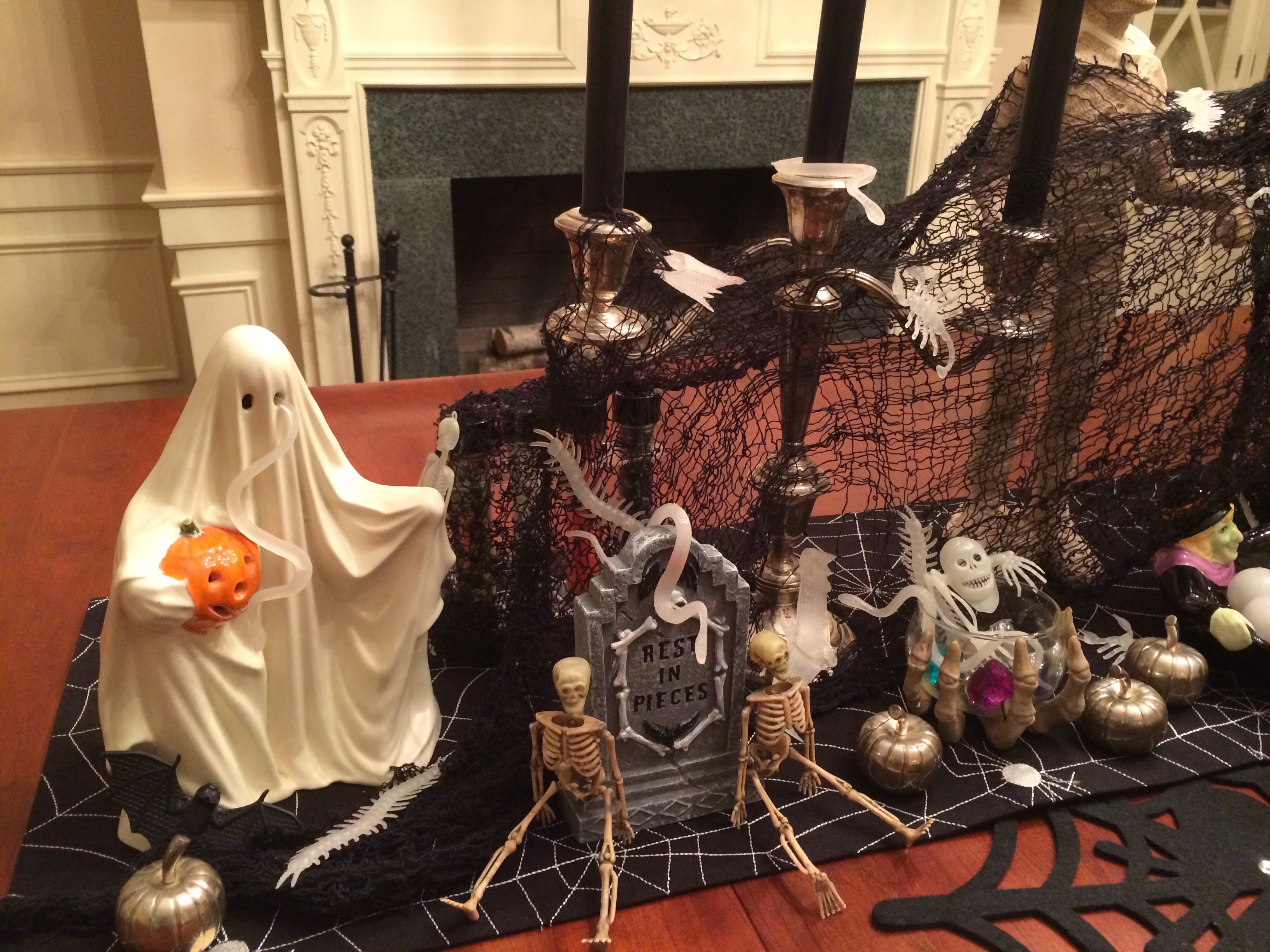 Place a dramatic piece in the foreground.  Here we choose a substantial felt cobweb runner to continue the theme above. Juxtaposing different materials adds visual interest. We then suspended some clay ghosts the children had made in school from the chandelier.  You can also get a ready made Halloween kit to suspend from the chandelier.  The table top setting is also a great place to use seasonal place card holders.  Here we sprinkled silver pumpkin place card holders throughout the display.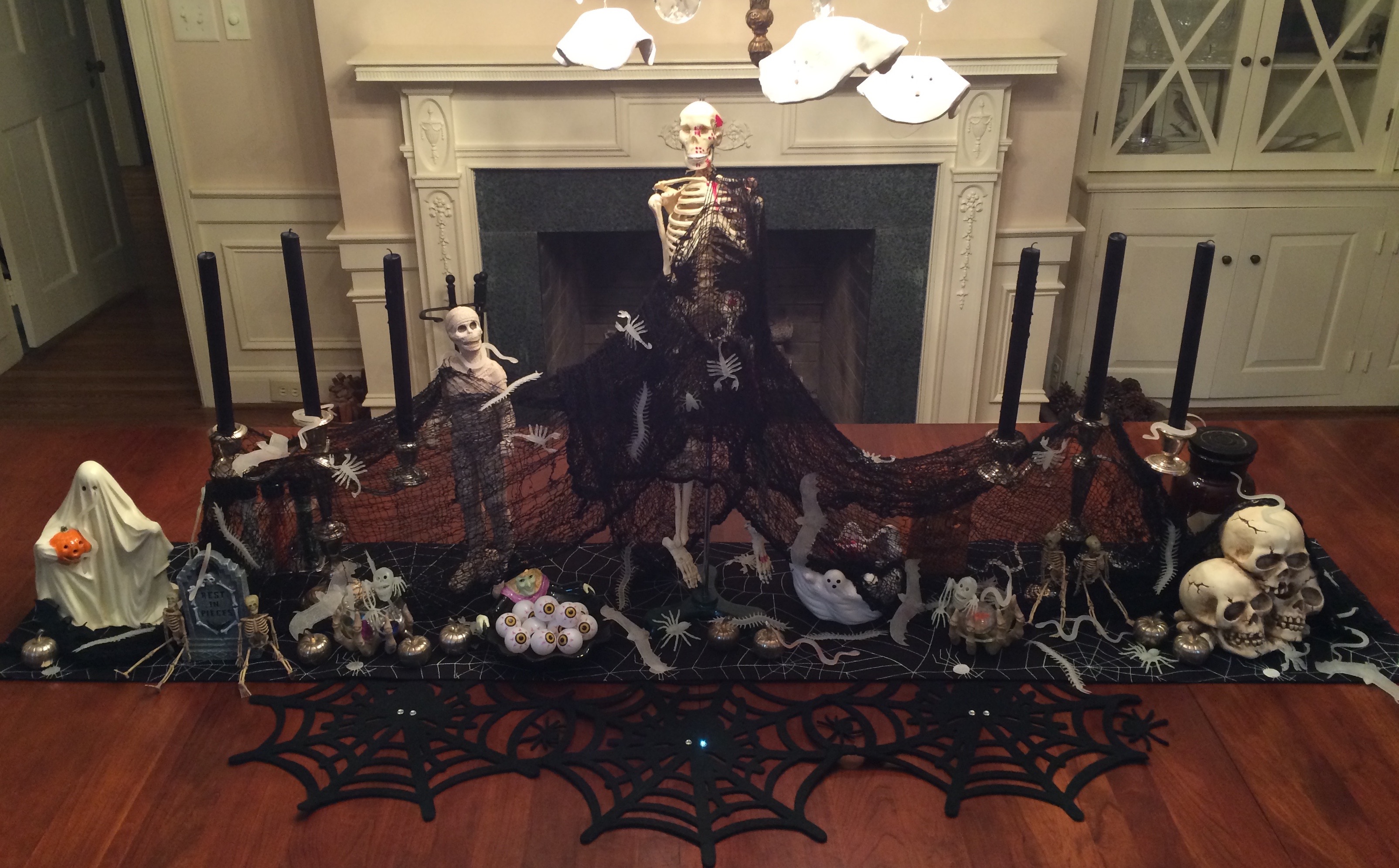 If you want to go all out you can remove your art work and place a Halloween piece in its place.  I also found some wonderful bleeding candles. As the night wears on, they begin to bleed as they burn!  You can add a few ceramic pumpkins and a motion activated frankenstein talking head to complete the mantle.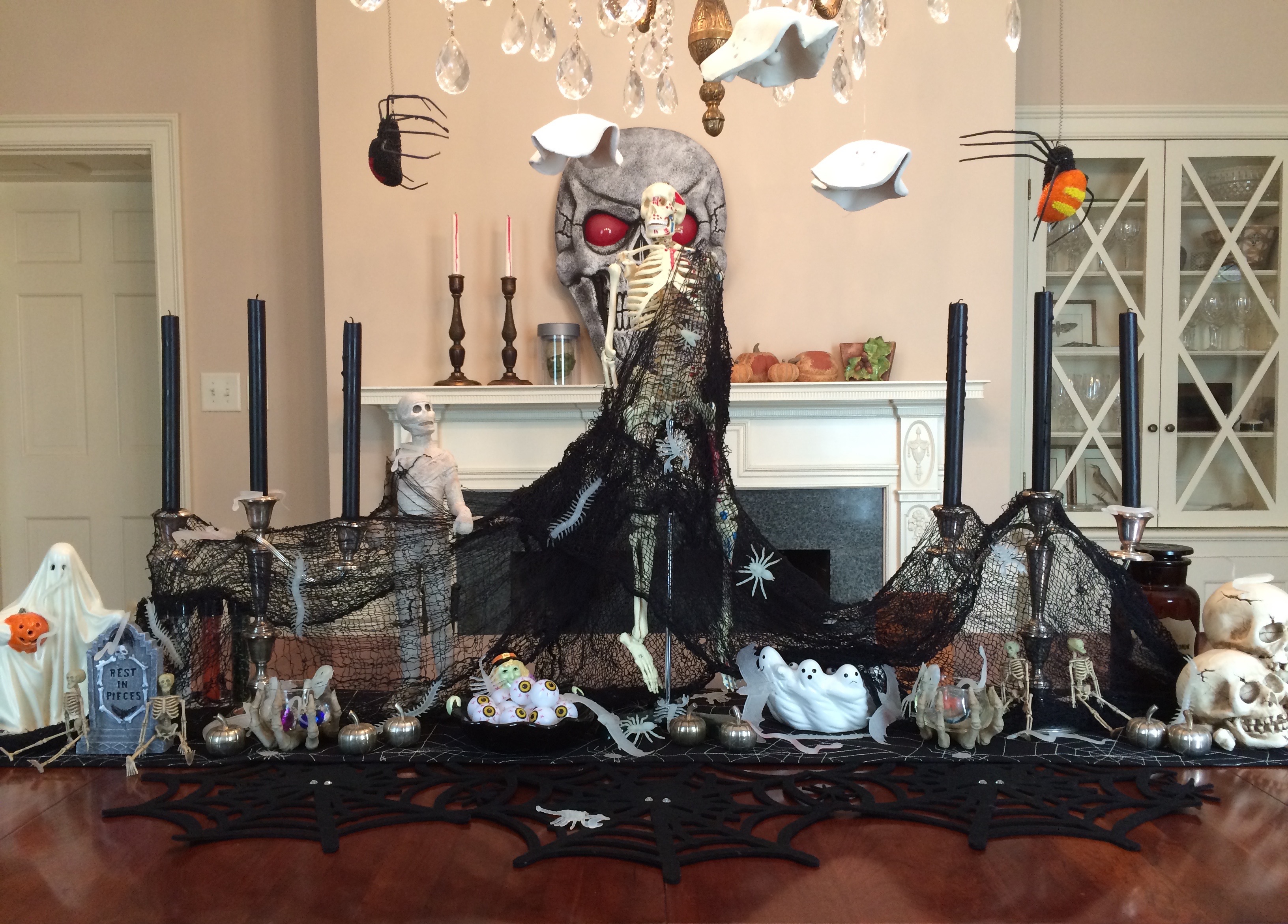 Dim the chandelier or install black bulbs, add some Halloween music and your table is set for entertaining children en route to trick or treating or adults for cocktails.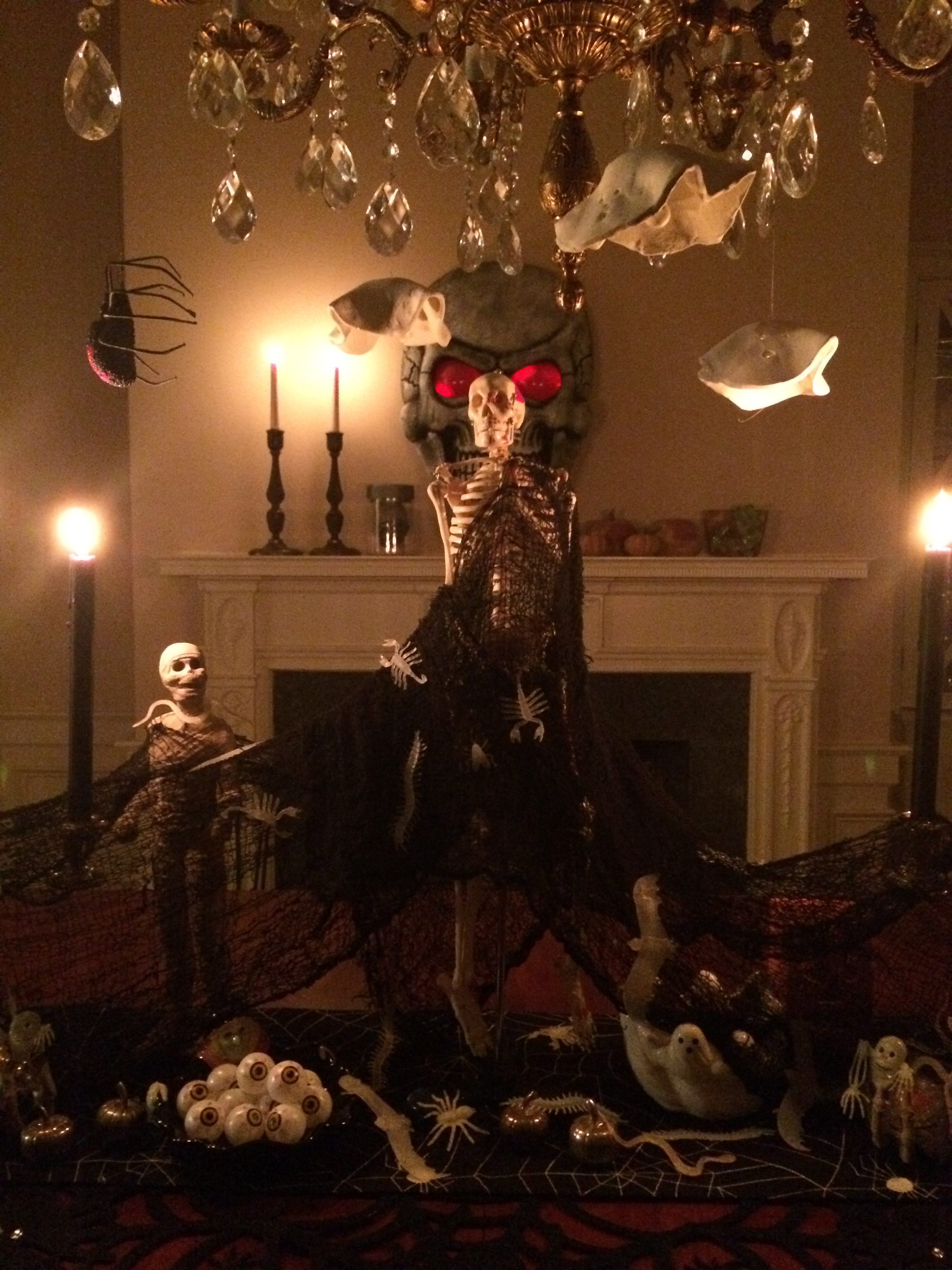 Music pairings suggestions: For children try Pottery barn Halloween and for adults try Arctic Monkeys.
Putting it all together: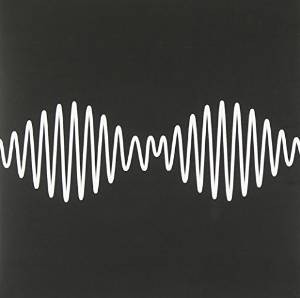 Feature image:  Candelabra by Gorham in Sterling.  This is more of an investment piece. It is not only gorgeous but also extremely versatile.  It took me a long time to find one this versatile as most are fixed.  It is composed of 4 different pieces so it can be converted from a pair of triple candelabras to a pair of single candle stick holders.  The center of the base comes in two different sections so one or both can be used and which is on top and which is on bottom can also be switched for different looks as well.  This makes for 9 different gorgeous configurations. As it is sterling, it is solid silver so you need not worry about hitting a base metal.  It can always be polished to a sparkle.  As you have also seen in several prior posts it goes well with any look from spooky to elegant from casual to formal.