We all love windows for the views they provide as well as the unparalleled glorious sunlight they let in. In different rooms they serve different purposes. Decorating with bay windows or window walled rooms, however, can be difficult to do without overpowering the room. Below are some inspiring rooms where the objective was met spectacularly.
Also, when hanging curtains, you generally want to hang the curtains at the top of the wall to visually draw  your eye up and elongate your room and visually increase your ceiling height. If you find a room of interest, just click on the picture to get a larger view.
In the sunroom below, neutral curtains blend in with the wall color so as not to distract from the view. The yellow trim detail keeps the look from being washed out and pulls in color to accent the ottoman, coffee table, and pillows. From Ideal Sunroom Furniture Ideas by Khariz August 2015 via Wayfair.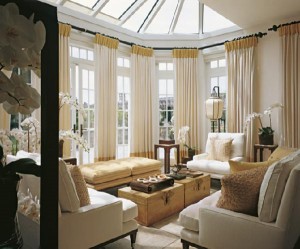 Below from AD "A Contemporary Nashville House for Philanthropists Jennifer and Billy Frist". The curtains in the den span the entire wall. Simple and with some heft of fabric for privacy and to control the amount of light. The lines are clean and spare so as not to detract from the room or the view.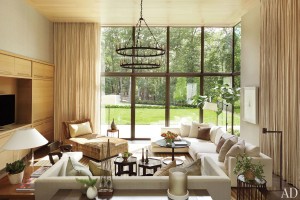 When maintaining the view is the primary objective, you could also opt for a more sheer option. You could then layer shades to adjust the light and privacy as needed as below. From myimdesign.com.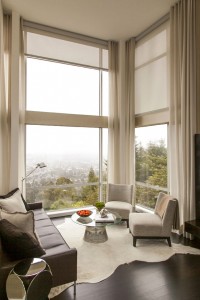 In a bedroom with window walls, the curtains serve the dual purpose of privacy and blocking light. Here the curtains are heavily lined. Wool lining is a good choice so the curtain fabric itself does not need to be unduly heavy. From AD: Renovation of mid 1950s Richard Neutra's Singleton House for Vidal and Ronnie Sassoon. Photo: Todd Eberle/Architectural Digest.
In a Florida room where privacy and light are not an issue, the look can be entirely whimsical. Below is a computer rendition from Dream Draper software of a top treatment. It is light and adds fun detail to the view without being overpowering.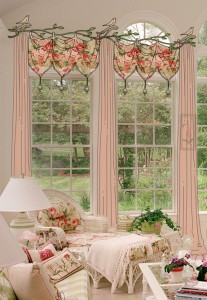 In the room below top treatments were used for visual effect. Below, shades were mounted under cornice boards fashioned to resemble window trim. If the cornice boards were made longer, when the shades are fully retracted, the shades could be made to disappear from view. From Wayfair.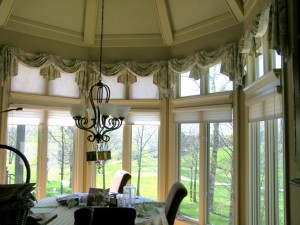 Below in Bette Midler's New York apartment are refined greenhouse windows and glass ceiling tiles. The curtains below can visually separate the room into two. From Architectural Digest.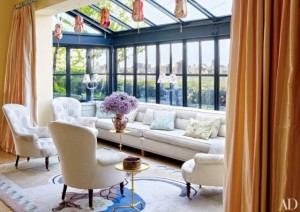 Feature image: Curtains from Thad Hayes in Cowtan & Tout fabric hang in a grand home after combining two historic Boston houses into one, Architectural Digest October 2013.