With the fall comes the advent of pumpkins.  I always find myself wondering why I wait three seasons of the year to enjoy them. Below is a simple recipe I developed this year.  It is rich and flavorful without being heavy.
Ingredients
      2 cups complete buttermilk pancake mix
      1 egg
1 1/2 cup buttermilk (if you do not have you can substitute milk, pancakes will be less dense and thick)
      1 cup pumpkin puree
      1 teaspoon cinnamon
For filling:
      sweet potatoes
      mascarpone cheese
      powdered sugar
Mix egg, buttermilk, pumpkin, and cinnamon until smooth. Fold in pancake mix. Do not over mix. There should be some texture to the batter as seen below.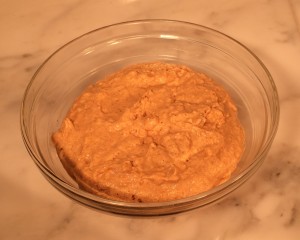 Heat griddle on medium low. Grease lightly with cooking spray. Place one drop of batter on griddle to let you know when it is hot.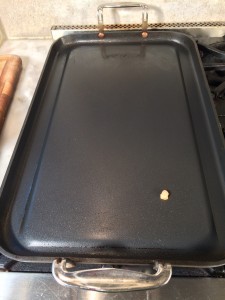 Put an ice cream scoop of batter on a griddle.  The one I have spans 2 burners so you can make 8 pancakes at a time.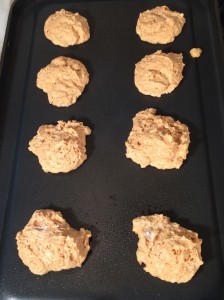 The batter is very thick.  You will need to flatten it out some with the back of a spoon.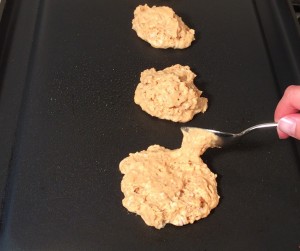 As the mixture is thick, it will not form bubbles as most pancakes do.  You will have to lift the edge periodically to see that they are lightly brown before turning.
Cook a minute or two until brown on both sides.  They will be orange due to the high concentration of pumpkin.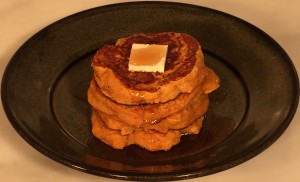 We also thought it might be fun to make them into filled pancakes. We tried two different fillings.  Both were will received. One was mascarpone cheese 2 oz to one tablespoon powdered sugar spread between two pancakes.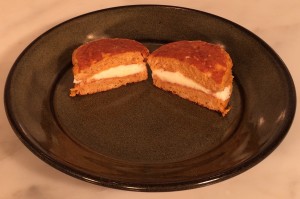 We also spread cooked sweet potato  between the pancakes as well.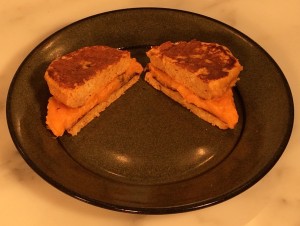 Anyway you choose to enjoy them, they are tasty.
Lessons learned:
If you do not flatten the batter the pancakes will be too think and not cook all the way through.  Below you can see on the right lower edge that we had to split the pancake open so that it could cook completely through.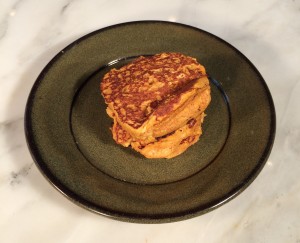 Afterwards, we tried to increase the heat.  As you can see the pancakes were a bit overcooked on the outside. Rushing pancakes just does not work.  They need a slow steady medium low heat.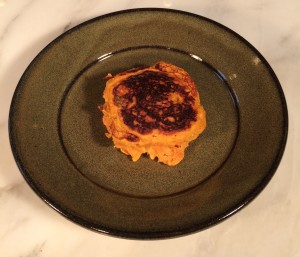 If you are interested the products used, there is an embedded link in each picture (and highlighted words above) to make it convenient for you to click and get in time for the holidays.
Kitchen equipment:
The basics: